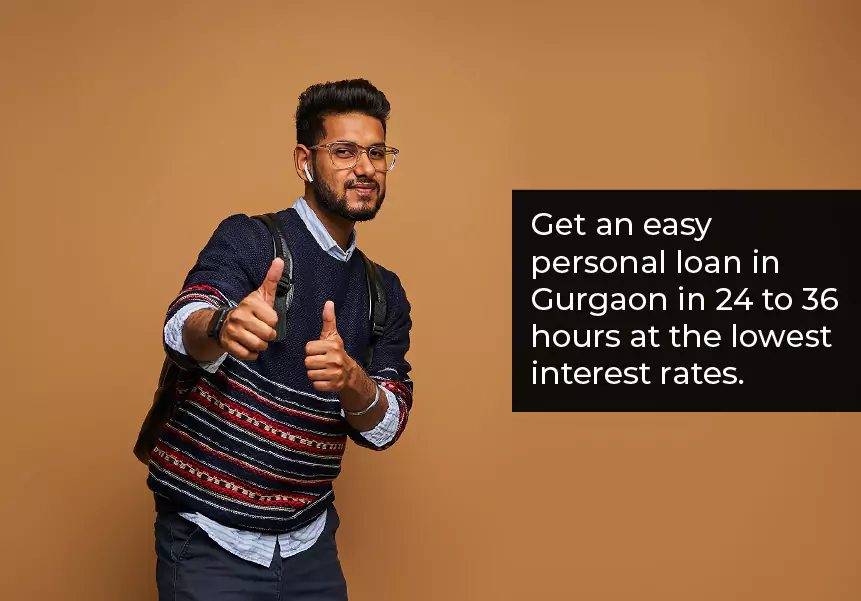 Published on : May 09, 2022
Previously known as Gurgaon, Gurugram is a financial, industrial, and technological hub. The economy and urbanization of the city are booming. It is home to many big brands and international companies like BMW, Pepsi, Coco-Cola, etc.
The average living cost in Gurugram is around INR 30,000 per month. With this amount, you can live a modern and comfortable lifestyle. Being one of the fastest-growing cities, the cost of living is also increasing.
Individuals in Gurugram need to spend on investments, better growth, and a good lifestyle. But, salaried professionals may face financial issues during times of emergencies. To pay credit card bills, house renovations, or any other reason, getting a personal loan is a sensible choice.
Are you also looking for funds to bridge the financial gaps? Leading NBFCs like LoanTap offer personal loans at varying interest rates. It will help you meet your financial needs with no worry. Check out how you can get personal online loans in Gurgaon within 24 -36 hours.
How can a personal loan help you?
Quick personal loans are unsecured loans that do not require collateral. It is a convenient choice for paying off debts. You can get the loan with an easy documentation process and following the simple eligibility criteria. It is the easiest solution for working professionals to get immediate cash in a hassle-free manner.
You will get the loan amount starting from INR 50,000 to INR 10,00,000 for financial needs. Personal Loans in Gurgaon provides you tenure up to 60 months to pay the loan amount at your convenience.
Where can you spend Personal Loans in Gurgaon?
Education
Education fees are quite high for the middle class. Sending your children to higher education can cost you a fortune. You also want to give them the best education possible. To fulfill your child's education dreams, personal loans can help you as a friend in need.
Travel
Do you wish to go on a holiday vacation? A personal loan can help you make your wish come true. You can easily travel abroad or to any destination with a sufficient balance. It will save you from denting your savings. It is a better option than using your credit cards.
Wedding Expenses
Indian weddings are expensive. Everyone's dream is to have a big and lavish wedding. Creating a lavish wedding may cost you a good amount of money. A personal loan can help finance your marriage, including wedding outfits, venue, catering, etc. It makes you relax and lets you enjoy all the wedding ceremonies stress-free.
Medical Emergency
Personal loans will calm all your worries in a medical emergency. You don't need to struggle to arrange money to pay off medical bills. Visit the website and fill out the loan application for the fast disbursal. If your credit score is decent, the loan amount will be credited within a few hours.
Home Renovation
Renovating your home requires a good amount of cash. You will need the help of experts and contractors to make a renovation. Any new installation and repair can add expenses to your home renovation budget. A home renovation loan can cover all the expenses and save from a huge debt.
So, Are you Eligible for Personal Loans?
Get fast disbursement of your loan by applying online at LoanTap. Simply upload your documents and complete your profile. To get fast approval, ‌check your eligibility first. Here are the following conditions you need to qualify:
1. You should be an Indian citizen or a resident.
2. The age of an applicant should be between 21-58 years.
4. Salaried, self-employed, or business owners should have a steady net monthly income of INR 30,000/-.
5. You should have stable employment.
6. Your credit history should be decent and your CIBIL score must be 580-630 or above.
Required Documents for Personal Loans through App
This collateral-free loan is perfect for borrowers with no assets or those who are just starting off on their career. If you are eligible for the loan, the next step is to upload the basic documents. These documents will verify your details. So, make sure all the documentation is updated and valid. Here is the list of following documents needed:
Identification Proof: Applicants should have a Voter ID / Passport / Driving License / Aadhaar Card
Address Proof: Applicants should have a Ration Card / Electricity Bill / Passport.
Income proof: As a salaried person should have at least three months' salary slips. For self-employed, there is a need to submit IT Returns of last two years.
How can you get a Personal Loan in 24 hours?
Getting a personal loan is easy for the working generation. Self-employed and business owners can apply for the loan, but the reasons should be productive. If you qualify for all the conditions, follow the steps below to get the loan instantly.
Step 1: Visit https://loantap.in/or install the LoanTap app from the Google play store.
Step 2: Create your profile by entering the required details, such as professional, company name, and type of occupation.
Step 3: Once you have filled out the application form, upload the required documents to verify your profile.
Step 4: Once the KYC is done, wait for the response from the LoanTap team.
Step 5: With the application verification, your loan will be approved on the same day and credited to your account.
As soon as the loan is disbursed into your account, you can use it for various purposes. Before applying for an online personal loan, ensure that your credit score report is accurate. Absence of credit history may cause the rejection of your application.
Advantages of Getting a Personal Loan Online
100% online: The Instant personal loan offers a simple loan application process that you can complete online from the comfort of your home or office. Individuals stuck in medical emergencies or any difficult situation can get instant funds online with personal loans.
Paperless documentation: The best thing about taking personal loans online in Gurgaon is that you need to submit only the required documents. The list of documents for you to upload while applying for the loan is already shared.
Immediate Loan Approval: When you are stuck in an emergency situation and need funds immediately, you can choose a personal loan instead of borrowing from friends or family.
Flexible repayment options: It offers you customized repayment options to pay off the loan amount. It will reduce the monthly outflow payments. You can pay off the loan amount between the tenure period of 6 months to 60 months.
No prepayment charges: There are no additional charges on the instant business loans in Gurgaon apart from normal processing fees .At LoanTap, the entire loan process is transparent. There will be no hidden charges enforced on you. But, there are prepayment charges on pre-closing the loan within six months of disbursement.
Summing Up!
In conclusion, availing of personal loans can be the right way to stabilize the financial situation. It will cost you lower than paying credit card debts. You can pay off the expenses without relying on your friends and family members. Apply Now! Download the app to get a personal loan in just a few steps.