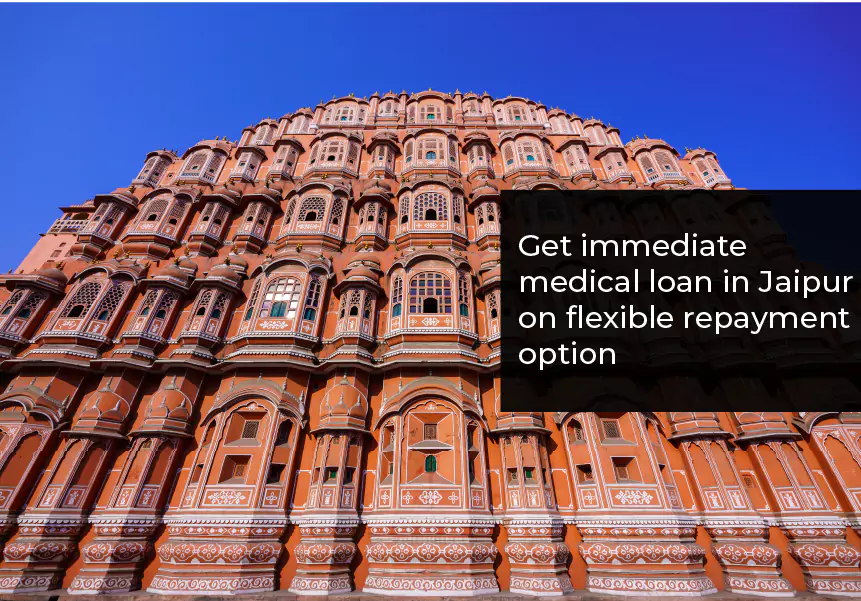 Published on : February 03, 2022
Life can be uncertain and sometimes brings unexpected situations. Living a good lifestyle in a city like Jaipur is an expensive affair for salaried professionals. Jaipur is a third-tier city where an average salaried guy like Suresh can manage the monthly expenses with his monthly salary. However, unforeseen expenses or medical emergencies come with no warnings.
One day, Suresh felt hopeless when his mom fell sick. His salary day was a fortnight away. There was no balance left in his savings account to pay the bills. After three days of struggling to get a loan from lenders or close ones, he could not collect enough funds to finance the medical treatments. He had already spent his savings.
That night, he was sitting on the bench in the park praying for a miracle. As he surfed through his phone, he found the LoanTap app, a digital lending platform providing medical loans to help people like Suresh as a friend in need.
Today, we will discuss how an immediate medical loan in Jaipur was a good call for Suresh and how to apply for the loan from the LoanTap app.
How Does Medical Loan Work?
Medical Loans can become your saviour. A Medical Loan is an unsecured loan that offers financial support to pay all the medical expenses. It includes hospitalization bills, medical prescription bills, surgeries, chemotherapy, and other treatments. In tough times, LoanTap helps you with financial support at short notice.
Loan Amount- LoanTap offers you a medical loan up to INR 10,00,000. The final loan amount calculation depends on your annual income and CIBIL score.
Loan Tenure – This term loan is easy to pay in the Fixed EMI over a tenure of 6 months – 60 months. Choose the tenure as per your financial capability and the exact loan amount.
Interest Rates: Personal Loans for medical emergencies are available at an annual interest rate of 18%. The interest rates may vary depending on your credit score, medical needs, account balance, income proof, and tenure.
Processing Fee – 2.5% of the loan amount plus applicable taxes
Why should I go for Medical Loan in Jaipur for Medical Treatment?
LoanTap Medical Loan is designed to help meet your medical emergencies. The features of the loan are mentioned below:
1. High loan amount
Online Medical loans for medical emergencies offer you the loan amount up to INR 50,000 – INR 10,00,000. It will cover all the medication bills, treatment, and hospitalization in case of an accident or illness.

2. Flexible repayment tenure
The Instant Medical loan provides you with a flexible repayment tenure ranging from 6 months to 60 months. Borrowers can repay the amount as per convenience. So, you do not have to pay the loan immediately; it makes you stress-free and helps you focus on the real issue.
3. Quick Disbursal and Approval
During a medical emergency, you do not need to wait for the loan processing and approval. LoanTap will approve the loan amount on the same day if your documents are valid. That is the reason a Medical loan is best suited for you. Salaried professionals can apply for a personal loan and get instant disbursal in less than 24 hours.
4. Easy Repayments
Instant Medical Loan offers you an affordable repayment option to manage the monthly instalments. It is a convenient way to repay the loan over the flexible tenure. LoanTap brings you three customized choices to make the repayments. You also have the facility to do a part prepayment.
Three Customized Instalment Options for Medical Emergencies
A medical loan is an ideal solution at the time of emergency when there's no sufficient balance to cover the medical bills. It could be a rescue in times of misery. Also, you don't have to worry about the huge interest rates on personal loans. Medical loans are much cheaper than credit cards. You have three instalments option to choose from as per your capacity and income:-
Interest-Only Loan
The interest-only loan is the best option to manage cash flows. It reduces monthly cash outflows by 40%. You can pay the interest component on a monthly basis while the principal can be repaid in bullet payments on a quarterly or half-yearly basis. This is perfect for those who receive bonuses and incentives at quarterly intervals.
Step-Up Loan
A Step-up medical loan will help you manage expenses after paying medical charges. You can choose an interest-only EMI for the first three months, followed by a fixed EMI. This flexible instalment solution can help you cover heavy expenditures such as medical surgeries and recovery treatments.
Term Loan Instalment
Medical Term Loan can help you manage expenses as fixed EMIs. You can repay the loan amount in monthly instalments, where each instalment reduces both interest and principal amount. You can decide the tenure based on the amount needed and your net monthly income.
Eligibility Criteria For Medical Loan
During medical emergencies, you may require a huge amount of money to handle all the medical expenses. LoanTap's medical loan offers a way to preserve your savings. It is a simple and fast process to get the immediate funds, so you can move ahead with your medical treatments. So, let's have a look at the eligibility criteria that need to be fulfilled to apply for a personal loan for medical emergencies.
Eligibility Criteria:
Applicants should be aged between 21 and 60years.
Indian residents are eligible to apply.
You should be a Self-employed or working employee.
Individuals should have a net monthly income of INR 30,000.
Salaried bank account statements of the last 3 months
To know the loan amount you can avail of the personal loan for medical emergencies, you can take the help of a personal loan eligibility calculator. The calculator will provide you with the final amount that you can apply for. This will allow you to avoid rejection of your personal loan application.
Documents Required For Medical Loan
To avail of the medical emergency loan, you need to fulfil the requirements that confirm your personal and professional details. While applying for a personal loan for a medical emergency, submit the following documents that will check your creditworthiness and verify the application:-
Identity proof: PAN Card, Aadhaar card, Voter's ID Card, driving license, passport, etc.
Address Proof – PAN Card, Voter's ID Card, passport, driving license, etc.
Age Proof – Salary slips or financial statements of your business
Income Proof – Aadhaar card, Voter's ID card, driving license, passport, utility bills, etc.
Bank statements of the last six months to assess the cash flow.
After the verification process, it will approve Instant Personal loans and disburse the amount in the bank as soon as possible. So, you have money in hand to save you during medical emergencies. Here are the steps to complete the personal loan application process and estimate the exact loan amount required. It will enable borrowers to decide the tenure according to that.
How to apply for a personal loan for medical emergencies
Medical emergencies can make you feel helpless when there are not enough funds in your wallet. It can force you to seek help from your family and friends. But, you don't need to ask anyone for money. To apply for medical emergency loans online, follow the step-by-step application process:
Step 1:Download the LoanTap or visit the website to log in. Fill out the application with personal, financial, and employment details.
Step 2: Choose the loan amount and tenure as per your income and capacity of paying the monthly instalments.
Step 3: Upload the required documents on the website or submit the signed document to LoanTap's representative.
Step 4: As soon as your loan application is approved, you will receive the money in your bank account within 24 -36 hours.
Medical loans can be a financial support in case of medical emergencies. LoanTap provides you with an efficient, fast, and contactless process. Anyone can apply for a Medical loan anytime from anywhere without worrying about banking hours. A medical loan during an emergency is a God send. LoanTap endeavours to help people in need of ready cash during medical emergencies by keeping the process simple, contactless and paperless.