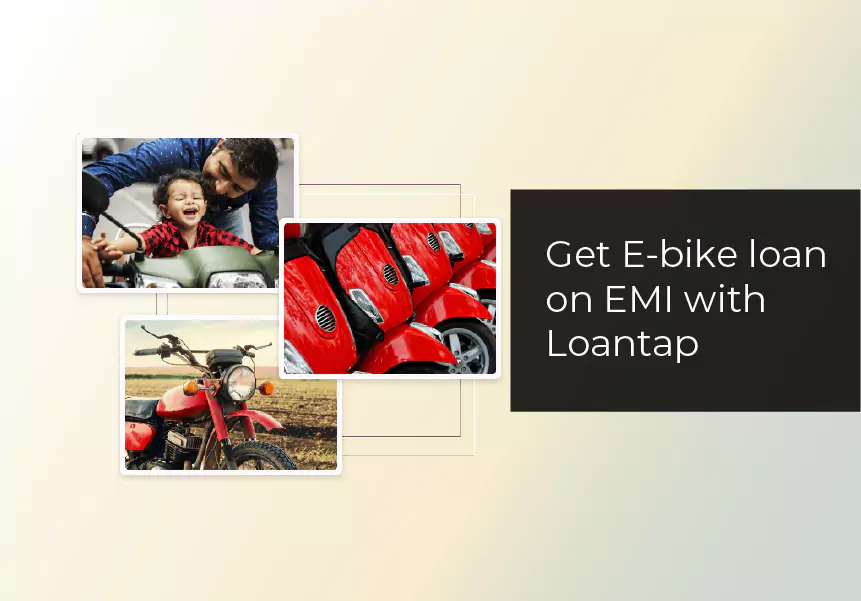 Published on : April 25, 2022
Electric bikes are innovative and eco-friendly commuting solutions for the GenZ generation. These scooters have surpassed the petrol vehicles in popularity and promise to reduce the emission of carbon gas and make the air clean. However, your aspirations may be dampened by the shortage of funds when you explore the options of buying an e-bike. Don't fret! LoanTap has something interesting to offer.
To get the funds for purchasing a bike that sets your heart racing. LoanTap offers two-wheeler loans for financing whatever bike you desire to buy at reasonable interest rates. You can get this bike loan without paying any amount upfront and it comes along with a convenient repayment facility. Borrowers can repay the loan in the fixed Equated Monthly Installments ( EMI). Ebike loans from LoanTap have helped many borrowers to purchase a two-wheeler hassle-free.
What is an EBike Loan?
EBike Loan helps you in advance by providing enough funds to buy Ebikes from popular brands. You can make the payments towards the outstanding amount over the fixed tenure. E-bike Term Loan from LoanTap is the perfect option to buy any electric bike ranging between Rs. 30,000 – Rs. 1,50,000 from brands like Hero electric, Ampere, Revolt, Bajaj etc. You can pay off an electric bike loan in Fixed Equated Monthly Installments over a tenure of 1-3 years. This reason makes the electric bike loan quite popular among young salaried professionals.
Eligibility Criteria for Availing E-bike Loan
If you are looking forward to buying an electric scooter, you have come to the right place. LoanTap understands your need to buy a bike using personal loans. You can go for a scooter loan If you qualify under the below-mentioned eligibility criteria.
You are an Indian citizen or resident
You are over 21 years of age
You should have a net monthly income of INR 30,000 for financing.
Applicants must have valid bank statements for six months.
After qualifying all the criteria, you can go for a two-wheeler bike loan. The process of getting or applying for a two-wheeler loan is easy and affordable. You should keep some mandatory documents ready to verify your profile. We have listed the following documents to upload while filling out the online application form. Whether you are a salaried person or self-employed, you will need these documents for bike finance:
PAN Card
Aadhaar card/Driving license/Passport for proof of permanent address
Copy of latest utility bill/telephone bill/postpaid mobile bill/ registered rent agreement for current address proof
Business establishment proof
ITR for the last two years
House ownership proof like a property tax receipt, electricity bill, etc.
LoanTap will sanction you the loan amount depending on the city you are living in and the type of income you have. They believe in quick disbursal of loan amount after matching all the parameters. LoanTap offers Personal Loans for amounts of INR 25,000 – 10,00,000 for tenures ranging between 6 months – 60 months. The interest rates range will vary based on customer profile, type of loan, and other factors.
Getting a bike loan online is an affordable solution for borrowers to purchase a new branded bike. You can avoid any financial obligations by financing your very own electric scooter. LoanTap has partnered with popular brands like Hero Electric to bring you eco-friendly and stylish bikes. Electric bikes or scooters have multiple benefits, such as zero emissions, low maintenance, no petrol consumption, and easy charging options.
About EMI Calculator
When applying for an Electric bike loan, the two most important factors to keep in mind are Interest Rates and EMIs. LoanTap provides you with bike loans in India at competitive interest rates. EMI loans are the ideal way to stay financially disciplined.If you have a decent credit score, getting a loan is easy.LoanTap's EMI calculator will enable you to estimate the loan amount with flexible repayment options without compromising your standard of living. Now, the question arises of how to calculate the EMI for a two-wheeler loan?
Why Go for an Ebike EMI Loan ?
An E-bike loan is the ideal solution to purchase a brand new bike from reputed brands like Hero Electric, Ampere, and Bajaj. Electric scooter loans with fixed EMIs are an excellent option to get the funds for heavy expenditures like two-wheelers. There are various advantages of a term loan or EMI loan:-
Safe and Secure – In metro cities, you face a little difficulty commuting through crowded places, and public transportation tops the list. If you want a smooth and effortless ride on the city roads, Electric bikes can provide you with a safe riding experience. A two-wheeler loan can lend you money for buying a bike with a secure anti-theft alarm.
Feel Free – When you have your vehicle, you don't have to stay dependent on public transport or anybody else for your commuting needs. Ebike provides an efficient riding experience with a portable battery and a light model design body. In the case of emergencies, a bike is useful when you feel helpless.
No more hassles – Are you still taking public transport to go to work or college? Ebikes can be a perfect option for you to start your day without standing in long queues to catch a bus, metro, local train, or auto rickshaw. Bike Loans in India can help you achieve the dream of going here and there without such hassles. Technology has made borrowing easy and purchasing your dream bike online!
No Financial strain – Buying a Two Wheeler in India is still a substantial investment for salaried employees. Instead of spending some big chunks of your savings or using a credit card, you can take an online bike loan to cover the value of a new electric bike. It allows you to pay back in easy Equal Monthly Installments over a comfortable tenure.
Zero down payment – You can apply for a zero down payment Ebike loan that covers up to 100% of the cost of your desired Two Wheeler. LoanTap offers you up to a maximum of Rs. 1.5 lakhs to buy any variant of bike. It will charge you a zero down payment as per your needs and lessen the risk of borrowing.
How does an E-bike EMI Loan Calculator work?
EMI calculator has made determining the estimating monthly installment easier for all kinds of personal loans such as home loans, two-wheeler loans, furniture loans, or education loans. EMI calculator is a tool to calculate the EMI of a particular loan based on a few inputs. These are the following inputs you need to enter accurately to know the precise EMI:
Loan Principal – This is the loan amount that you borrow and should repay with the lower interest over a fixed loan tenure.
Rate of Interest – Pay the interest rate calculated on the principal loan amount for a specified period.
Loan Tenure – It is the period of paying the loan amount along with the calculated interest in the form of Equated Monthly Installments (EMIs).
Once you entered the value correctly, you will get the estimated EMI on the loan amount you want to borrow, in an instant. If you want to know how to use a bike EMI E-bike loan calculator, follow these steps mentioned below:-
Step 1 – Set the principal amount using the first slider or enter the value into the input box.
Step 2 – Using the second slider, you can set the correct Ebike loan interest rate or can enter the desired rate manually in the box to determine the monthly cash outflow.
Step 3 – Slide the final slider to set the loan tenure as per your needs or manually enter the time period according to your capacity of making repayments towards the principal amount.
Once you are done with entering values , the calculator will automatically show the accurate EMI value within seconds.
Benefits of Two-wheeler EMI Loan Calculator
Affordability

Two-wheeler prices are still not affordable for some people. For some people, it is difficult to finance an electric bike in a lump sum payment. EMI loan calculator makes purchasing a two-wheeler affordable for salaried professionals and self-employed. An EMI loan provides you with an easy way to buy an electric vehicle online and allows you to repay the total loan in small payments every month. If EMI is not within your repayment capacity, you can adjust the tenure to find your suitable EMI value.
Better Financial Control

An EMI loan can help you plan your finances and let you go easy on your wallet. It helps in controlling your finances by making minimum payments every month. In this way, you can manage your other expenses without lacking funds. You can afford the big investments and plan your monthly budget in a better manner.
Flexibility

LoanTap's EMI Loan Calculator helps you choose flexible repayment methods by entering value per your needs. It gives you the confidence to afford heavy and expensive items with flexible EMI loans. You can select the number of installments to maintain the monthly account balance and live a comfortable life. It also depends on the maximum capacity to repay installments.
Maintain Credibility

If you are irregular with your EMI payments or missing credit card bills, it can upset your credit score or show a damaged credit history. On the other hand, if you pay your EMIs on time and never miss your credit card payments, your credit score looks decent. Financial institutions or banks also check your CIBIL score before sanctioning a loan to evaluate your credit worthiness. CIBIL rating is significant in verifying your loan application online.
EMI calculator can easily save your time by calculating the monthly installment with just a few inputs. You don't need to struggle with crunching numbers for finding the EMI of a loan. Comparing different loan options and calculating EMIs using a manual calculator can be highly time-consuming. EMI calculator makes the job of finding a suitable loan simple and easy.
A mistake in calculating finance can lead you to a disaster. So, you can compare different loans based on their EMIs to make the right decision. You can choose to calculate without an EMI calculator but it will put your calculations at risk. EMI loan calculator can help you to calculate the EMIs precisely.
EMI calculators have become popular today for those who don't want to get stuck in calculations. You can use it to find out the EMIs of any particular loan. Use LoanTap's EMI calculator to work out the right tenure for your e-bike loan and drive away with your dream bike.