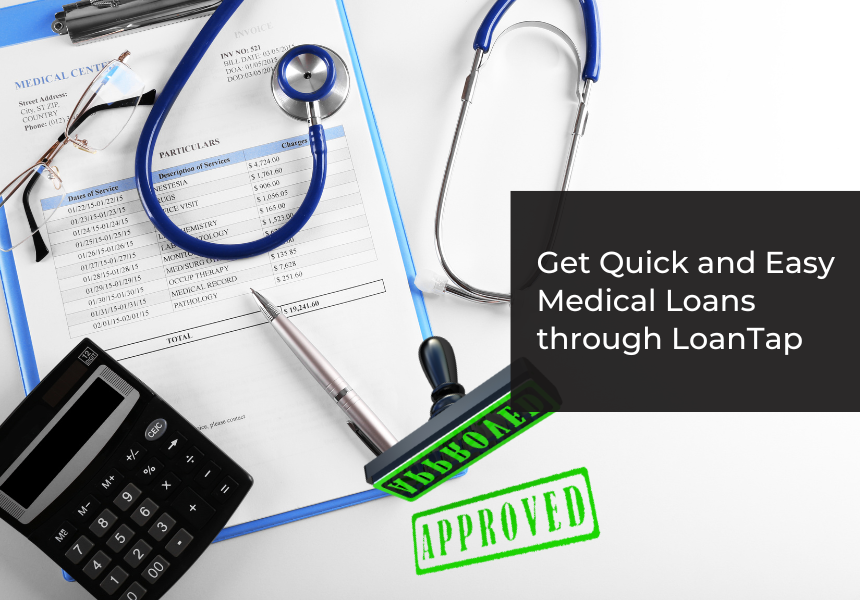 Published on : June 07, 2023
In times of unexpected medical emergencies, finding quick and reliable funding options becomes crucial. That's when Medical loans come to the rescue. It is a hassle-free solution when you need funds immediately for medical emergencies. Medical Loans can be used for immediate medical treatment, surgeries, or expensive medications; this specialised personal loan provides the financial support you need without the hassle of long waiting periods, with a convenient application process and swift approvals. These loans are designed to alleviate the stress of medical expenses and ensure timely access to necessary healthcare services.
Reasons For Which You Can Apply For Medical Loans
In the event of a medical emergency, you can apply for a medical loan, which is an unsecured loan. You can apply for a medical loan for the reasons listed below.
Accidents
Surgery
Medicines
Hospital bills
Therapy
Regular checkup
Dental procedures
Cosmetic procedure
Advantages of LoanTap's Medical Loans
Applying to LoanTap for a medical loan offers several advantages, as listed below:
Quick and Easy Approval
The application process for medical loans is very simple. It allows borrowers to receive funds promptly. Compared to traditional loans, medical loans typically have faster approval times, ensuring that individuals can access the necessary funds without delay.
Flexible Repayment Options
Medical loans offer flexible repayment options, allowing borrowers to choose a repayment plan that suits their financial circumstances. This flexibility enables individuals to manage their medical expenses while maintaining a manageable repayment schedule aligned with their budget.
No Collateral Required
Most medical loans are unsecured, which means that borrowers don't have to pledge any assets or property as security for the loan. This eliminates the risk of losing valuable possessions in case of default and makes medical loans accessible to a wider range of individuals.
Customised Loan Amounts
Medical loans can be tailored to cover specific medical expenses, whether it's a minor procedure, major surgery, or ongoing treatment. Borrowers have the flexibility to request the exact loan amount they need, ensuring they can cover their healthcare costs without taking on unnecessary debt.
Competitive Interest Rates
Medical loans often come with competitive interest rates, which can be lower than other financing options like credit cards or personal loans. These favourable rates make it more affordable for individuals to finance their medical expenses, minimising the financial burden in the long run.
Preserve Insurance Coverage
In certain cases, medical insurance might not fully cover the expenses associated with a particular treatment or procedure. Medical loans can fill the gap, allowing individuals to receive the necessary medical care without exhausting their insurance coverage. This ensures that insurance benefits remain available for future healthcare needs.
FAQs
What are the documents required to apply for a medical loan?
Ans. To apply for a medical loan, you will need a PAN Card, Address proof, Salary slip for the last 3 months, and Bank account statement for the last 6 months.
How can I apply for a LoanTap Medical Loan?
Ans. To apply for a medical loan, visit the official website of LoanTap, fill out the application form and submit the required documents and the lender will review and disburse the loan amount.
Can I use a medical loan for any type of medical procedure?
Ans. Yes, medical loans can be used for a wide range of medical procedures, including both necessary and elective treatments. This can include surgeries, dental procedures, fertility treatments, cosmetic procedures, and more.
What are the eligibility criteria to apply for a LoanTap medical loan?
Ans. To apply for a medical loan applicant should be above 21 years of age, The applicant should be an Indian citizen, and the minimum monthly income should be Rs. 30,000.
Can I use a medical loan to cover previous medical expenses?
Ans. Yes, in some cases, you can use a medical loan to consolidate and pay off existing medical debt. This can help you manage multiple medical bills and streamline your payments into a single loan with more favourable terms.