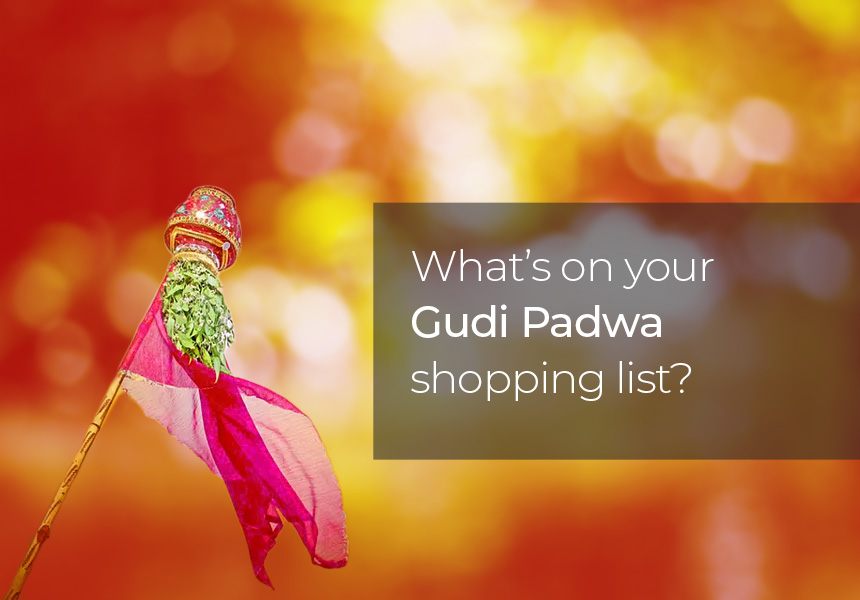 Published on : March 18, 2020
Gudi Padwa marks the first day of the Chaitra month of Hindu calendar. This is the new year for the Maharashtrians where they welcome the spring season. This day is considered auspicious for buying gold, silver, house, vehicles or electronic gadgets. On this day, people worship Lord Brahma, the creator of the universe. Like any other festival, people wake up to joy and bliss. They decorate their houses with flowers and rangolis and meet relatives. Lots of delicacies are prepared and shared.
Unlike any other day when you look for mahurat to do something good, on this day, the mahurat is good throughout the day. Therefore, people prefer to invest their savings in buying house or jewellery on this day. The retailers see great opportunities during festivals to ramp up their sale. They provide various schemes and offers to attract people to splurge on shopping. The market of jewellery, clothes and various electronic gadgets soar during the festivals.
Things to buy this Gudi Padwa
People dream of owning a house or vehicle of their choice. If you have waited long enough, Gudi Padwa is around the corner. Here are some of the tips to plan your purchase.
Dream House
Everyone dreams of owing their own house and first thing involved in making this decision is funds. Do not let insufficiency of fund hamper your dream. Home loans are readily available in the market to help you fund your purchase. You must determine your loan eligibility and look for a house that will fit your budget. Loan eligibility is decided based on your income, your existing debts and the capacity to repay your loans in future. The loan amount varies based on your eligibility and criteria of the lenders. Home loans come with the benefit of tax deductions as well.
Car or bike
A vehicle has become essential part of any household today. Buying a car or a bike has become possible with the easy financing options like personal loan, car loan or a super bike loan. These loans are easily available online and offline with competitive interest rates. You may get the flexibility to prepay or foreclose your loan post six months of loan application without any charge. Many fintech firms are providing innovative loan products to suit the customer's needs.
Precious metals like gold and silver jewellery
According to the tradition, people usually but gold or silver jewellery on auspicious days. They dress up for the occasion and offer it to Gods/Goddesses during the puja. Personal loans are a great instrument through which you can borrow money to invest in precious metals without disturbing your savings. During festivities, the jewellers usually run some discounts on making charges or wastage to attract customers.
Electronic appliances and gadgets
People usually wait for auspicious days or festival time to buy new appliances and gadgets. People also prefer to wait for the festival season due to the discounts being offered during that time. The market of gifting items has also shifted from household items to smart electronic gadgets due to the increase in millennial population. An Advance Salary Loan is a short-term loan for a small amount that can be used to get the latest gadget for yourself or to gift your loved ones.
Ways to finance your purchases this Gudi Padwa

As already mentioned above, there are multiple financing options available in the market. Some of them can be listed below:
Personal loans
Personal loans are an unsecured form of debt that can be availed without pledging any collateral or security. One can apply for a Personal Loan online in few simple steps, without any physical paperwork. All the verification processes are done online and therefore, loan disbursal process is easy and quick. You can avail loan ranging between INR 50,000/- and INR 10,00,000 based on your eligibility and credit checks. The tenure of personal loan usually ranges between 12 to 60 months. You have the flexibility of choosing your term. There are no charges on prepayment or foreclosure of loan post 6 months of repayment.
Super bike or premium bike loan
Super bikes come with heavy price tags. But to make your dreams a reality, Superbike loan is available at a competitive rate with flexible repayment option. Some lenders provide up to 100% of on-road vehicle price, depending upon your eligibility. The applicant needs to pay the interest amount every month and a bullet amount needs to be paid every 6 months towards outstanding principal amount. Interest amount gets revised after the bullet payment. Its flexible repayment feature makes it better than personal term loan as the monthly outflow of cash is comparatively lower.
Advance Salary Loan
Advance salary loan is a personal loan given against your salary if your monthly income is INR 40,000/- and above. It is a type of short -term loan as the tenure ranges between 3-12 months. The loan amount is directly proportionate to your salary which may go up to 2.5 times your net salary. Advance salary loans ranges between INR 25,000/- to INR 1,00,000/- depending on your income eligibility and credit checks. The loan amount, once approved, is directly credited to your bank account. The repayment of this loan needs to be done in monthly installments, on due date decided by the terms of your agreement.
Conclusion
Festivals bring joy and happiness around. It is a time you connect and reconnect with your near and dear ones. Therefore, this Gudi Padwa, don't let financial constraints hamper your celebration. Let LoanTap take care of bringing your dreams to life. Let us help you meet your lifestyle goals or any personal requirement.
Image Source : Freepressjournal.in