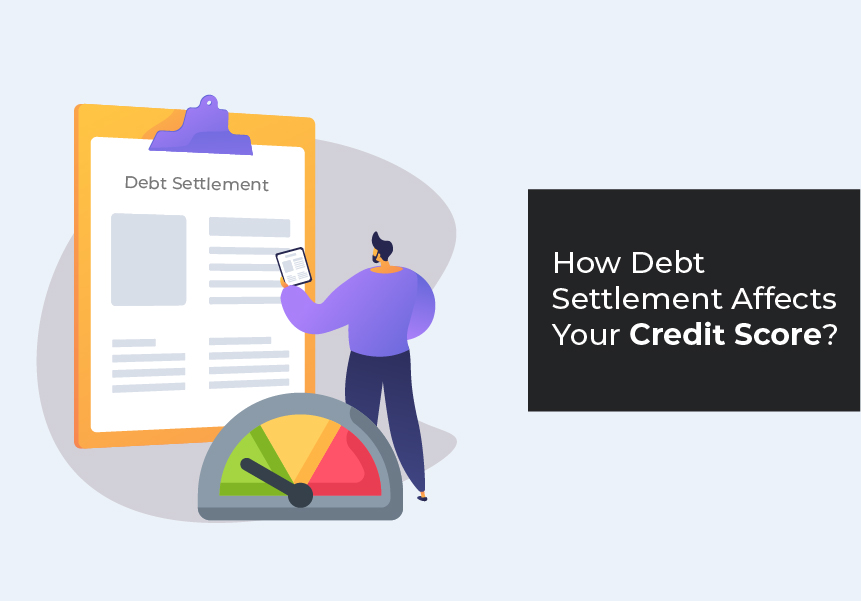 Published on : June 09, 2021
You may have heard someone say that you need to pay the EMI on loans on time to maintain your credit score. You may have come across the term Credit Score with reference to loan approval and wondered what it was. A Credit Score is a three-digit numerical summary of your credit history. CIBIL is the most popular credit bureau in India that calculates the credit score or CIBIL score as it is referred to. It collects the credit information from the banks and NBFCs in the country and creates a credit information report of borrowers. It generates a three-digit score between 300-900. A credit score over 750 is normally considered good and it will get you a loan approval in most cases.
What are Debt Settlements and its impact on the credit score?
When a borrower finds it difficult to meet his repayment obligations and gets into a default mode, he may choose a one-time settlement after discussion with the lender. If the problem he is facing is genuine like a job loss or a medical condition, the lenders may accept the proposition and accept a one-time settlement by writing off the balance due. He will need to get a No Dues certificate from the lender to avoid the recovery protocols and legal complications. However, this is not a recommended option unless as a last resort, the reason being the negative impact on the credit score.
After 90 days of the due date, a loan is classified as NPA (Non Performing Asset) by the lender and after 180-270 days it is usually written off. If the one-time settlement of the loan is done before the write-off, it is marked as settled. If it is settled after the write-off, it is marked as post-write-off settled. In both cases, it is a negative mark in the credit report which will remain on record for seven years.
While a debt settlement acts as a short-term relief and removes the stress of being chased by recovery agents, it hurts the credit score by staying on record for seven years. A one-time settlement shaves off the credit score by 75-100 points and dampens the chance of getting any loan during the next seven years.
The next lender is bound to check the credit score before sanctioning the loan and a credit score lower than 750 may not cut the ice. No lender would want to risk offering a loan to a defaulter and that is the inherent risk of opting for a debt settlement.
Customers should be aware of the risk of debt settlement and the negative impact on credit scores before entering into a loan agreement. A loan agreement is a commitment in good faith that is expected to be honoured. In the case of a personal loan that is unsecured by nature, the lender relies on the credit score to minimize the risk of default and write-offs. So, the borrower needs to honour the loan agreement.
How is Debt consolidation better than Debt settlement?
A person who is burdened with multiple loans/ credit card outstanding dues is bound to feel stressed while balancing them every month without losing track. If he owns multiple credit cards, the temptation is too great to pay one loan using another and run up a vicious circle of debt. The interest rate on credit card outstanding is high at over 2.5-3.5% per month. Under such circumstances, instead of facing default in the future, it is prudent to switch to an Instant personal loan that can be used to pay off these multiple outstandings in one go. The personal loan for Debt consolidation from LoanTap clocks at a more dignified 18-20% per annum and will be easier on the pocket. You can select the repayment tenure based on your comfort level and monthly expenses. Once you service the loan for six months, you are free to pre-pay the entire loan without any extra charges or penalties. This will resolve your problem without letting you fall into a debt trap. Once you clear the personal loan, you will be free to access any line of credit when the need arises.
How easy is it to get a personal loan?
Well, getting a personal loan from LoanTap is a breeze if you are eligible and submit the necessary documents. If you are an Indian citizen or resident over 21 years of age and earning Rs 30,000 net salary every month, half your battle is won.
Personal loans are offered to range from Rs 50,000 – Rs 10,00,000 that can be repaid over six months to sixty months. The annual interest rate starts at 18%.
All you need to do is visit https/:loantap.in, fill in the online application and upload the following documents –
PAN card
Proof of residential address
Salary slips for the last three months
Bank Statement of the Salary Account for the last six months
eNach Mandate for direct debit
Our team will assess your application and if your documents are found in order and you have an acceptable credit score there is a high probability that your loan will be approved and the amount transferred to your account. The entire process will take 24-36 hours.
So next time, you are searching for a solution to a problem of multiple debts, LoanTap is just a click away.