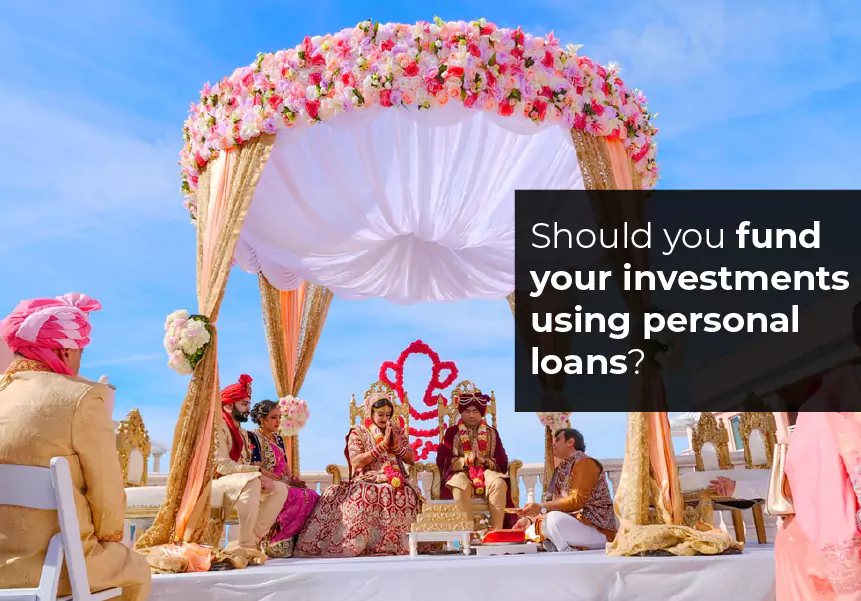 Published on : June 20, 2021
You are about to embark on the most exciting phase of your life. You are getting married soon. A wedding is a special, once in a lifetime occasion and everyone would like it to be grand. Who doesn't want it to be a fancy affair? Planning a dream wedding can be expensive and you may need some financial support to make it happen. It is natural that you would be comfortable having some extra funds to splurge. Do not depend on family or friends to lend a helping hand. It is always better to use a financing option that gives you instant access to the funds you need and you can repay the same over the agreed tenure. Here is where a personal loan can step in and lend you support while you celebrate your special occasion.
What is a Personal Loan?
A personal loan is an unsecured loan that can be availed for any purpose. This means that it is collateral-free and you don't need to pledge any asset against the borrowed sum. It is quite simple to qualify for a personal loan. Any Indian citizen or resident over the age of twenty-one years earning more than Rs 30,000 on a monthly basis is eligible to apply for a personal loan.
At LoanTap, you can get a Personal loan for wedding ranging from Rs 50,000 to Rs 10,00,000 for a tenure extending from six months to sixty months. The interest rate starts at 18% per annum.
What are the features of a Personal Wedding Loan?
At LoanTap, we understand the financial needs of individuals. That is why we make wedding loans so convenient to process. We understand your need for funds and the fact that the first three months could be difficult on your monthly budget. That is precisely why we offer the step-up repayment option to borrowers. You can conveniently pay only the interest component for the first three months and the balance in fixed EMIs over the remaining tenure. This will ensure that you have better cash flow in the first three months.
After the loan is serviced for six months, you have the flexibility to pay off the entire loan without any prepayment penalty.
What documents are needed for the Wedding Loan?
The process for availing a wedding loan followed at LoanTap is extremely simple. All you have to do is fill up an online application and upload the following documents –
PAN Card
Aadhaar Card/Driving Licence/Passport for proof of residence
Salary slip for the last three months
Bank Statement of the Salary account for the last six months
The LoanTap team will evaluate the application and if the loan parameters are met, the loan is approved and the amount is transferred to the mandated account. The entire process is completed quickly and without any hassle.
Conclusion
You will agree that a personal loan like wedding loan is a safe and hassle-free financing option for a special occasion that involves heavy expenditure. The step-up repayment option allows you to pay only the interest for the first few months while you get settled and then pay the balance in fixed EMIs.over the remaining tenure making it an affordable option.. So, go ahead, get ready for your special day and celebrate the occasion and leave the financing to us!