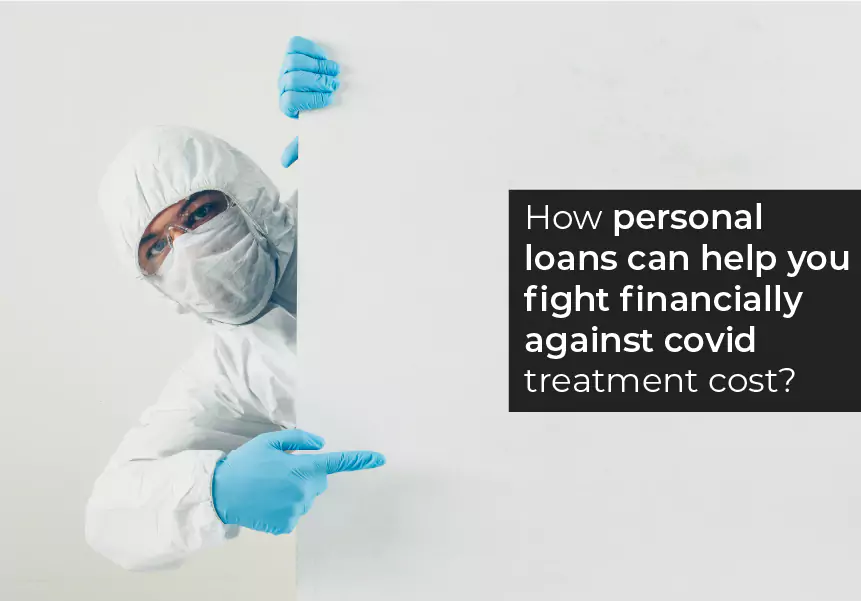 Published on : July 07, 2021
The world has been through a sensitive phase since early 2020 and we are still in the midst of the pandemic. It looks like the situation will continue for some more time till the vaccination effort is completed. For those affected by the Covid-19 virus, it has been an unpleasant ordeal with hospitals not having beds, a short supply of oxygen and essential medicines etc. It has been a harrowing experience for most people. The high cost of treatment has made it difficult for people to manage the expenses.
Using a credit card immediately may look like the easiest response but you should stop to think whether you will be able to repay within the credit period. If you cannot, it will lead to pushing the can down the road and incurring interest costs of over 2-2.5% per month.
While the health situation is overwhelming, do not add to the stress by making wrong financial decisions. Stay calm and keep your wits about you. You can easily use a personal loan to handle this medical emergency. It is alright if you have never applied for a personal loan before. The process is very simple and the medical loan will be disbursed within twenty-four hours.
What is a personal loan?
A personal loan is a popular financing option that offers you unsecured credit for a short tenure with very little hassle and simple documentation. If you have never taken a personal loan before, there would be several thoughts crossing your mind. This is an attempt to clarify all your doubts and queries regarding your personal loan.
No collateral needed
A personal loan is an unsecured loan. It is collateral-free so you need not worry about pledging assets against this loan. This can be a big relief to young borrowers who have just started their careers.
Simple eligibility criteria
You can apply for a personal loan if –
You are an Indian resident/citizen
You are over the age of twenty-one
You earn a monthly income of over Rs 30,000
That's it. If you meet the eligibility criteria, you can apply for a medical personal loan at LoanTap. The simple conditions are one of the main reasons why personal loans have become so popular.
Lower interest compared to credit cards
As compared to credit cards which charge over 2-2.5% per month, a personal loan from LoanTap starts at 1.5% per month, which is a lot much cheaper. Over a period of five years, it makes a lot of difference in terms of interest outflow. It is always better to exercise calm and apply for a personal loan that can be processed within a day instead of swiping the credit card in haste and repenting at leisure.
Interest-only EMIs for the first three months
At LoanTap, if you take a medical personal loan we allow you to pay only the interest component during the first three months and fixed EMIs for the rest of the agreed tenure.
We understand your situation and would like you to feel comfortable with the cash outflow in the first couple of months.
Fast Disbursal
The best feature of a personal loan is the speed of processing. As compared to other loans which may take a week to a fortnight, personal loans are processed within twenty-four hours in case of medical loans. We understand your urgency and that is why we ensure that the loan is disbursed within 24 hours of the application. This can be quite reassuring for families who are trying to arrange quick funds.
No foreclosure charges
It is always good to take the loan for the longest tenure possible to keep the EMIs low and within comfort limits. Once the situation gets better, you can focus on servicing the loan for the first six months. After that, you are free to figure out how to prepay the loan in whole or in part. You are free to foreclose the loan after six months with no prepayment penalty.
Transparent processes
The personal loan process is very transparent. You need to pay the charges specified at the time of application. There are no other hidden charges.
Minimum Documentation
Along with the online application, you will need to upload the following documents –
PAN Card
Aadhaar Card
Salary slips of last three months
Bank Statement of salary account for the last six months
At LoanTap, we can give you a medical loan from Rs 50,000 – Rs 10,00,000 for a tenure of six months to five years. We understand your needs and we have kept our policies flexible with regard to this loan.
Life can be uncertain and unpredictable. If life takes a sudden unforeseen turn due to this pandemic, you can count on us to help you raise funds within a day. This will help you to focus on the health and wellbeing of your family first.
Stay safe during this pandemic. Follow all safety precautions. Do not panic in case of a medical emergency. Do not rush to pay by credit card or take loans at exorbitant rates from the unorganised sector.
Calm down, collect your nerves and visit the LoanTap website and apply for our personal loan for medical emergency. Fill up the online application and upload the necessary documents. Our team at LoanTap understands your situation and will definitely try to approve and disburse the loan within twenty-four hours. For us at LoanTap, your needs come first.