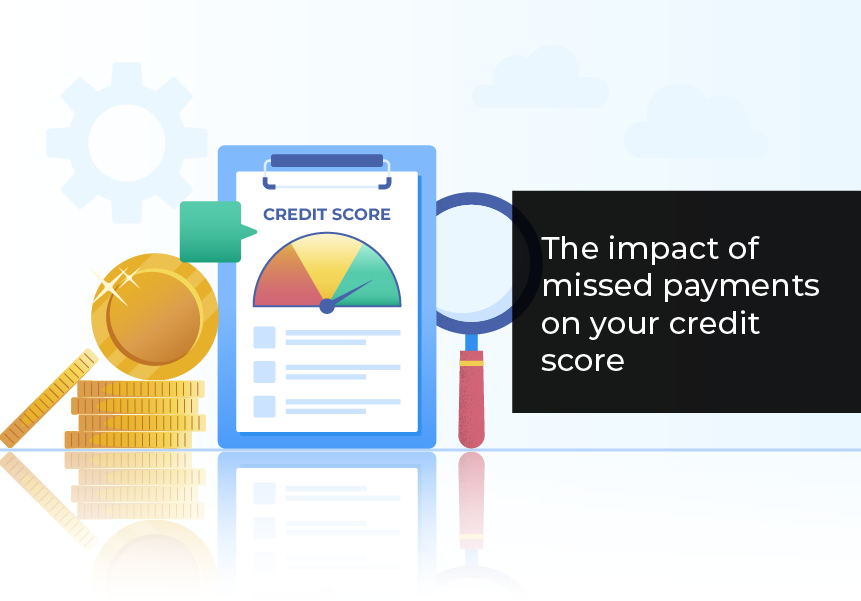 Published on : April 29, 2023
Your financial stability and creditworthiness are significantly influenced by your cibil score. Late or missed payments on the credit amount can significantly impact your credit score, potentially resulting in higher interest rates and limited borrowing opportunities. A single missed payment can stay on your credit report for up to 7 years, causing long-term damage to your credit profile. It is important to understand the impact of missed payments and take steps to avoid them to maintain a healthy credit score. 
Here we will explore the effects of missed payments on your creditworthiness and tips to avoid them.
How Delayed Payments Can Affect CIBIL Score
Late payment refers to the situation where a borrower fails to pay a debt or personal loan instalment by its due date. Such delays can have serious consequences on the borrower's financial standings and creditworthiness.
Here are some of the impacts of late payment.
Late payments can negatively impact your CIBIL score, which measures your creditworthiness. Late payments can substantially reduce your credit score and remain on your credit report for up to seven years. A lower credit score can make it more challenging to obtain credit or loans in the future, or you may have to pay higher interest rates.
Difficulty in Obtaining Credit –
Future credit and personal loan applications may be more challenging if late payments are made. Lenders and creditors typically look at your credit history and CIBIL score when deciding whether to approve your application. If you have a history of late payments, lenders may consider you a high-risk borrower, deny your application, or offer you unfavourable terms.
Increased Risk of Default
Late payments increase the risk of default. If you continue to miss payments, your account may be considered in default, and the lender may take legal action against you.
Negative Impact on Credit Report
Late payments can have a negative impact on your credit report, which is a record of your credit history. Late payments can lower your credit score, which is a crucial factor that lenders use when determining your creditworthiness. The more late payments you have, the more negative impact it has on your credit report.
Tips on How to Avoid Late Payments
Your credit score and financial situation may suffer if you make late payments. Here are some suggestions for preventing late payments:
Set up automatic payments:
Setting up automatic payments for your loans and bills is one strategy to prevent missed payments. This way, you won't have to worry about forgetting to make a payment on time. Be sure to check your account regularly to make sure the payments are being processed correctly.
If you prefer to make payments manually, set up reminders to help you remember when payments are due. You can use a calendar, a mobile app, or even set up alerts from your lender or creditor. Ensure you have enough time to pay before the due date to avoid any late fees.
Keep Track Of Your Budget:
Keep track of your expenses and income to ensure you have enough money to cover your bills and personal loans. Creating a budget can help you prioritise your payments and avoid overspending. You can use budgeting apps or spreadsheets to make it easier to keep track of your finances.
Financial Discipline Is Key
Developing financial discipline is essential in avoiding late payments. This means avoiding unnecessary purchases and expenses, setting realistic financial goals, and sticking to your budget. It also means avoiding debt and saving money for emergencies.
Conclusion
Missed payments can significantly impact your credit score, which is a crucial factor in determining your creditworthiness. The more missed payments you have, the more negative impact it has on your credit score. This can make it difficult to obtain credit or personal loans in the future, or you may have to pay higher interest rates. Therefore, it is important to make payments on time and keep track of your