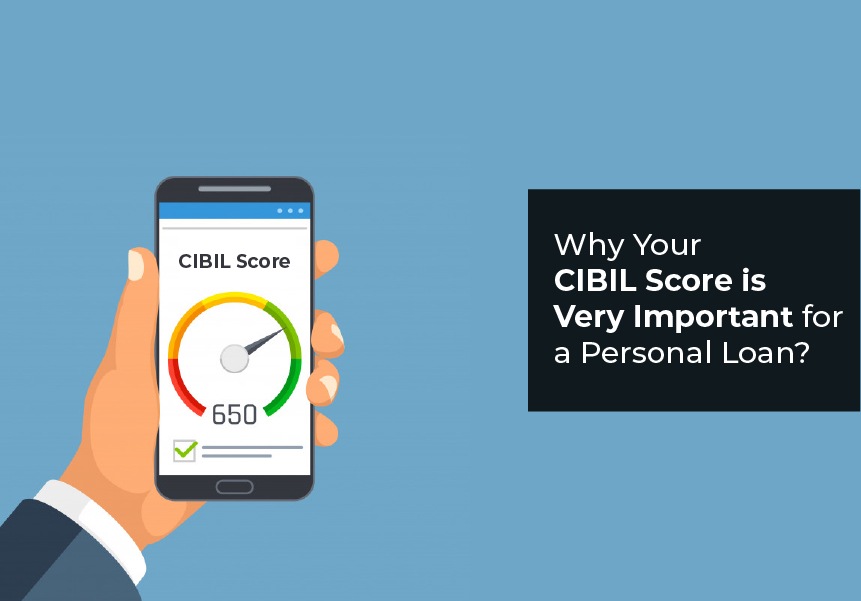 Published on : May 04, 2021
Have you ever applied for a personal loan and had it rejected? Have you been told that your CIBIL score is not high enough? If so, then you can try and understand how the CIBIL score works and how it impacts your personal loan application.
What is CIBIL Score? How does it affect my Personal Loan applications? If these are the questions running through your mind, you are just in the right place. Let us find out why the CIBIL score is very important for a personal loan.
CIBIL or Transunion CIBIL Limited is India's first credit information company. They collect and maintain credit details from banks and financial institutions. Based on this credit information, a CIBIL score and report is generated whenever a lender requests it. This is one of the main determinants of the loan approval process.
How is it derived?
CIBIL score is a 3 digit numerical summary of your credit history. Based on the information available in the Accounts and Enquiries section of your credit report. It is calculated in a range between 300 -900. The CIBIL score indicates the chance of default by a borrower based on the credit history. It takes into account the credit utilization, repayment history and past defaults to arrive at this number.
What is the link between a Personal loan and CIBIL score?
A personal loan is an unsecured loan that can be taken for a tenure of 1 month-5 years. It is a collateral-free loan. It is a convenient financing option to meet sudden expenses like a medical emergency, college fees, a vacation trip or an expensive gadget etc. It is easy to apply for and quick to process which makes it very convenient in today's fast-paced world.
Since the personal loan is unsecured, the lender needs to be sure of the creditworthiness of the borrower. The CIBIL score is the fastest and most reliable method of establishing the creditworthiness of a borrower.
How do I benefit from a high CIBIL Score?
The CIBIl score is the first check conducted by a lender before an instant personal loan is sanctioned. Statistics show that over 90% of the applicants whose CIBIL score is over 750 get their loans sanctioned. The higher your credit score, the higher your probability of getting a loan.
Can the CIBIL Score be negative?
CIBIL score can be calculated only after 6 months of credit history is collated. If your credit period is shorter than this, the CIBIL score will be negative as sufficient data is not available. So, if you are interested in a personal loan, it is advisable to wait till you build a credit history so that the CIBIL score can be calculated.
How do I apply for a Personal Loan if my CIBIL Score >750?
If your CIBIL score is greater than 750, then applying for a personal loan is like a walk in the park. You are eligible for a personal loan for salaried professionals if you
are over 21 years of age
are an Indian resident or citizen
have a monthly income of Rs 30000
All you need to do is to fill up an application online on https://loantap.in/ and upload the following documents.
PAN Card
Address proof
3 months salary slip
6 months bank statement of the salary bank account
e-Nach Mandate form
LoanTap will verify your documents, obtain your CIBIL score and once the KYC is completed, your loan will be disbursed in 24-36 working hours.
What's more, you can select your repayment plan based on your monthly cash flow and financial comfort. You can choose a flexible repayment like a step-up, overdraft or an interest-only EMI repayment plan.
Is it important to always maintain a high CIBIL score?
A high CIBIL score is a measure of your creditworthiness. It reflects responsible behaviour which encourages lenders to lend you money. It is good to maintain a consistent credit history so that you can access credit easily whenever the situation demands it.
LoanTap offers fast and friendly personal loans to eligible applicants based on the CIBIL score and a few other parameters. These loans are for a tenure of 1-5 years and range from Rs 25,000 up to Rs 10, 00,000. You can use flexible repayment options based on your requirements. Prepayments are free of charge after the first six months.
Maintaining your CIBIL score is important as it opens doors for credit access when you may need it. Since it is based on credit history while your expenses may arise in the future, it is important to be responsible and pay your bills on time. Any default will reflect negatively in your payment history and impact the CIBIL score.
So, keep your credit history clean, get a CIBIL score above 750 and avail yourself the personal loan you want in just a few clicks! Apply Now – https://loantap.in/.