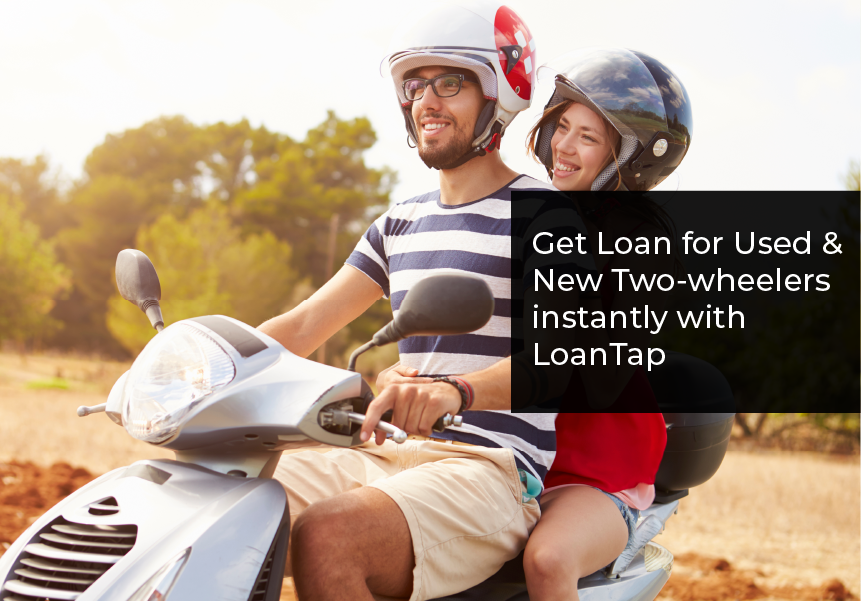 Published on : March 01, 2023
A two-wheeler is perfect if you are looking for a convenient, affordable and reliable commuting option. Depending on your choice and budget, you can opt for a new or a used two-wheeler.
Two-wheelers are the commute for the younger generation, and LoanTap has ensured that the process of purchase is made convenient by creating tailored personal loans. A two-wheeler loan from LoanTap can help you comfortably get the two-wheeler of your choice.
What are two-wheeler loans? Who is eligible for two-wheeler loans?
Two-wheeler loans are personal loans that can be used to purchase new or used two-wheelers. LoanTap has very reasonable eligibility requirements. If you are an Indian citizen or resident over the age of 21 years and earn a net monthly income of over INR 10,000, you are eligible for a two-wheeler loan.
Process for applying for a two-wheeler loan
LoanTap has created an extremely user-friendly process to get two-wheeler loans. It is a quick, efficient and seamless method that is fully digital. LoanTap offers loans up to INR 2,00,000 for new bikes and INR 1,00,000 for used bikes for tenures ranging from 12-36 months.
Step 1-The first action you need to take is to download the LoanTap app on your mobile and fill out an online application with the requisite details.
Step 2- The next step would be to upload the necessary documents for proof of identity and address. This includes –
PAN Card
Aadhaar Card
Salary Slip for the last month
Bank Statement for the last three months
Step 3– Once this is done, the system will check your application and the supporting documents. If everything is found in order, the loan application will be approved.
Step 4– The loan sanction letter will be issued, which can be submitted at your nearest showroom to pick up the new/used bike of your choice.
The entire process from application to funds is usually completed within 24-36 hours. You can repay the loan in EMIs over the loan tenure. You can foreclose the loan after six months without any prepayment penalty.
Benefits of applying for two-wheeler loan online
There are several benefits of applying for a two-wheeler loan online. Let us look at some of the advantages listed below-
Instant Loan Sanction – When you apply for a two-wheeler loan online, you get a loan sanction letter within 24-36 hours which you can use at the nearest showroom to get the two-wheeler of your choice.
24/7 availability – Since LoanTap provides digital loans, you can apply for them anytime irrespective of working hours, weekends or public holidays. This is a huge advantage over traditional loans and it gives you sufficient flexibility to plan your purchase.
No physical paperwork – No paperwork is required as the entire process is digital. Apart from the online application, nothing else is needed which is quite convenient for borrowers.
Great customer experience – The completely seamless process provides customers with a great experience as they don't need to move from their seats. It saves them multiple trips to the lender and long queues that usually accompany traditional loans.
Minimal documentation- LoanTap doesn't demand too many documents from you. A couple of mandatory documents will suffice. (List mentioned above)
Cheaper than credit cards – Two-wheeler loans from LoanTap are cheaper than credit cards. Credit cards charge 2.5-3% per month while personal loans charge half the rate. It is prudent to plan your big-ticket expenses and use a personal loan to finance the same.
Conclusion
Two-wheelers are a very popular mode of commuting, especially among youngsters. If you face any financial problem then consider a two-wheeler loan. LoanTap offers tailored personal loans to help you give wings to your aspirations. The loans are offered at very reasonable terms and can be comfortably repaid over the loan tenure. So, don't be worried if you are falling short of funds to buy your first bike. LoanTap has you covered by offering you personal loans up to 80% of the on-road price that you can repay over 36 months. Hurry! Download the LoanTap app today! Drive away with your favorite bike!