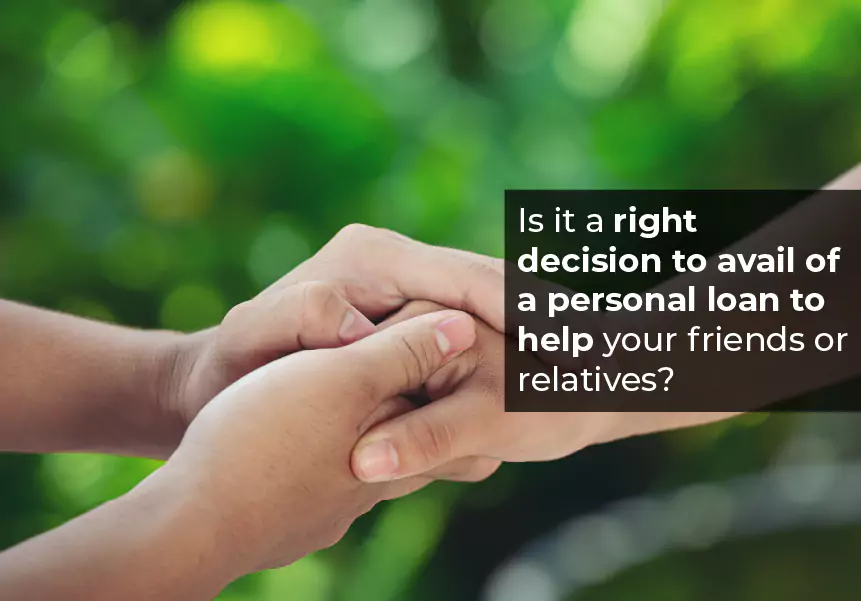 Published on : August 04, 2021
Helping someone in need is not a bad thing at all. People face financial emergencies for a variety of reasons. It could be a medical emergency or a deadline to pay educational fees or it could be a personal debt that needs to be closed. It is possible that the previous emergency has wiped out their savings and they are in dire need of funds. Under such circumstances, you may be willing to support them financially. If you can do it out of your own funds, nothing like it. That's an ideal solution. However, what if you are willing to help but do not have the funds. If the situation is serious you may be willing to go the extra mile and take a personal loan to help them out.
Taking a personal loan is the easy part. How do you ensure that your interest is protected and you get back your money safely?
Get into an agreement with the friend or relative
Record the interest rate at which you are taking the personal loan
Have a formal repayment plan
Put in all the safety clauses in writing
Get the agreement notarised
Get into an agreement with the friend or relative
While you enter into an agreement with the lender for a personal loan, it is best to draw up an agreement with the friend or relative. The agreement should mention the amount of the loan, the date and the tentative date of repayment.
Record the interest rate at which you are taking the personal loan
Personal loans at LoanTap come at a rate of interest starting at 18% per annum. Since you are trying to help the person, you may not be interested in making a profit on this transaction. However, you would not like to be out of pocket either. The best way to protect your interest is to record the same interest rate on the agreement with your friend or relative. The purpose of taking this loan is because they are not in a position to take a personal loan. Reasons could be existing loans, poor credit score or being out of a job. Of course, if you wish to bear the interest burden yourself or charge them a lower interest, it is completely up to you but you should record the interest rate in the agreement for your own safety.
Have a formal repayment plan
Lending to friends or family sours relationships mostly because they do not have a formal repayment plan. Circumstances change with time and in the absence of a formal repayment plan, it would be difficult to enforce anything in future. Remember, you need to pay off the personal loan to the lender at a prefixed EMI within the prescribed time. It is your credit score that is at stake in case of any delay or default. So you are better off having things in writing.
Put in all the safety clauses in writing
Yes, you may have lent to a friend or relative in good faith. In this case, you have actually taken a personal loan to lend to them. You are legally bound to honour your contract with the lender. He will not accept any delay or default in the payment of EMI. It is important that you put in the repayment clauses in your agreement and the penalty in case of default. Remember, if they default on their payment, you will have to face the music with the lender. Your credit score will be impacted and you will find it difficult to borrow in future.
Get the agreement notarized
Remember that an agreement has no value or legal standing unless it is written on stamp paper, witnessed and notarized. It is always safe to get these agreements notarized for future safety. It is best to keep the agreement formal instead of being ambiguous and bearing the brunt in future. Else your act of kindness could land you in hot water.
Once you put it in a formal agreement and get it notarized, it will stand in a court of law. You will need this to protect your interest as you are the one paying the third party ie, the bank or NBFC. You will need the law to back you up in the event of your friend or relative backing off and refusing to pay.
Being good and generous is fine but it is your credit score on the line. So you cannot afford any defaults.
Now let us explore the easy part, ie. getting a personal loan. Getting a personal loan is very simple. Personal loans are unsecured loans and therefore collateral-free. You can take a personal loan for any purpose without the need to specify it. The eligibility criteria for personal loans is very simple. If you are an Indian citizen or resident over the age of 21 years and earning over Rs 30000 as monthly net income, you are eligible to apply for LoanTap's personal loan.
All you need to do is to fill up an online application and upload the following documents-
PAN Card
Aadhaar Card
Salary slips of last three months
Bank Statement of the Salary Account for the last six months
The team at LoanTap will assess your application and if all the documents are in order and your credit score is decent, your loan application will be approved and the loan disbursed within 24-36 hours. You can pick the repayment plan that is most convenient for you. After you service the loan for six months, you can prepay the loan without any prepayment penalty. LoanTap provides personal loans in the range of Rs 50,000- Rs 10,00,000 for a tenure of six months to sixty months.
So go ahead. Do a good deed. In case of an emergency, there is nothing wrong with taking a personal loan on behalf of a friend or relative. To protect your own interest, ensure that you draw up a parallel agreement with the borrower to avoid controversies in future. No matter what your purpose, we are just a LoanTap away.
Related Article – Ten Commandments that you need to follow while applying for a Personal Loan