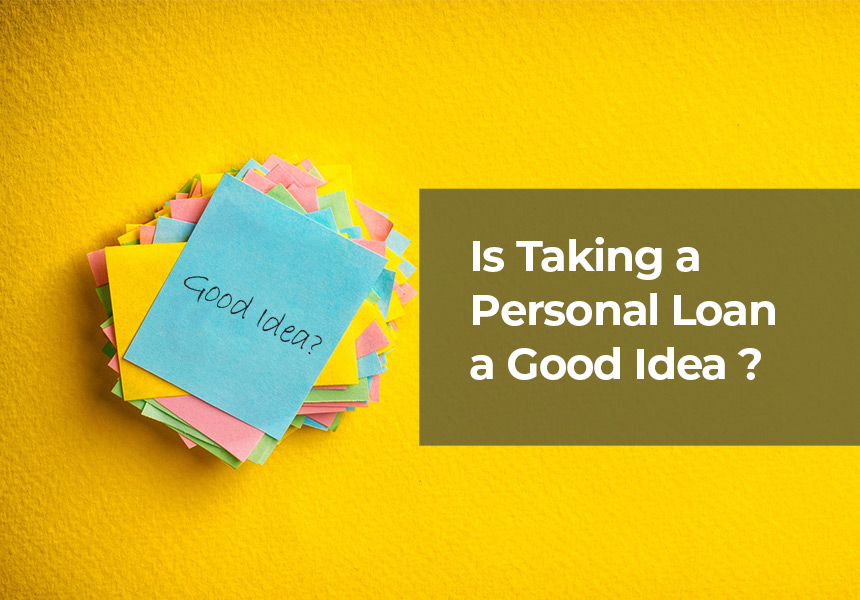 Published on : February 14, 2020
Whether you face the fast pace of today's corporate world or the demanding schedule of a start-up, it is important to make yourself feel motivated and celebrate the little victories. Being able to gift yourself and your loved ones prized possessions while saving a part of your income is what good financial planning is all about. Availing a personal loan and using it to fund your trip or to buy yourself a new bike is great, as long as you know how to manage timely repayments and not get into a debt cycle.
Is Taking a Personal Loan a Good Idea?
Personal loans are the most viable form of debt that a person can avail when in need, and the fast-paced lifestyle needs have encouraged lenders to flood the market with attractive personal loan products. Lenders have sweetened the pot with minimum documentation, quick loan disbursal, and comfortable loan terms and tenure.
These loans are super useful when you need funds in a hurry, such as wedding, travel plans, vehicle purchase, or home renovation. Personal loans are great for short-term as well as long term requirements. Based on your needs, you can prepare a budget and figure out if your income can accommodate the EMIs. If yes, you may go ahead and apply for your personal loan!
What you need to Remember While Taking a Personal Loan?
Borrow only as much as you need This is a very important way to avoid getting debt trapped. You may be eligible for a higher loan amount but borrow just as much as you need. If you are unsure of the amount to borrow, opt for a Personal Overdraft, where the full loan amount is sanctioned in one go and the withdrawals can be as per need. You would have to pay interest only on the amount you use.
Borrow only what you can repay As a thumb rule, a personal loan EMI should not exceed 15-20% of your monthly net income. See how much EMI payment you can accommodate after meeting all your expenses and adjust the loan amount accordingly.
Choose the right tenure Longer loan tenures will help you reduce the EMI amount and short tenures may be suitable for short term cash needs where one expects the money from another source in few days or months. There are lenders who offer long tenure as well as no prepayment charges. Choose carefully! Make timely payments Late payments butcher your credit scores and reduce your chances of getting loan approvals in the future. Also, they make you liable for additional fees and/or late-payment charges.
Don't use loan money for luxury spending Since a personal loan does not come with a restriction of where to spend the loan money, it is sometimes easy to give in to the impulse of spending the loan money on luxuries. Although it's great to treat yourself occasionally, be careful while spending borrowed money and make sure you can pay it back on time before making any unplanned expenditure.
Consolidate and pay off your debts Personal loan is the best financial tool for debt consolidation. If you have high-interest loans or are managing multiple debts (credit cards and/or loans), it makes sense to consolidate your debts and pay them off by taking a single personal loan. This frees you up from the hassle of remembering multiple payment dates and amounts and eliminates the chances of missing a payment date. If you carefully select a personal loan that charges lower interest than your existing debts, you will need to pay less as interest.
Read the terms carefully Before you sign the loan agreement, read the fine print carefully. If needed, take the help of a friend, colleague, or family member, and ask them to read the contract for you and ensure that you know what you are getting into.
What Common Mistakes you can Avoid while Applying for Personal Loans?
To err is human. But being aware of potential pitfalls beforehand may help you avoid them:
Inadequate research It is extremely important to do your homework when it comes to borrowing. Research several lenders and consult people who have availed personal loans and/or know the intricacies of borrowing money from professional lenders. Compare the features and terms of various loans and lenders, keeping an open mind about online personal loans.
Borrowing more than you can repay Rather than being an impulsive borrower and spender, think the decision through with a budget in mind and borrow only as much as you can comfortably repay.
Borrowing money for investment purpose While borrowing money for investing may sound like a financially solid plan, there are quite a few holes in this theory. If you are taking a loan for making investments, ensure that: one, the rate of interest on your loan is lower than that you get from your investment; second, make low-risk investments with no/minimum risk of losing any money.
Using loan money for unnecessary expenses A Personal loan is designed to take care of your "needs" and some wants. Using borrowed money for preventable and indulgent purchases may not be good for your financial stability. If you must take a loan for a much-coveted luxury bike or an awaited international trip, make sure you have the means to pay off the loan in a timely manner without disturbing your investments.
Skipping the fine print As mentioned earlier, it is particularly important to read each clause of an agreement before signing it. Sometimes, desperate needs for cash can cloud judgement and lead to hasty decisions that may not necessarily be wise. Take your time and seek counsel from financially knowledgeable sources before signing on the dotted line.
In Conclusion
Personal loans are a boon because they are the quickest and the easiest form of debt available in the market. If used wisely, they can be your best friend in times of a budgetary crisis. Therefore, identify your needs, chalk out a budget, and then take a Personal loan.
---
At LoanTap, we provide online loans ranging from ₹50,000 – ₹10,00,000 at competitive interest rates.
Download our Personal Loan App to apply now: Google Playstore / Apple App Store