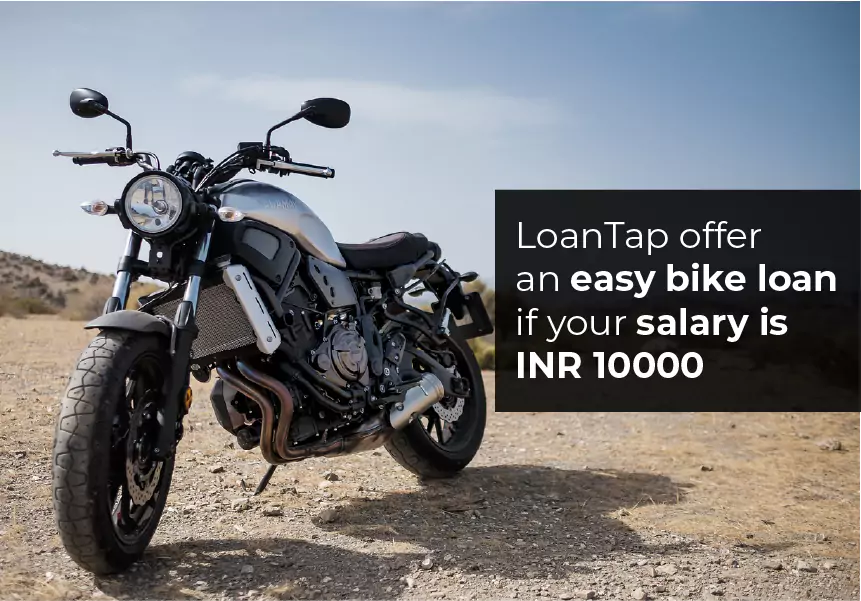 Published on : December 29, 2021
The Covid-19 pandemic has drastically changed the way we live, transact, shop, study, work and do business. With the drastic increase in e-Commerce, the demand for last-mile delivery has increased exponentially. There is a huge demand for delivery riders and they need to own a bike. Apart from this demand, young people on their first jobs prefer to buy a bike for their daily commute especially if their workplace is nearby.
There is a huge demand for bikes from the younger generation whether they are on their first job or self-employed. Getting a vehicle loan may be difficult for those with a low income. Moreover, a vehicle loan is a secured loan that requires collateral. It involves a lot of paperwork and may take over a week to get processed.
LoanTap understands the needs of this segment of consumers. To help them buy a bike using a personal loan, the loan eligibility criteria has been modified for them.
To avail of the personal loan from LoanTap, you need to meet the following criteria-
You are an Indian citizen or resident
You are over 21 years of age
Your net monthly income is Rs 10,000.
What is the process of getting an easy loan from LoanTap?
The process of getting an easy loan from LoanTap is very simple. What you will need to do is visit the LoanTap website or download the LoanTap app.
Next, you will need to fill in an online application form with the required details.
Now, you will be required to upload the following documents –
In case of salaried –
PAN Card
Aadhaar card/Driving license/Passport for proof of permanent address
Copy of latest utility bill/telephone bill/postpaid mobile bill/ registered rent agreement for current address proof
In case of self-employed-
PAN Card
Aadhaar card/Driving license/Passport for proof of permanent address
Copy of latest utility bill/telephone bill/postpaid mobile bill/ registered rent agreement for current address proof
Business establishment proof
ITR for the last two years
Those who have no income proof will need to provide Own house ownership proof like a property tax receipt, electricity bill, etc.
Depending on the category of the city and type of income, the maximum loan amount will be sanctioned as given below for category A city
Net Income per month Salaried Self Employed
% of LTV On Road Cost
10000-15000 85% 80%
15000-25000 90% 85%
25000+ 95% 90%
LoanTap offers a minimum loan of Rs 20000 to a maximum of Rs 2,00,000 subject to the eligibility of the applicants. The duration of the loan will be from six to sixty months. Interest rates start from 18%p.a.
Once you submit your application, it will be scrutinised by the LoanTap team. If your CIBIL score is decent and all the other parameters are met, your loan will be approved. You will receive the credit in your account soon. The entire process will not take more than 24-36 hours.
You can decide the tenure of your loan based on your convenience. Use a personal loan EMI calculator to work out which tenure gives you the most convenient EMI that fits in your monthly budget. You can pay off the entire loan after six months without any prepayment penalty.
Why is it cool to take an easy bike loan from LoanTap?
LoanTap has simplified the process of taking loans by offering tailored loans to meet specific needs. The entire experience of taking a loan from filling in the application to collecting the cash is quick, pleasant and seamless.
No collateral – There is no need to provide collateral as personal loans are essentially unsecured loans. This makes it very convenient for the younger generation to get a personal loan.
Easy eligibility criteria – Keeping in mind the constraints of the segment who would go for a two-wheeler loan, LoanTap has minimum salary criteria of just Rs 10000 net monthly income which can be easily met.
Minimum paperwork – There is no need to get into elaborate paperwork and fill up numerous forms. A simple online application followed by the upload of the mandatory documents required is enough.
Quick disbursement – Unlike traditional lenders, LoanTap processes easy loans within 24-36 hours. You can plan your big-ticket expenses better when you take a loan from LoanTap.
Cheaper than a credit card – If you buy the bike on your credit card, you will incur 2-3% interest on the monthly outstanding balance which is a huge 24-36% on an annualized basis. Compared to this, LoanTap rates are much cheaper at 18%p.a.
Getting a loan from LoanTap is so simple that anyone can do it. The benefits of taking a personal loan to meet big-ticket expenses are quite obvious. It offers you a convenient method to meet your short term fund requirements. You can avoid getting into financial obligations with family and friends. The need to borrow from the local moneylender is eliminated. When you have a structured digital loan available at your fingertips from an RBI authorized lender, why look for other choices?
Go ahead and make that life-changing decision. Get yourself a two-wheeler loan and go for an electric vehicle to save the environment. It will work out cheap and you will find it very convenient for your daily activities. If you are working with a logistics company, it is the perfect solution for you.
No matter what your dreams and aspirations are, LoanTap makes it easy for you to convert them into reality. For all your enquiries regarding easy loans for bikes please visit https://loantap.in/ and we will be glad to assist you.
What are you waiting for? If you are looking for an easy loan to buy a bike, LoanTap is here to brighten your day.