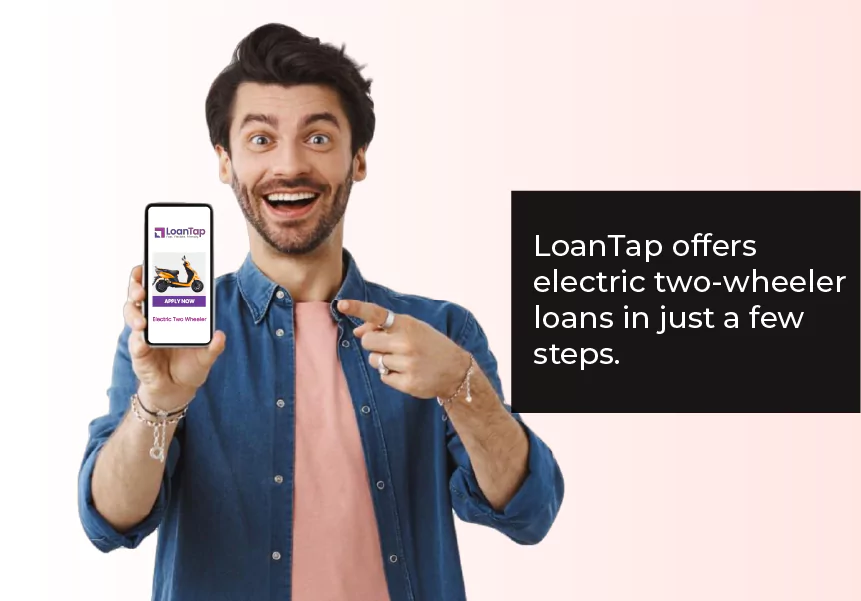 Published on : September 07, 2022
The modern fast-paced world is always looking for futuristic solutions to solve everyday problems.  Electric vehicles are designed to create clean and green transport that is good for the pocket and for the planet. Electric two-wheeler loans are the future of the commute for a majority of the population. It is a perfect blend of comfort, convenience, cost savings, low maintenance, environment friendliness and more. Given the spiralling cost of fuel costs and the adverse impact on the environment, it makes a lot of sense for conscientious citizens to switch to a more friendly form of transport for their daily needs. It would take a lot of pressure off the planet and reduce global warming. If you are looking for an electric two-wheeler and want a two-wheeler loan to make your dream a reality, you have come to the right place. Read on to see what LoanTap has to offer.
What are the Two-Wheeler Loans from LoanTap?
Electric two-wheeler loans from LoanTap are unsecured personal loans that can be repaid over the short term. They do not require any assets to be pledged with LoanTap. This is the most important feature that makes these loans popular among the younger generation. LoanTap offers electric two-wheeler loans from INR 20,000 to INR 2,00,000 for periods up to three years.
What are the Electric Two-Wheeler Loan Eligibility Criteria?
To avail of an electric two-wheeler loan from LoanTap, you will need to fulfil some requirements-
You have to be an Indian citizen or resident
You must be over the age of 21 years of age
You must have a minimum net monthly income of over INR 10,000
Your credit score should be 630 or more
What is the Process to be Followed to Get an Electric Two-Wheeler Loan?
The loan process followed by LoanTap is very simple. All you need to do is download the LoanTap app on your smartphone and fill out an online application with the required details.
You will need to upload the following documents –
PAN Card
Aadhaar Card
Salary Slips for the current month
In the case of self-employed applicants, Income Tax Returns for the current year
Bank Statements for the last three months
Once you upload the documents, your job is done. You can sit back and relax or sip on your favourite beverage while the system processes your application and verifies your documents. Once the documents are verified, you will get a sanction letter approving the two-wheeler loan for 80% of the on-road price of the electric two-wheeler you choose. You can take this sanction letter to the nearest showroom and pick up the two-wheeler of your choice.
The entire process from start to finish takes between 24-36 hours. You can repay the loan in EMIs over the agreed tenure. You can prepay the loan after 6 months without any prepayment penalty.
Why Should You Take a Two-Wheeler Loan from LoanTap?
LoanTap has designed electric two-wheeler loans with simple eligibility criteria so that a majority of the population can avail of the loan. Two-wheeler loans from LoanTap come with several obvious benefits some of which are discussed below –
Simple Eligibility Criteria – LoanTap offers electric two-wheeler loans against very simple eligibility criteria that are easy enough to be met by a majority of the target population.
24/7 Availability – Unlike traditional loans, these online loans are available around the clock. You can apply whenever you want and get your loan approved irrespective of weekends or holidays.
Instant Sanction Letters – You can collect your online sanction letter within 24-36 hours of your application. Traditional lenders take up to a week to process loan applications.
No Paperwork – Since the entire process is digital, there is no physical paperwork required. You can say goodbye to filling multiple forms in triplicate that you would encounter with traditional loans.
Minimum Documentation- Unlike traditional loans, online two-wheeler loans will require minimum documents to be submitted which makes the process convenient and hassle-free. Transparent Process – There are no hidden charges involved while applying for a two-wheeler loan from LoanTap. The company follows a transparent process and nothing is hidden from the borrower.
Wrap Up
LoanTap has simplified the entire process of availing of personal loans by tailoring customized solutions that fit individual needs. The focus is on making affordable financial solutions easily available to as many people as possible. This has been ensured by lowering the eligibility criteria so that more can make use of the funding solution. On the other hand, electric two-wheelers are environmentally friendly. By making the process easy for borrowers and giving them an open sanction letter that they can use at any showroom nearest to them, LoanTap has ensured that borrowers have a very friendly experience.