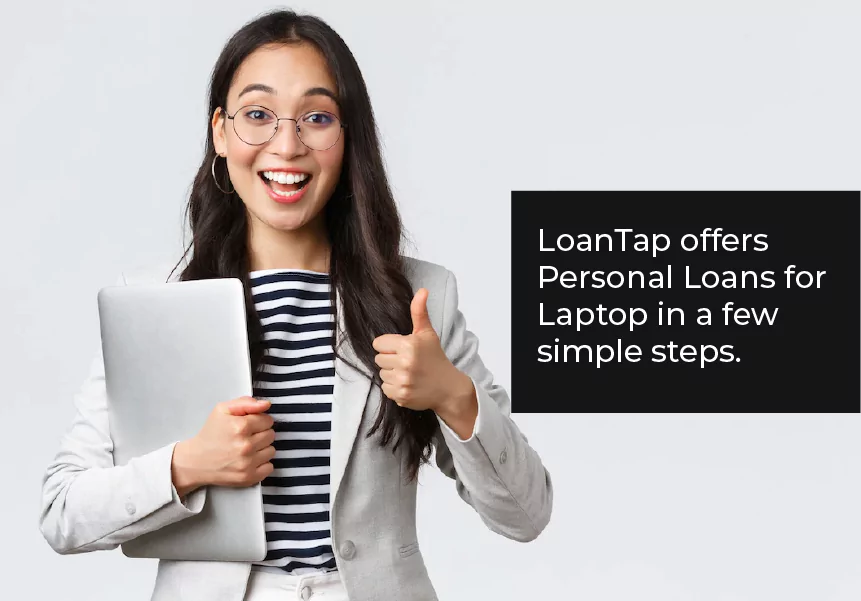 Published on : September 29, 2022
In this fast-paced world, owning a laptop has become essential for personal and professional needs. Whether it is working from home or freelancing or running a business, a laptop becomes an essential device that you cannot do without. It is no longer a luxury or aspiration. It has become more of a necessity for professional development and growth. If you need to purchase a laptop and wondering how to get the funds, LoanTap is ready with tailored personal loans that will help you buy the laptop you always wanted.
What are Personal Loans?
Personal loans are unsecured loans that do not require collateral. They can be used for any purpose as long as they are legal. This makes it a very important feature that appeals to the younger generation who have just started off in their careers.
LoanTap offers personal loans from INR 25,000- INR 200,000 for tenures ranging from 3 months to 5 years. A processing fee of 2% plus GST is charged on the loan. Annual Interest rates start from 18%.
What are the eligibility criteria for a Personal Loan for Laptop?
You need to fulfil basic eligibility requirements to apply for a personal loan from LoanTap.
You need to be an Indian citizen or resident
You should be over 21 years of age
Your minimum monthly net income should be over INR 30,000
What documents need to be submitted for a Personal Loan Application?
Once you download the LoanTap app on your smartphone, you will need to fill out an online application and upload the following documents.
PAN Card
Aadhaar Card
Salary Slips for the last three months
Bank Statements for the last six months
What are the flexible plans offered by LoanTap?
EMI Free Loan – The LoanTap EMI Free Loan can be used to buy the high-end laptops that may cost from INR 70,000- INR 2,00,000. You have various brands like Apple, Dell or HP to choose from. You can pay only the interest component as EMI while you can pay off the principal in bullet payments every 3/6 months. If you are a professional who gets lumpsum payments on a periodical basis, this will be perfect for you.
Term Loan – This option is perfect for those who are interested in purchasing mid-range laptops offered by brands like Asus or Lenovo. These are available from INR 40,000- INR 1,00,000. You can pay off the principal and interest components in fixed equated monthly instalments. This is ideal for those getting a monthly salary.
Advance Salary Loan – If you need a laptop on an urgent basis and cannot wait for your salary, you can opt for an Advance Salary Loan to buy your laptop from INR 25,0000- INR 1,00,000. You can check out brands like Samsung, Asus, Lenovo or HP. You will need to pay off this loan within three to nine months.
What are the benefits of opting for a LoanTap Personal Loan for a Laptop?
No collateral – Personal loans from LoanTap are collateral-free. So there is no hassle of pledging any assets to avail of the loan.
Reasonable Interest Rates – It is more economical to opt for a personal loan than to swipe your credit card if you want to buy a laptop. Credit cards charge anywhere between 2.5-3% per month on the outstanding balance while personal loans come at half the rate.
Minimum Documentation – The documents required for a laptop loan are minimal and can be provided easily.
No paperwork – Since the entire process is online, no paperwork is involved which is good news for this generation who are always in a tearing hurry.
Instant Disbursal – Laptop loans are processed and disbursed within 24 hours which makes it very convenient for borrowers.
24/7 access – Online personal loans score over traditional lenders because of their availability around the clock. You can literally get a loan anytime, anywhere which is great in case of an emergency.
Transparent process – LoanTap follows a transparent process with no hidden charges. Everything is mentioned upfront and there are no nasty surprises.
Wrapping Up
A laptop is essential for professionals to develop their skills, enrol in online learning courses, engage in freelance work and more. It is no longer a luxury that it was even a decade ago. Everyone has dreams and aspirations and to progress in this fast-paced world, having a laptop is a must. LoanTap is focused on helping people make their dreams come true with tailored customized lending solutions that are convenient for borrowers. The entire process is smooth and seamless and offers customers a great user experience. If you are looking for a laptop and need funds for the same, don't rush to swipe your credit card or wipe out your savings or borrow from friends or family. Just download the LoanTap app and let the magic unfold.