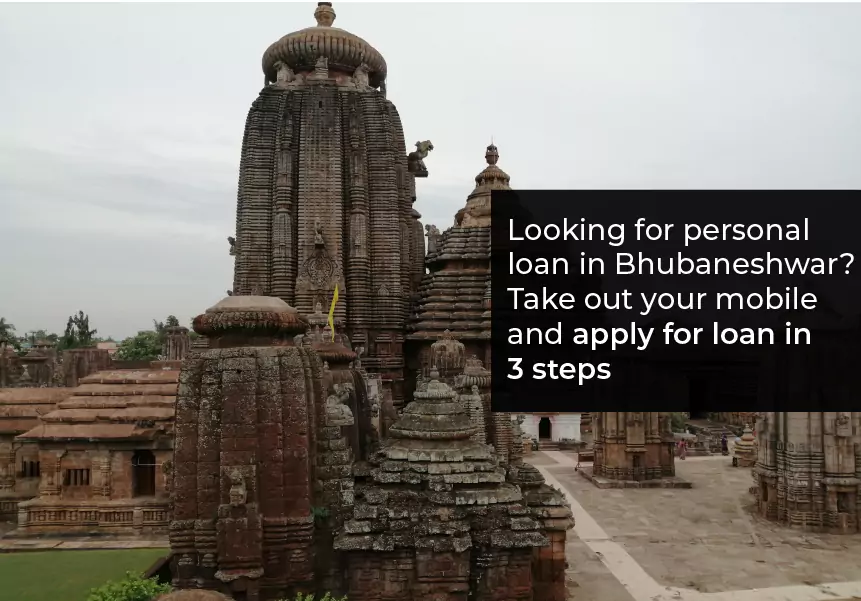 Published on : March 12, 2022
Are we financially stable? That is the main question everyone has today! Somewhere or other, we are earning well, but a situation occurs when we need financial assistance, and there is no one to support us like a pillar. In such a case, personal loans protect you from economic instability and give you the financial support you require. It works like an umbrella to protect you from bad weather. For instance, Next month is your daughter's wedding in Bhubaneswar. What will you do? Yes, Bhubaneswar is one of the famous wedding destinations. If you are smart enough, you will get to know personal loans are much better than credit cards. You can get a decent loan at half the interest rates. Now the main question is where to obtain a loan from?
If you have a reasonable credit score and want to get a quick loan, you have come to the right place.
LoanTap is a Fintech Company providing loan services in most of the popular cities of India. We have a digital platform and have an in-house RBI registered NBFC. We are known for using the latest technology for all the documentation to loan sanctions. We coordinate with you to give you the loan on time! Here are reasons why personal loans are your last resort.
Instant Personal Loan Eligibility
Want to have an instant personal loan? If "yes", LoanTap, your financial buddy, is there to help you out. What do you need to do? You need to fill up the basic details on the LoanTap website. Within a few seconds, you will get to know the provisional loan eligibility.
You will be aware of processing fees and related charges. Next, select your loan amount, upload all the required documents, and fill in your professional/personal details. After a quick verification by the representative, you will have your loan within 24-36 hours. Does it sound great? Are you ready for a quick loan?
Time for Quick Disbursal :
LoanTap is known for using a proprietary algorithm platform, assessing your credit score, credit checker, and doing disbursal faster than banks. So, the loan sanction process at our platform is as quick as you can ever imagine! Right from one stage of loan application to the last stage, disbursal, we take 24-36 hours to give your loan. Once you are done uploading your documents, our representatives will start the loan application procedure. You cannot have a quick loan from anywhere! Only LoanTap gives you this facility. We know the personal loan is a necessity now, and we are here to provide you with the best assistance.
Minimum documents required :
You might be thinking we take a long process in doing documentation! No, At LoanTap, minimum documentation is required to process your loan. What do you have to do? Land on the LoanTap website, check out the personal loan eligibility process and the list of online documents. In the majority of cases, we asked for a PAN card, bank statement, Address proof and salary slips for three months. Only in a few selected cases do we ask for additional documents, the request of which is sent to you by our representatives in your mail.
Long Tenure loans
You can select the loan amount based on your needs and not what the bank has decided for you. That's what makes LoanTap unique from others. We offer our customers high amount loans starting from Rs 50,000 to Rs 10 Lakh, for a 6- 60 months tenure period. We are known for customizing loans as per your requirement. If you are concerned about your monthly budget, we provide the loan for a long tenure. So no matter what your requirements are, we provide you with loans within 24-36 hrs. Connect with LoanTap to know more about the benefits we offer.
No part payment/prepayment charges :
Have you ever thought about part payment/prepayment charges for repaying your loan before it matures? Relax! You are at LoanTap; we will not bother you with such nightmares. We have an option for prepayment of the loan that you can have any time after six months period of loan disbursal, and it will not cost you any prepayment charges or penalties. We have your best interest in mind at all times.
How to get a loan from LoanTap in three steps?
Are you looking to have a loan from the trustworthy platform, LoanTap? If "yes", Take out your mobile and apply for a loan in 3 steps. It does not matter if you are an Android user, or iOS user, both can use the LoanTap website or Application.
Step 1: The most important step, the Online Application
Land on LoanTap's official website or mobile app, upload your required personal or professional documents, or you are permitted to mail your details on LoanTap official email.
Step 2: Now, wait for Loan Tap representatives; they will check out the uploaded documents and revert.
Step 3: KYC & Fund Transfer :
The LoanTap representative will check all the uploaded documents, verify them, and activate the online instant disbursal.
The above steps are simple and you can easily do on your mobile and get instant loans.
Eligibility Criteria for personal loans :
LoanTap provides loans to people who have a net monthly salary of INR 30,000
Indian residents/citizens aged 21 are eligible to get loans via LoanTap.
Now, Quick personal loans are just a call or mail away!
LoanTap offers customer-centric products as we believe every customer has a different reason to opt for a loan, and we are there to help you. Are you taking a loan for marriage purposes? Forget everything; we are there to make your wedding a grand occasion that you have never imagined. Our wedding loans are the best way to kick-start your new life! Are you still dreaming about your next holiday destination? No more dreams anymore; they change into reality with our Holiday Loans. Are you waiting for your salary to give a gift to your loved one? No more wait is required; we offer Advance salary loans that will care of your needs.
Final Takeaway!
Celebrations are the most beautiful part of life! We must celebrate every moment! That's why LoanTap believes you deserve your happiness with our customized loans. So, what are you waiting for? Bid farewell to all your financial issues and make your dream come true. If you have selected Bhubaneswar as your wedding destination, choose personal loans in Bhubaneswar via LoanTap and have a dream wedding. Our representatives will help you out with all the needed loan procedures and ensure that your wedding becomes the best day of your life. At LoanTap, we not only provide loans, but we also provide happiness. So, time to meet us, connect with us and tell us your problem; we assure you we have loans for every individual.