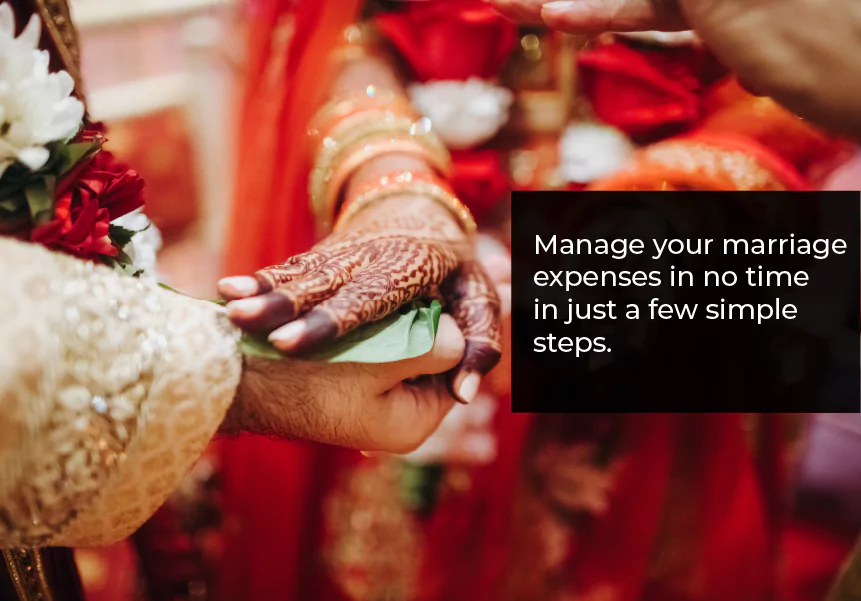 Published on : July 04, 2022
Planning for a wedding is not an easy task. You have already spent a few months figuring out the perfect theme for your grand affair. Indian weddings are multi-day events where thousands of guests gather to take part in making your D-day memorable. Although Indian parents help in financing their child's weddings by saving up from the day they are born, you may still be happy with some extra funds to meet unplanned expenses.
The wedding planning process begins at least six months before the event. Choosing a venue, caterer, invitation cards, and outfits takes time. All these things require a proper budget. However, the discussion around the expenses and budget can get heated and adding new expenses at the last minute can make the budget go haywire.
But, you don't have to push your budget limit if you plan your expenses well in advance and maintain discipline.
Step 1: Decide What You Want
Most people go with emotions rather than a concrete plan. The type of wedding you want should be clear to you in advance. Prepare a proper plan with all involved parties – you, your partner, and your parents. You can discuss every minute detail of your wedding. It should include expenses, which are:
The number of events you are going to have.
How many days does it take to complete all traditional events?
Do you want a destination wedding?
How many guests are coming?
What kind of venue do you want?
What should be the theme and decor?
Miscellaneous costs include invitations, gifts, outfits, accessories, and more.
Write them on a paper for future reference. It will help you estimate how much you need to spend on the things involved. Also, it will indicate how much your parents, partner, and you can contribute.
Step 2: Plan the Wedding Budget
Now, you have clarity on how much each party can contribute. You can calculate the estimated amount each is likely to spend and create your wedding budget that may not exceed the limits. Without a budget for your wedding, you cannot estimate how much you can spend in total or where you want to spend it.
Couples can break their wedding costs into different categories, such as outfits, venue, catering, transportation, photography, hotel, etc. You can use the percentage method to know how much you can spend on each category. Do not forget to keep 5% to 10% for the unplanned expenses in your wedding.
For example, 40% – Venue and Decor; 20 percent – attire/looks 15 percent – catering; 10% – miscellaneous. Likewise, you can divide the expenses within each category into percentages and stick to it.
Step 3: Compare Prices from Vendors
Don't stick to only one option. You should take a tour to get quotes from different vendors, including caterers, decorators, and venues. This will you get a rough idea of the market price and be able to negotiate for the best offers. While getting quotes from the vendors, make sure you do your own research too.
Some vendors can have a contract with you and offer you fixed rates for the next six months. It will assure both parties and guarantee that the vendor cannot add hidden costs or any charges without letting you know.
Step 4: Figure out the Estimate Costs
When you get quotes from vendors, you can figure out how much to spend. Also, the quotes from various vendors will help to compare the prices. You can get a vendor who offers all the services within your budget.
However, if the estimated costs exceed the wedding budget, try to cut costs and choose other vendors with lower prices. You can list the expenses where you can reduce the cost.
Step 5: Take a Wedding Loan
Sometimes, you may still face a shortage of funds while managing your marriage expenses in spite of all your calculations. Swiping the piece of plastic can help you manage the situation temporarily but the instalments would be too high given the exorbitant interest rates. Under such circumstances, a personal loan can help you fulfil all your wishes.
Instant loan apps can help you make your dream marriage a reality. Applying for a loan online is easy. You can opt for one of the flexible repayment plans that work for you.
What is a Wedding Loan?
Wedding loans are personal loans ranging from INR 50,000 to INR 10,000,000 for tenures between 6 months to 60 months. You can opt for EMI free loan or step-up repayment plans. When you take an EMI free loan, you can pay the interest component in monthly EMIs while the principal can be paid off in bullet payments once every 3/6 months. With the step-up option, you can get an only interest payment option for the first three months after which the normal EMIs commence. This will help you in managing your expenses well and repaying at your own convenience which makes it the best of both worlds.
The online loan process is simple and quick. Fill out the application form with basic details and submit the required documents. When the process is completed, the loan amount will be credited within 24 – 36 hours. You don't need to offer any collateral.
Eligibility Criteria for Marriage Loan
Taking a wedding loan from LoanTap is an easy task. It is a hassle-free process that offers loans instantly. But, make sure that you are eligible for a personal loan. Check the following list of eligibility criteria:
Your age must be between 21-60 years.
Your minimum net monthly income must be Rs.30,000.
A Salaried employee with work experience of at least two years.
You must be an Indian resident or citizen with residential proof.
The loan will be approved soon, If you meet all the eligibility conditions. Also, consider your income, credit score, and repayment history while applying for an instant personal loan. If you urgently need cash, go to the LoanTap website and click on apply now. Celebrate your wedding day without worrying about a financial crunch.