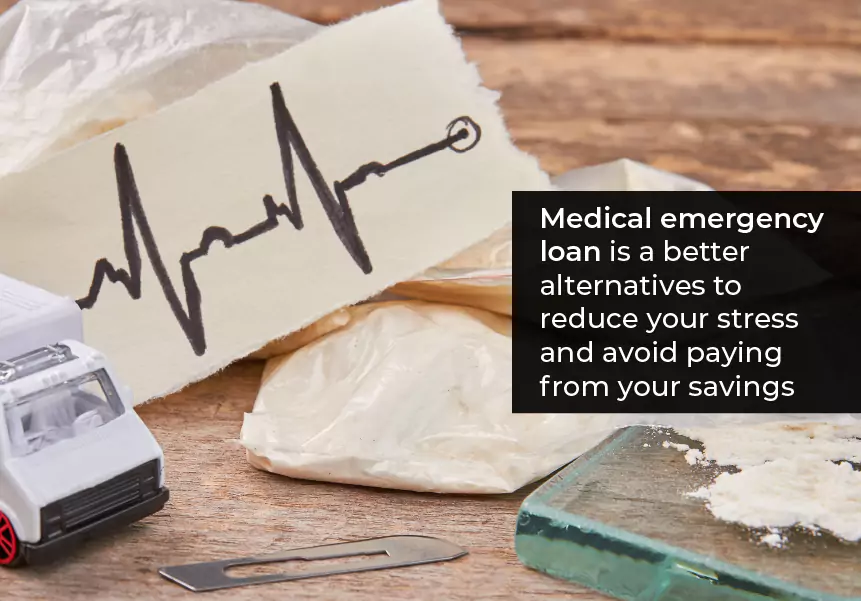 Published on : February 21, 2022
Medical emergencies never come with a warning. So, it is better to be prepared for unexpected health complications. If you have bought health insurance you may feel safe.
Due to a fast lifestyle, people are suffering more and have health-related issues. In 2020, a pandemic showed how health is more important than anything else. Some people were left struggling as there was no financial support during the tough period as they had no contingency fund. Only some people believe in savings for their future.
If you have health insurance, you may not require any financial support to handle medical emergencies. However, you can't just rely on medical insurance or savings. Therefore, Personal Loan for medical issues is an accessible source of finance.
An Alternative Solution for Medical Needs – Medical Loan.
In this situation, you need a sufficient account balance to pay off your medical bills. It is the best alternative to cover all your medical expenses in monthly instalments. It gives you enough funds for proper treatment. So, in this blog we'll discuss Medical Loan and how it has changed the lives of borrowers.
How Does Medical Loan Work
Medical Loans can become your saviour that offers a sufficient amount of money to spend without specifying the end purpose. It includes hospitalization bills, medical prescription bills, surgeries, chemotherapy, and other treatments. In tough times, LoanTap helps you with financial support at short notice.
Loan Amount- LoanTap offers you a loan from INR 50,000 to INR 10,00,000. The final loan amount calculation depends on your annual income and CIBIL score.
Loan Tenure – This term loan is easy to repay in fixed EMIs over a tenure of 6-60 months. Choose the tenure period as per your financial capability and the exact loan amount.
Interest Rates: Personal Loans for medical emergencies are available at an annual interest rate of 18%. The interest rates may vary depending on your credit score, medical needs, and income proof.
Processing Fee – You will be charged 2% of the loan amount plus applicable charges.
No prepayment charges will be applicable post six months of servicing the loan
Benefits of Personal Loans over Savings
Getting a medical loan is now an easier and simple process for borrowers. Paying your medical bills using medical loans have several benefits. It will help you to spare your savings. There are other benefits, which are mentioned below:-
Keep the Savings Intact
Taking a personal loan can offer you the best treatment without affecting your savings. Medical bills can take away everything that you have saved in life. However, with a personal loan, you can cover all the medical emergencies with immediate funds. Your account balance will remain good. It can help you to be at peace and stress-free.
Easy EMIs Option
A medical loan can pay you the entire expense instantly. Borrowers can get the loan amount with flexible repayment options. It is a type of personal loan which gives 6months to 60 months to repay in the form of Fixed EMIs.
Fintech lenders like LoanTap will allow you to choose tenure with EMIs at your convenience. LoanTap offers you the EMI calculator facility to find the EMI amount according to the loan tenure as per your budget.
Access to Better Healthcare
Savings are a limited source of finance, which may not be enough for the necessary treatments. With medical emergency loans, you can spend the entire amount for getting treatment at a better hospital.
There's no boundary in claiming the loan amount, unlike health insurance. After paying for the treatment, the remaining loan amount can help you to buy better equipment, join physiotherapy classes, or get nursing services for a speedy recovery.
Flexibility to use the amount:
No one will ask you how much you have spent on medical expenses. Personal Loan Online offers you the complete flexibility to use the amount as per your needs. You don't need to inform the lender whenever you use the money. It ensures you or your family members get the best medical services with instant cash.
Advantages of Using Medical Loan in India
Quick Online Application: Wherever any medical emergency occurs in your family, you can just go and visit the LoanTap website to get immediate funds. A medical loan is available at your fingertips.
Instant Loan Approval: When there is a medical situation in your life, it is difficult to wait for even a day. This loan application process is 100% online, You may get the application approval on the same day. If your credit score is good, it will activate the disbursal instantly and credit the amount into your account.
Meet Few Eligibility Criteria: Borrowers need to qualify for some conditions regarding age, income, and employment type. It helps lenders to simply check your creditworthiness while scanning through your loan application.
Paperless loan disbursal: Lenders no longer ask you to go through extensive paperwork that takes a week to complete. It is one of the biggest advantages of getting a personal loan online. To avail of the loan, you have to upload minimal documentation including your identity proof, address proof, and income proof.
No Collateral Required: Medical loans are unsecured loans. You don't need to worry about submitting any guarantor or security to the banks or Financial Institutions. All you have to do is apply for the loan with verified details and documents.
How to avail of a medical emergency loan during an emergency?
Today, there is nothing impossible to get. You can get a medical loan online quickly. Digitisation has made this loan availing facility easier and more convenient.
LoanTap is one of the most trusted digital lenders in India, from where you can get a quick loan during an emergency via the mobile app.
After matching all the parameters, you can apply for the loan in the few steps mentioned below:
Download the LoanTap app or visit the website.
Fill out the loan application with basic details and profession.
Check your credit history and decide how much loan amount you need.
Decide the loan amount and tenure as per your capacity.
Upload the basic documents and bank statements to check the financial profile.
Get approval for the loan the same day if the documents are valid.
Get the medical loan disbursed into your account in less than 24 hours.
Summing up!
Medical Loans Online are easily accessible for Borrowers. At LoanTap, we offer medical loans of up to ₹ 10 lakhs to get the best possible treatment in the hospital of your choice. Pay for your expenses now and repay your borrowed amount in easy EMIs over a tenure of 6 months to 60 months of the repayment term. Let medical emergencies not add additional stress to your life. Trust LoanTap to be your saviour in your hour of need.