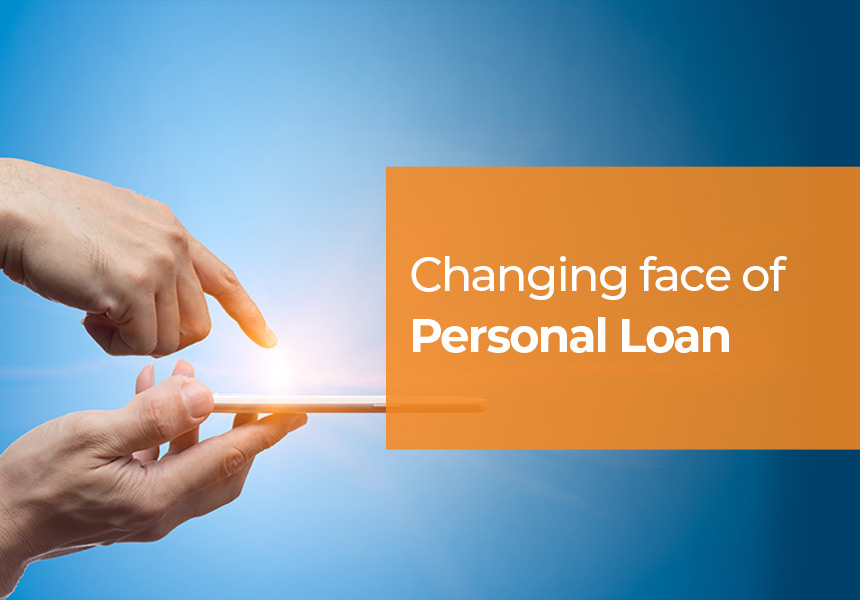 Published on : January 14, 2020
There is a surfeit of opportunities for working professionals and millennials to fulfil their dreams without having to wait for the money to make its way to their pocket. These diverse types of loan are designed to address the unique demands of the customers. New-age technologies, such as Artificial Intelligence (AI) and Big Data, have made it easier for lenders to customize products that are suited to meet the applicant's specific needs. Digital lenders have classified the personal loans based on the customer's requirement and income range.
Vanilla Term Loans vs New-age Personal Loans
Vanilla term loans are the most basic form of personal loan that come with no special features. These forms of loans can be repaid at regular intervals over a pre-decided period and are more suited for unplanned expenses or emergencies.
With people upgrading their lifestyle and changing their spending habits, the markets have paved way for innovations in personal loan segment. Today's generation dreams of a better lifestyle, luxurious cars, super bikes, and international holidays and are willing to pay the cost. To facilitate the growing market, banks and financial institutes have carved out products to suit every need of the customer. Most of these personal loans have a minimum income criterion. Your eligibility is measured in terms of your salary inflow.
Below are the various types of personal loans that are designed for specific needs:
Wedding & Marriage Loan
These types of personal loans take into account the multiple expenses that you may incur for wedding ceremonies. Therefore, wedding loans range between INR 1,00,000 and 10,00,000, depending on your eligibility. These loans offer flexible repayment options at competitive interest rates. For wedding loans, you have an option to pay only the interest for the first 5 months and then a fixed EMI for the rest of the tenure.
A major reason for choosing a marriage loan is that you can track the wedding expense to this account. Also, the rates of interest may be lower, and you have flexible repayment options.
Holiday & Travel Loans
Travel loans are a form of personal loan that is available specially for travel purposes. These loans are available for both domestic and international travel. The maximum loan amount you can get is up to INR 10,00,000; however, this depends on your creditworthiness and the terms of the lender. The rate of interest may vary from lender to lender. It may range from anywhere between 16% to 21 %. The loan tenure varies between 36 and 72 months.
Travel loans are becoming the preferred form of credit because of the lower interest rates as well as the easy and quick loan disbursal. Lenders typically provide flexible repayment terms for travel loans.
Rental Deposit Loan
Shifting to a rental house could be overwhelming, especially in monetary terms. The shifting expenses or the rental deposit could put a hole in your pocket. It becomes a major constraint while choosing a rental house of your choice because you may be able to afford the monthly rental but may not have provision for the large amount that is needed for security deposit. The rental deposit loan allows you to rent a place without having to worry about the security deposit. Under this arrangement, the loan amount is paid directly to the landlord, and the tenant must pay the interest amount calculated for the duration of the rental lease. The principal amount needs to be paid back to the lender on the termination of the lease.
Premium Bike Loan
Super bikes are a dream for most millennials. These bikes come with heavy price tags. But to make your dreams a reality, lenders are providing premium bike loans at competitive rates with flexible repayment options. You have an option to choose flexible loans or regular EMI-based loans. Some lenders provide up to 100% of the on-road vehicle price if you are eligible according to their criteria.
The applicant pays the interest amount every month, and a bullet amount needs to be paid towards the outstanding principal amount at regular intervals. The interest amount gets revised after the bullet payment. The flexible repayment feature makes it better than a personal loan as the monthly outflow of cash is comparatively lower.
EMI Free Loan
This is a new kind of personal loan in which you only pay interest on the total loan amount every month. The principal amount remains unchanged until you make a bullet payment. Once partial bullet principal payment is made in your loan account, the total outstanding loan balance reduces, and fresh interest calculations come into effect, based on new outstanding amount, which reduces your monthly outgo even further.
This personal loan provides you the flexibility to increase or decrease your principal repayment amount. If you are unsure of which customized personal loan is suited for you, opt for EMI Free loan.
The Future of New age Personal Loans in 2020
Digital lending platforms are evolving. Traditional lenders like private and public banks are going digital with their application process to keep up with the other fintech companies. The competition is stiff, and millennials are choosing the digital platform over traditional ways for borrowing. With the existing market size of borrowers, all players are trying to bring innovations to the existing products to become more customer friendly.
The advantages of the new age personal loans are:
They are designed to suit the consumer's specific needs. Each product is carved in such a way that it can cater to various segments of society. For instance, super bike loans can cater to both the niche crowd and millennials.
Customization and flexible terms of payment make these products more attractive for working professionals.
The ease of applying for the personal loans and its quick disbursal have made them hot selling commodities in the market. Availability of these products online and on mobile apps have made it easy for people to compare products and choose the best one to suit their needs.
Previously, the whole process of loan application was long and tedious. Scouting for different players and comparing their rate of interests has become a thing of the past. The loan application process and documentation have become much simpler and more transparent. With online personal loans, there are no hidden charges or additional commissions that need to be borne by the applicant. All the terms of the loans are mentioned online, giving you ample time and opportunity to weigh your options and make an informed decision.
Conclusion
New-age personal loans are assisting millennials to indulge in their hobbies without having to worry about disturbing their finances. LoanTap is one of the leading lending companies in India that provide customized loan products to suit your specific and unique financial needs. So, don't even think about waiting till you have built a certain bank balance or are retired to strike off things from your bucket list. Approach LoanTap and start fulfilling your dreams right now!
---
LoanTap is a one stop solution to all your financial needs. Download our Instant Loan App: Google Playstore / Apple App Store