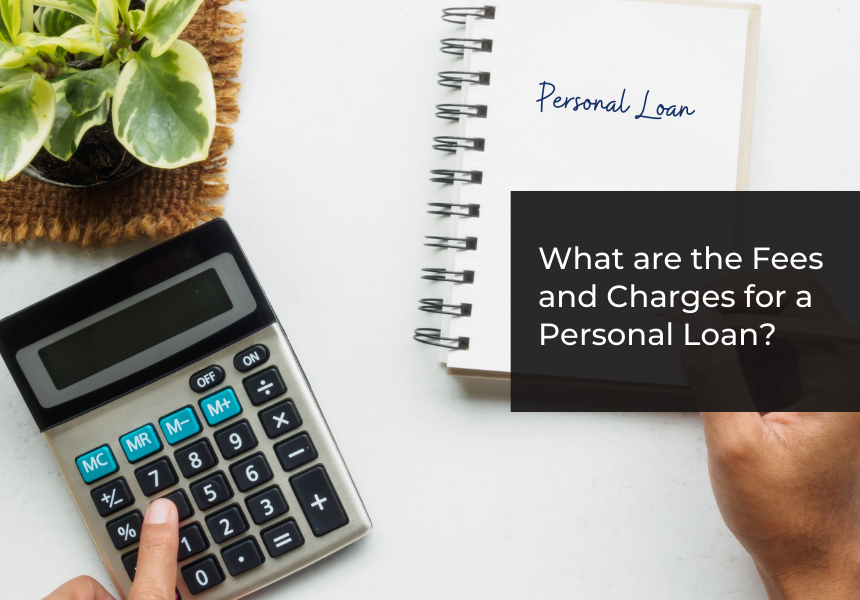 Published on : August 10, 2023
A personal loan provides the opportunity to fulfil your dreams, whether it's a vacation or a destination wedding. You can use the loan amount for any purpose without limitations. It allows you to fulfil your financial needs and turn your aspirations into reality.
Since personal loans are unsecured, i.e., you don't need to pledge any collateral, the lender will usually levy some charges on the personal loan. These charges are generally over and above the interest charge. All borrowers should be aware of these charges so that there are no surprises at the time of taking the loan.
Common Charges and Fees Related to Personal Loans
A personal loan is a valuable financial tool for individuals to cover their expenses. However, there are certain charges associated with personal loans. Here are some of the common fees that lenders typically impose.
Processing charges – Lenders usually have some costs associated with processing loans. These costs typically range from 0.5% to 2.5% and can vary depending on the lender. Borrowers have two choices when it comes to paying these processing charges: 1) paying the full fees upfront or 2) having the fees deducted from the loan amount when it is disbursed.
Verification Charges – Lenders must ensure borrowers can repay loans before lending them. They often hire agencies to verify the borrowers' credentials. These agents check the credit score and repayment history. The cost of this verification process is called the verification charge. Applicants have to pay this charge as it's an additional cost for the bank.
Goods and Service Tax (GST) – If applicants need any extra services during the loan sanction or repayment process, they will have to pay a small fee known as GST. This fee covers the cost of providing the additional service.
Penalty on Late Payment of EMIs – You must repay the money you borrow in EMIs to avoid penalties.
Penalty for Prepayment or Foreclosure of Loan – Foreclosure of a loan means repaying the loan amount before the agreed-upon tenure. The bank may suffer some losses when the debt is paid off early. To compensate for this loss, the bank may impose a penalty for prepayment. The penalty typically ranges from 2% to 4% and varies depending on the bank.
Fees for Duplicate Statements – Banks may impose a fee for providing a duplicate statement showing the payment schedule and outstanding balance of a loan. The fee usually falls between Rs. 200 and Rs. 500. Additionally, the fees may differ from one lender to another.
LoanTap Service Charges and Fees
Here are the fees and charges for LoanTap personal loans.
| | |
| --- | --- |
| Description of Charges | Charges Applicable |
| Loan Processing Charges/ Origination Charges (Non-Refundable) | Up to 2.50% of the loan amount plus applicable taxes |
| Prepayment Charges | 5% of the principal outstanding plus applicable taxes if paid before 6 months of loan disbursal. |
| Charges for Late Payment | 2% per annum plus applicable taxes |
| Repayment Mode Swap Charges | Rs. 500 per transaction plus applicable taxes |
| Document Pick up Charges | Rs. 500 per visit plus applicable taxes |
| Amortisation Schedule Charges | – |
| Statement of Account Charges | – |
| Prepayment/ Foreclosure Statement Charges | – |
| Loan Cancellation Charges | Rs. 3000 plus applicable taxes |
| EMI Bounce Charges | Rs. 400 per bounce plus applicable taxes. |
Prepayment of the loan is possible only after 6 months of interest servicing of the existing loan.
No prepayment charges are levied after 6 months of interest
Service Tax, GST and other govt. Taxes, levies, etc., applicable as per the prevailing rate, will be charged over and above these charges at the discretion of our affiliate Banks / NBFCs.
Conclusion
Obtaining a personal loan entails certain fees and charges. These include processing fees, verification charges, GST on additional services, late payment penalties, and loan prepayment penalties. The specific amounts and terms vary between lenders. Borrowers must understand these fees and charges before availing of a personal loan to make informed financial decisions and ensure a timely repayment.
Apply Using WhatsApp