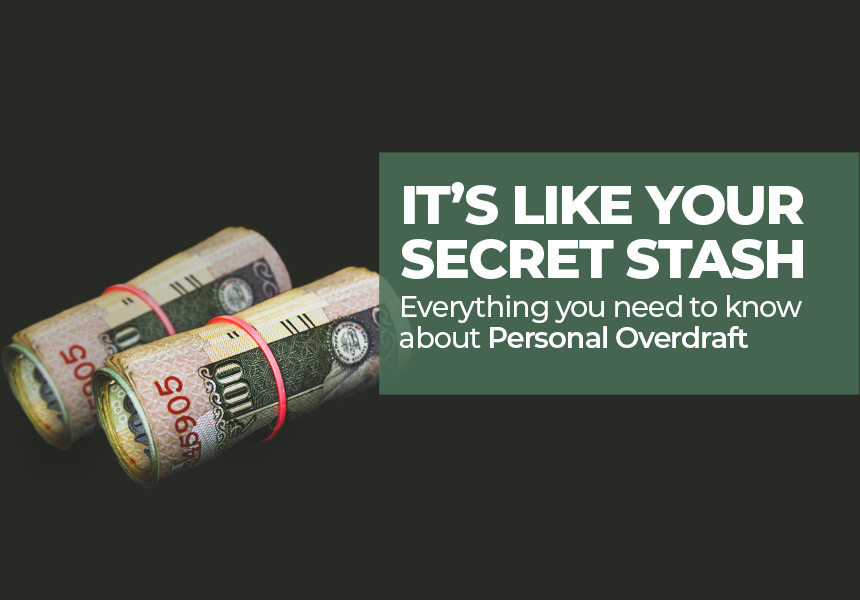 Published on : December 03, 2019
What is a Personal Overdraft Facility?
Overdraft facility is a financial instrument that helps you ease your debts and get your finances back on track. This facility is attached to your bank account. An individual can withdraw funds in excess of the balance from their accounts, set at an agreed limit. This limit was traditionally granted by the bank based on the account value and creditworthiness typically to current and business accounts. Various lenders now provide overdraft facility for salaried professionals to give a simple example of overdraft facility: Lenders like LoanTap can offer a credit line of up to ₹10 L from which a customer can request withdrawal of any amount (in multiples of Rs. 10,000). This facility is designed to provide assistance for your immediate financial needs for which your liquid funds may be insufficient.
How does Overdraft Facility work?
Overdraft is a form of loan wherein you will have to pay interest only if you use the facility. Moreover, interest will only be charged on the utilized amount for the period the funds are borrowed. For instance, you have an overdraft facility for INR 1,00,000 and you use only INR 20,000 from that, then you are liable to pay interest only on INR 20,000 and not on the entire sum (INR 1,00,000).
This overdraft facility was traditionally only extended to businesses who need working capital to meet their cash flow. This facility is now even available for salaried professional with product likes personal overdraft. A nominal processing fee of 2% is charged on the gross loan amount that is sanctioned to you. The issuing authority typically gives the customer the liberty to discontinue this facility whenever they want to.
What are the Types of Overdraft Facilities Available in India?
There are various types of overdraft facilities provided by the banks & NBFCs on secured and unsecured basis. Some of them are listed below:
1. Personal overdraft facility (For Salaried)
Any salaried customer with monthly salary more than INR 30,000 is eligible to apply for this facility. The amount sanctioned with overdraft for salaried, will depend on your eligibility and creditability. The amount available ranges between INR 1 lakh to INR 10 lakh. You are required to pay interest only on the utilized amount and repay the amount without any pre-closure charges.
2. Overdraft against Time Deposits
This type of facility is also called secured overdraft as it is provided against a collateral. Some banks provide overdraft facility against fixed deposits. The value of overdraft does not exceed 90% of the value of time deposit. Processing charges and pre-payment charges vary from bank to bank. Banks usually charge one percent more than the fixed deposit rates for the overdraft against fixed deposit.
3. Overdraft Against Asset
The banks provide overdraft facility against an asset, such as real estate property (house). The asset is used as a collateral after valuation and then the overdraft amount is sanctioned. Usually this amount is around 40%-50% of the property's worth. This facility is also extended to individuals looking for funds to settle their existing outstanding home loans.
4. Overdraft against insurance policy and equity
Banks also provide overdraft facility against insurance policies, shares, and bonds. The rate of interest differs for each of these collaterals. Also, the amount offered may vary from one asset to the other. For overdraft against insurance policy the banks consider the surrender value of the policy for setting the overdraft limit.
Personal Overdraft vs. Credit Cards – Which is Better?
There is some similarity between credit cards and personal overdraft in the sense that both facilities let you borrow funds easily and readily from the financial institute and repay the money later, as per the terms of agreement.
In most cases, credit cards involve a grace period of 45 to 60 days within which you can clear your outstanding debts without paying any interest. But failing to clear credit card outstanding can result in heavy interest of upwards of 2.5% per month. Major banks and financial institutes issue credit cards with a limit based on your eligibility and creditworthiness.
In case of personal overdraft, you are given a set limit that you can utilize and you are charged interest only if you use the overdraft facility. The interest is charged only on the amount that you have withdrawn from the total overdraft limit and not on the overall limit. Interest rates on overdraft facility is usually much lower than that of a credit card. Also, you can get much higher limit of up to Rs. 10L with personal overdraft facilities.
With a personal overdraft can immediately get the required amount when you have instant cash requirements, without any lingering stress about immediate repayment or hefty processing fees. Unlike credit card so you need not worry about repayment cycles nor do you have to commit to long tenure like personal loans.
Personal Overdraft vs Personal Loan – Which one Should you Opt-For?
While instant personal loans can help you manage your planned financial requirements, they may not be the best suited credit product for your all needs. If you a planned expenditure with fixed tenures, personal loans are your best option. But this comes are the cost of a fixed EMI for the duration of the loan tenure and often lack any flexibility in repayment
Personal Overdraft facilities, come with the convenience of extremely flexible repayment options which allow you to pay back the money withdrawn at your convenience. This not just allows for flexibility but often provides exceptional savings on interest costs.
Read more about – 5 Reasons Why a Personal Overdraft is Better than a Personal Loan
In Conclusion
The personal overdraft facility is a great idea when you tend to overshoot your monthly expenditure and know that you can pay off the overdrawn amount with your next paycheck or upcoming payments. It is a flexible, easily available, and handy option that helps you stay on top of your expenses and keep you calm in case of unexpected expenses, secure in the knowledge that there is a certain amount that you can immediately get from your overdraft account, should you need it. So, make sure you opt for this convenient facility that can be an effective backup for when you need some extra cash!
Discover Personal Overdraft From LoanTap