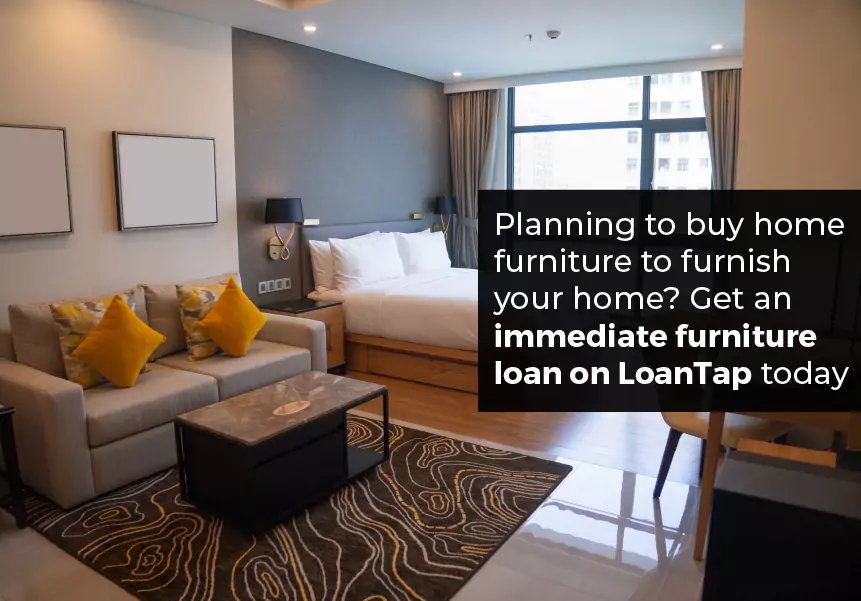 Published on : January 07, 2022
Are you bored with the same furniture? Are you planning to change your home layout by adding comfortable and stylish furniture? But, are you stuck between the credit card bills and your monthly expenses with no funds to spend on buying furniture for your house? If you have savings in the form of fixed deposits, they can be used to buy them. However, getting furniture on EMI is a lot better option than denting your savings. There's another go-to-option to get furniture on installment, that's the Furniture Loan. In this article, you will learn how furniture loans work, how to reap the benefits and about four customized furniture loan repayment plans.
Why should you take Furniture Loans?
The Furniture Loan is a product for the millennials as it helps in buying furniture and managing your finances. Financing furniture will level up your living space without wiping out your monthly salary. Unlike credit cards, you'll know the monthly instalments and tenure to pay off the furniture loans. If you have a reasonable credit score, you can qualify for the loan. At LoanTap, the furniture loan offers an amount ranging between INR 50,000 – INR 10,00,000 to purchase affordable furniture of the latest designs from popular brands like Pepperfry and Godrej.
Benefits of taking Furniture Loan Online
Buying furniture for your apartment with trendy designs can be more expensive than you think. It can also add to your expenses. Furniture loans are generally unsecured loans, where your legal assets do not get repossessed if you miss the loan repayments. It is much safer for borrowers than other secured forms of credit. Here are the other benefits to leverage you for taking the Instant Furniture Loans.
Instant Approval: At LoanTap, you can avail of the furniture loan within 24 hours. The loan application process is relatively quick for borrowers who need immediate funds. The loan will get disbursed to fund the purchases after verification.
Minimal Documentation: No additional paperwork is needed to avail of the loan. You can get the loan processed with a simple online process, including uploading the basic documents. The Furniture Loans will be credited after minimal processing and without any additional charges. However, the required documents should be valid and updated.
Flexible Repayments: It will let you choose – how to repay your Furniture loan. You can buy furniture on an EMI Basis or apply for an Overdraft furniture loan where you can pay interest only on the amount withdrawn. Flexible Repayments allow you to set the repayment date and always pay on time.
Transparent Process: At LoanTap, the team will sanction the loan with no pre-closure charges or hidden charges. LoanTap offers the loan without any prepayments and only processing fees as per the amount.
Four Customized Furniture Loans
At LoanTap, you will get four types of customized furniture loan repayment plans to meet the requirements of home furnishings. Also, you are not tied to a particular piece of furniture to buy which gives you lots of flexibility. You have the flexibility to choose from the four options but should stick to the decided terms.
EMI Free Loan is the ideal choice to purchase furniture which costs between 1 lakh – 3 lakhs. This Furniture loan is available to you with low monthly installments. You can enjoy interest-only EMIs along with bullet payments towards principal every 3 or 6 months. When you receive any bonus quarterly or half-yearly, you can make lump-sum payments towards the principal outstanding every three months/six months. With EMI Free Furniture Loan, you can go for brands like Pepperfry and Godrej Interio.
The Term Furniture Loan is the best option to buy less expensive furniture. It is an affordable loan that covers furniture costs ranging from INR 50,000 to INR 1,50,000 from brands like Home Center. This loan allows you to pay in Fixed Equated Monthly instalments where interest is recalculated on the fresh principal outstanding every month. If you know how much the exact loan amount is and have a steady income, it is the best furniture loan to take.
With the Step up Furniture Loan, you can purchase in the range of INR 1,00,000 to INR 2,00,000. Brands like Godrej Interio, Home Center, and Pepperfry are the best for buying elegant and comfortable furniture. You can enjoy interest-only payments for the first three months. The remaining tenure can be covered by the Fixed EMIs to keep your account balance healthy. It is an ideal choice If you want to have low monthly payments in the initial months.
The Overdraft Furniture Loan will provide you with a loan amount ranging from INR 1,50,000 to INR 3,00,000. You can purchase mid to high-range furniture from brands like PepperFry or Godrej. If you are thinking of revamping your entire home, this loan can cover the expenses of the home furnishings. It will charge interest rates only on the amount you withdraw and not the sanctioned amount. Here, you don't need to know the exact amount and what to buy beforehand.
Eligibility Criteria for Furniture Loan
Anyone can apply for a furniture loan to buy home items with instant funds. You have to qualify for the mentioned eligibility criteria. Whenever you take out any personal loans, these criteria need to be followed:-
You should be above or 21 years of age.
You are an Indian citizen or resident
Your net monthly income should be over INR 30,000/-
After passing all the criteria, you should prepare the basic documents required for availing a Furniture Loan in India. Here is the checklist of the documents which should be valid and up to date:-
PAN Card
Proof of residential address (Aadhaar card, Driving License, Passport)
Salary slips of last three months
Bank statement of the salary account for the six months
If you have all the documents, upload them to the LoanTap website. After successful uploading, wait for the response from the representative. The LoanTap team will process your loan and credit your account in just 24-36 hours. The whole process gets completed after following three steps, which are:
They will go through your application and verify the documents you uploaded on the website.
If any other documents are needed, you will be contacted by the LoanTap team.
Match all your parameters to complete the credit checks.
Inform you to complete the KYC process and activate instant disbursal for your furniture loan.
As soon as the process is done, they will activate instant disbursal online and send an approval. Once the loan amount gets credited to your account, you can withdraw the amount as much as you need from your loan balance.
In most cases, it's best to use your salary or savings for buying any furniture. If there are not enough savings for purchasing home furnishing items, furniture loans can be a good idea. However, you should only take it when you can afford the repayments. There are other options for buying furniture. Personal Loans like Furniture Loans are flexible, pocket-friendly, and the fastest approach to meet life stage-based financial needs. If you need cash to buy furniture, just download the LoanTap app and give your home a refurbished new look.