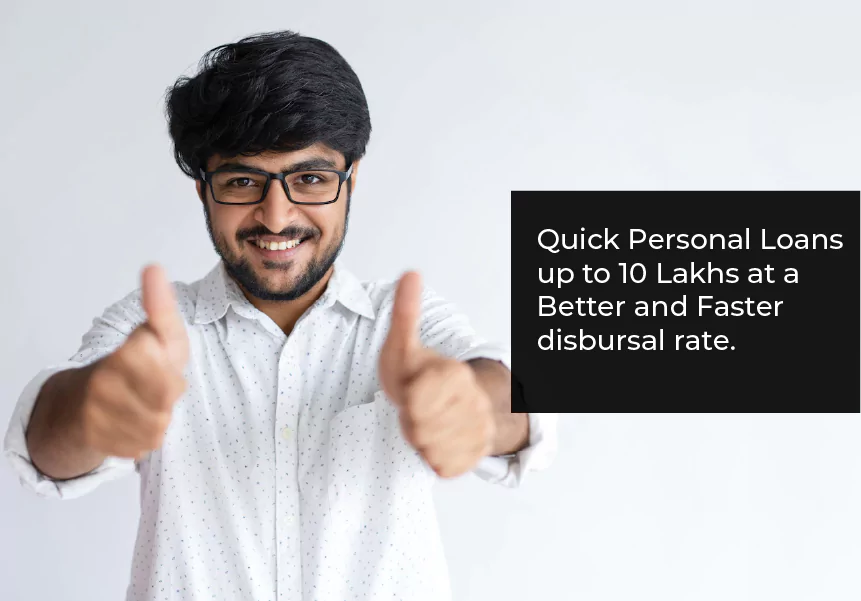 Published on : June 21, 2022
Do you need funds to start a business? Want emergency cash for financing your medical needs? But, you don't have enough savings and are reluctant to ask your near and dear ones. You are wondering where to arrange up to 10 lakhs urgently to fund your business?
Don't worry! Here is an answer to your question. Personal Loans are the perfect option to fund all kinds of expenses. It is the quickest way to borrow a small or large amount of money. This blog post will tell you everything about getting an INR 10 Lakh Personal Loan instantly.
Personal Loan – what is it?
A personal loan is a financial product offered by banks and NBFCs to cater to financial emergencies and requirements. It is a short-term loan for borrowers with easy repayment options. You can apply for this ₹10 lakh personal loan online to get funding for various purposes, such as medical expenses, wedding expenses, business expenses, higher education, expensive gadgets, renovations, etc.
Borrowers no longer have to wait for days for the disbursal. At LoanTap, you can get the loan with same-day approval. It is a flexible and convenient way to get a personal loan. It allows you to get sanctions without delay if you are eligible for a personal loan in India. Before applying for the instant loan, borrowers can check how much EMI they would pay monthly using the personal loan EMI calculator.
Why should you avail a 10 Lakh Personal Loan in India?
Not only do you get enough funds to cover unplanned expenses but also the amount will be disbursed directly to your account. With fintech advancements, it is simpler to get a personal loan now. Why are instant personal loans the best options for you? The answer is it has several benefits, including:
Hassle-free Loan Process
In India, over 500 million people use smartphones for their basic needs. NBFCs have also launched their digital lending platforms to facilitate online application processes at your fingertips. Now, working professionals or self-employed can apply for the loan online. They will get the fastest disbursal in a few hours. But, you should have proper documents to get instant disbursal within 24 hours.
Clutter-free Documentation
The best thing is short-term personal loans are paperless. It requires little to no documentation. You can complete the KYC process by uploading the scanned copies of your PAN, ID, and address proof.
Flexible Repayment
Personal Loans offers customized repayment options that suit your needs. Click here to know the customized repayment method designed to cater to the different requirements of customers. But the basic one is term instalment where you need to pay in fixed EMIs over the loan tenure. It is best suited if you have a steady income.
Long Tenure Period
Repaying a loan adds an extra burden to your wallet. Possibly, it can create stress while managing your monthly EMIs. That's why LoanTap offers longer tenure, ranging from 12 months to 60 months. You can reduce the burden of the EMI on your monthly budget by opting for a longer tenure.
No Hidden Costs
Some lenders may charge you extra hidden fees before processing the loan online. However, LoanTap offers a transparent and secure loan process to borrowers. So, you have access to all charges, including processing fees, Personal Loan interest rates, and costs associated with late payments, prepayments, and more.
Speedy Loan Approval
Since the entire loan process is digital, you can avail of a personal loan online within shorter timeframes. Your creditworthiness decides the loan disbursal and approval speed. So, try to maintain your credit report and update the documents. For verified customers, LoanTap disburses the loan amount within hours.
No Restriction on End-use
You can get a loan from INR 50,000 to INR 10,00,000. You can use the amount wisely to fund urgent expenses. However, neither banks nor NBFCs investigate how you use the loan amount. So, you can spend the amount for any legal purpose without worrying about the number of transactions.
Easy Loan Closure
The closure of the loan is a simple process. You can prepay the loan anytime during your loan tenure. But, if you close the loan within six months of disbursement, you may have to pay pre-payment or foreclosure charges. If you choose to close the loan after 6 months there is no penalty whatsoever.
Guide to get a Quick Personal Loan at a Faster Disbursal
An unsecured personal loan lets you borrow money to transform your dream into reality. It can help in paying credit bills and consolidating all debts. LoanTap is the most trusted platform to apply for the best personal loans in India. While sitting at your home or office, you can get paperless Personal Loans with speedy disbursals. Here is a simple guide that will help you get a personal loan faster.
Click on this link to apply via the website or download the LoanTap app to get started.
Before starting to apply, check whether you qualify for the personal loan. Here are the personal loan eligibility criteria to clear:
You should be an Indian Resident or citizen
Your age should be a minimum of 21 and a maximum of 58 years.
You must have a minimum net monthly income of INR 30,000
CIBIL score – 630 points or above.
The next step is to collect all the basic documents, which are listed below:
Enter the required information asked in the application.
PAN Card
Residential Proof that includes Aadhar Card / Electricity Bill / Voter ID.
Salary slips for the last three months.
Salary bank account statements for the last six months.
Ensure that these documents are valid and upload them while applying.
Select the tenure and amount as per your requirements. Also, note down the interest rates and EMI on the loan amount.
Wait patiently till the verification is done. If you are an existing customer, the loan approval process becomes faster.
If your application is approved, you will get an email or letter by post within 24-36 hours.
As soon as the amount gets credited to your account, you can make transactions and pay for expenses.
Does a Personal Loan impact the Credit Score?
No, it does not affect the credit score unless you default on the repayments. A personal loan can help you maintain credibility and improve your credit history. It may initially lower your credit score. In the long run, if you repay on a set schedule, your credit score will improve.
Conclusion
Nowadays, it is way easier for millennials to get personal loans from digital fintech platforms. LoanTap is a leading financial company with incredible products to meet customers' needs. We are on a mission to provide fast access to funding options. So, customers have a seamless experience while getting financial help. LoanTap feels your pulse like nobody else.