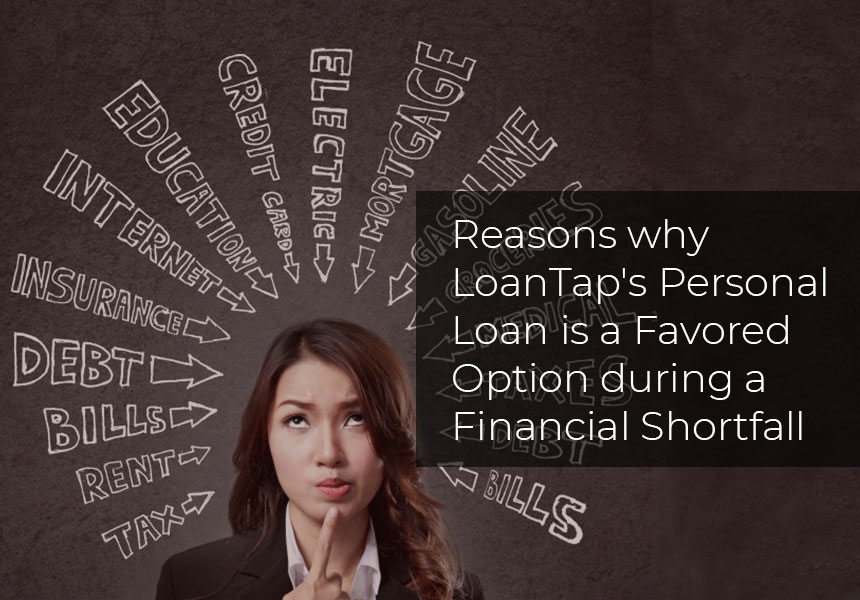 Published on : August 25, 2020
Have you ever encountered a situation when a sudden expense popped up when you least expected it? We have all been caught off guard by some unplanned expense at some point in our lives. At such times, the only solution that comes to our mind is a loan that could be easily available at the best Interest rate.
Personal loan is an unsecured form of debt, which makes it more feasible to avail. You are not required to pledge an asset as a collateral against the loan. Thus, any individual with the intent and ability to repay can avail a personal loan. There are many lenders who offer personal loans at competitive interest rates and customer friendly terms. Likewise, LoanTap's Personal loan offerings are fueled with flexibility and convenience. We aim at providing a seamless experience to our customers and also strive to provide pocket friendly personal loans keeping in mind the monthly cash flow cycles of Millennials. The article will briefly spotlight the reasons why you must avail a personal loan with LoanTap.
1. Easily accessible via Online Application You can avail a Personal loan from LoanTap from the comfort of your home. All you are required to do is to download LoanTap's Instant personal loan app and fill out the application form. Once you input basic information, the personal loan app will customise offers that will best suit your needs. You can also carry out this process by visiting the LoanTap website.
2. Minimum Documents We demand bare minimum documents in order to process your personal loan application. You do not have to fall prey to manual delivery of documents. Instead, you can upload the documents online. We process your application with basic KYC documents like –
Identity Proof ( PAN Card, Passport, etc.)
Bank statement ( 3/6 months)
Salary slip (1/3 months)
Address Proof
That is all it takes to avail a personal loan from us!
3. Flexible repayment Options Once you input all the essential details in the application form, LoanTap customises offers that best fit your profile. We keep in mind your monthly cash cycle and other expenses while customising offers. This helps you meet your cash requirements without the load of heavy monthly EMIs. We offer the following Flexible repayment Plans for you to choose from –
Step Up – This plan offers the benefit on interest only payments in the initial 3 months followed by fixed EMIs.
EMI Free – The EMI Free repayment plan offers interest only payments every month and bullet payments towards the principal outstanding every 3/6 months.
Term – The Term Repayment plan allows you to pay the loan obligations in equal monthly installments throughout the loan tenure.
Overdraft – This repayment plan offers you the benefit on zero usage, zero interest. You pay interest only on the amount you withdraw and for the number of days you utilize it for.
Dropline Overdraft – This repayment option offers you multiple withdrawal facilities, however, the withdrawal limit reduces each month from the sanctioned limit.
Related Article –
A Guide to Understanding Loan Repayment Plans offered by LoanTap
4. Higher loan amount and Longer loan Tenure LoanTap offers personal loans ranging from INR 25,000 to INR 10,00,000. You can avail personal loan for tenure ranging from 6 months to 60 months.
5. Instant Approval and Disbursal Once you complete the application form and provide the necessary documents, we carry out a basic verification process. Post the verification process is complete, your loan is disbursed within 24 hours!
Related Articles –
Personal loans in 24 hours – How is it possible ?
6. No restriction on usage You can use the personal loan can be used in case of an immediate financial requirement l or other long term needs. You can fund home improvement projects, medical expenses, weddings, travel expenses, car repairs and merely anything with our instant personal loan offering.
7. No Part-payment, Prepayment or Foreclosure charges Unlike other lenders, LoanTap allows you to make part payments and prepayments against the borrowed sum without any additional charges. You may also foreclose your loan at zero cost anytime post 6 months of regular repayment of your loan.
8. Transparent process Right from Approval to Disbursal, LoanTap's Application processes are transparent. We function as per the agreement signed by the applicant. There are no hidden charges or terms/conditions that would arise in the later stages of the customer's journey at LoanTap.

You can say that LoanTap is the 'One Stop' solution for your financial needs. Our personal loans are pocket friendly and affordable. We also have a customer eccentric support team to guide you through the process, making it a hassle-free experience for you!