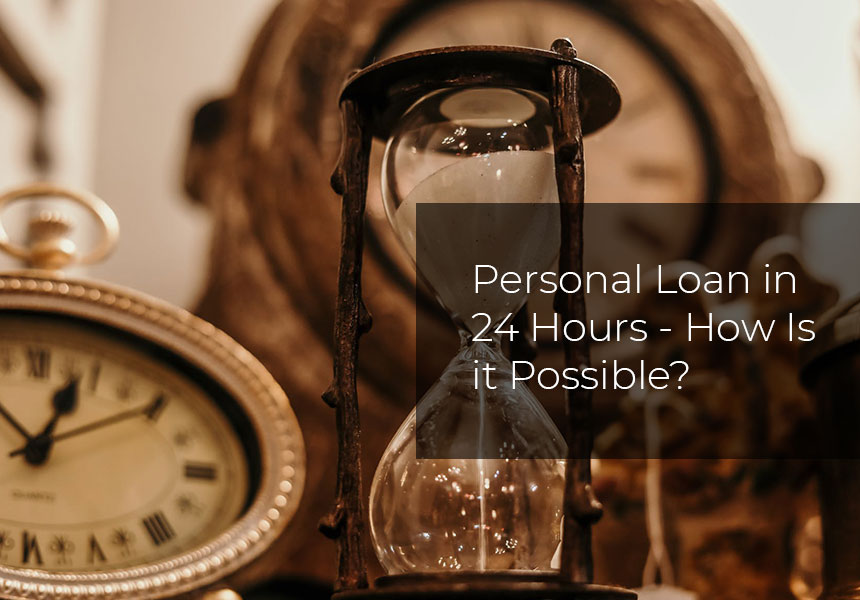 Published on : July 15, 2020
The Digital Revolution has transformed industries across the globe. The application of technology to daily operations has reached an extent where everything you need is available at the click of a button. Millennials are leading a digital, fast paced life and are equally goal driven. Technology has helped them achieve their goals and encourages them to aspire furthermore.
The Gen Y has seen a shift in spending habits and a higher preference of Credit to pursue their dreams, passions and hobbies.

Lenders have been leveraging technology to increase penetration in the underserved millennial segments to support their dreams. Technology has helped improve the quality and quantity of services. So much so, that lenders are able to provide loans in less than 24 hours. So if you are one of the high-spirited Millennial and are looking for a personal loan to meet your needs or fulfill your dreams, we can tell you how to make it happen in 24 hours!

How to Avail a Personal loan within 24 hours?
Applying for a personal loan when in dire need of funds is a common phenomenon. However, it is also common knowledge that generally, the process of applying for a personal loan takes time. There are requirements to fill, documents to provide, verifications to carry out, approvals to attain and the list goes on. This surely looks like a tedious process.

What if we tell you that you can do your bit to complete the entire process in a few hours? Yes, it is possible. There are a few deliverables at your end that can speed up the process much before you apply for loan. If you can proactively be ready with the essentials, the disbursal is not too far away!

Here's what you can do –

1. Define the Nature of your Requirement –
You need to be certain about the nature of your requirement. Be it a medical emergency or Trip to sponsor; a car breakdown or home repairs. Once the requirement is highlighted, it further helps you understand the amount you would require and for a particular period. This assists you to look for the right loan that will best meet your needs. Also, customised loans may come with flexible repayment suited to your needs and may save you from denting your pockets when you are already incurring huge expenses.

2. Shortlist a few suitable lenders-
When dealing with debts, you must carry out detailed research on the available lenders that could provide you a personal loan that would suit your requirements. A thorough study always helps. Shortlist the available options, compare the products and terms of service. Calculate the EMIs to understand which repayment schedule fits your pocket. This will help you skim down to the most desired lender that you could approach.

3. Review the Eligibility criteria –
Your Personal loan profile must essentially meet the eligibility criteria of the said lender. The criteria does differ from lender to lender, however, most of them imply common parameters for judgment. You would have to comply with the minimum age, salary, employment and location parameters. Thus, to magnify your chances of loan approval you must have eligibility checks in place much before you apply for a personal loan with any lender.

4. Keeping Documents Ready–
Likewise, documents that would be required to process your loan application must be kept ready. The details about the required documents will be enlisted on the website of the lender. The commonly demanded documents would be –
PAN-Card
Aadhar card
Bank statements (3/6 Months)
Salary slips (3/6 Months)
If you have changed your job in the near term, say 3-6 months' span, you must provide the salary slips of the previous employment as well as the current one, when asked for by the Credit Manager
Address Proof: Keep the essential proofs ready especially if your Permanent address differs from your Current residence address.
Keeping these documents at your disposal will ensure that you can provide them as and when necessary. Will surely help you avoid delay.
If you try and implement these tips before you apply for loan, you are certainly saving an ample amount of time and effort that would go in processing the loan application. Your next step to fetch yourself a personal loan would be the application process. Everything has gone digital and so have personal loans. You can avail a personal loan online with the help of personal loan apps designed for your smartphones.

Related Article – How to improve your Personal Loan Application? – Tips by a Credit Manager

How to avail a personal loan online?

Primarily, you would be required to visit the lender's website or download their personal loan app. You can then fill the application form and provide the necessary information in the truest form.
Know Your Customer (KYC) process is a commonly used process where the lender would demand documents to verify your eligibility for the loan. Thus, you must upload all the documents required. In certain cases, you may have to keep attested copies handy if demanded by the lender.
Provide necessary details to Lenders to enable them to carry out verification to ensure that information provided by you is authentic.
Once you have passed the verification process, the personal loan will be sanctioned and your loan amount will be disbursed.
Once you provide authentic and sufficient information/documents, the loan process would not take longer than 24 hours. Just by following a few simple steps you can not only speed up your personal loan process but also maximize the chances of approvals!

Related Articles –
Why your Personal Loan Application can be Rejected?
Applying for your First Personal Loan? Here's What You Should Know