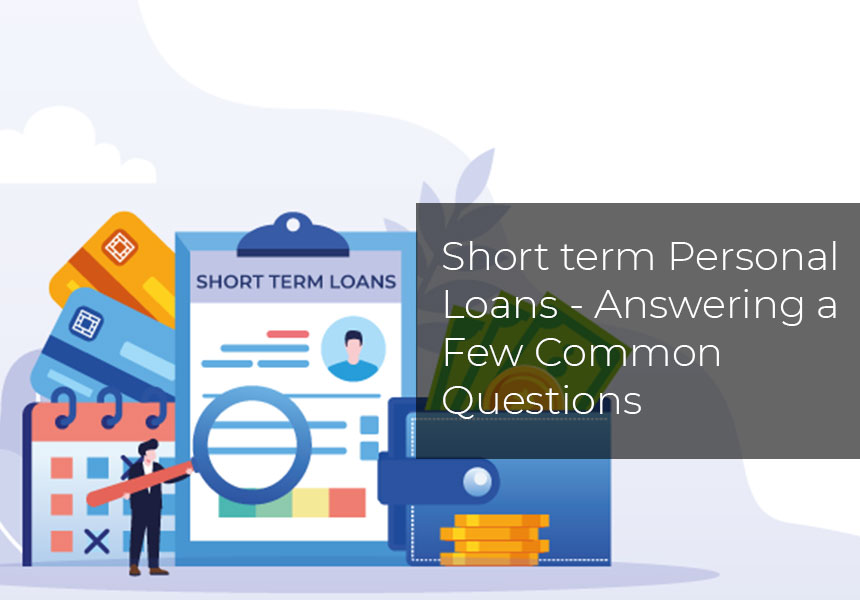 Published on : July 03, 2020
Short term Personal loans – Answering a Few Common Questions

Millennials today fuel their aspirations with the help of personal loans and varied debt products available in the market. Many expenses also pop up when you least expect them. At such times, personal loans are the most trusted options. Personal loans are classified as short-term loans and long-term loans. Depending on the nature of one's requirements, one can decide on their best resort. However, if your requirement is for a shorter period of time it is wise to opt for debt that you can close early so that you do not need to service the loan obligations for an extensive period of time. Here, short-term personal loans are a favorable option.

What are Short term Personal Loans?
Short term personal loans are unsecured forms of debt where you would not require to pledge any asset against the borrowed sum. They have a smaller loan tenure as compared to long term loans. These loans are easily available at customer friendly terms. Before you apply for a short term loan, you must understand the features so as to make the best choice. To help you understand in more detail, we have answered few common questions related to short-term personal loans –

What is the tenure of a Short Term Loan ?
Short term loans have a tenure of less than or equal to 24 months. This helps you meet your short term cash requirements and close the loan account at the earliest.

What is the Interest Rate of Short Term Loans ?
These loans may come with a higher rate of interest as the tenure is shorter. However, most lenders do allow foreclosure of loans without any extra charges.

What are the documents required for a Short Term Loan ?
These loans demand minimal documentation and have an easy, hassle-free process of application.

Is there a collateral required to obtain a Short Term Loan ?
These loans are unsecured in nature, thus there is no collateral required to avail these loans.
How to apply for a Short Term Loan?
Short term loans are easily accessible from the comfort of your home. You can obtain the funds in 24 to 36 hours as the verification processes are not extensive. You can fill an online form, provide few basic details and upload KYC documents to apply for a short term loan.

Is there any restriction on usage of funds?
There is no restriction on the usage of funds. However, opting for customised personal loans based on a specific purpose may help you get flexible repayment options as per your need.

What are the different types of Short term Personal loans available in the market today?
There are various types of short term loans that are designed keeping in mind the needs of millennials as well as their monthly cash flows. They are customised in a way that they minimise the monthly obligations towards the loan. Take a look at the available options for you –

Advance Salary Loan
Many times, a financial shortcoming may occur in the middle of the month and cannot wait for your Payday. Here's where a salary advance comes into play. Opting for this loan, you can avail up to 2.5 times your monthly salary at your disposal. You can opt for a loan tenure of up to 12 months. This gives you ample amount of time to meet your financial needs and can be repaid when you are fueled with liquidity.

Credit Card Takeover Loan
A personal loan that is specially designed with the objective of Debt Consolidation. You can consolidate debts arising out of one or more credit cards. A debt consolidation loan offers lower interest rates as compared to the interest charged on credit card outstanding amounts. This way, you end up clearing all your outstanding dues in one go at a lower interest rate.

Wedding loan
A Wedding loan is designed to cater to all the expenses you will incur at a wedding. It also offers flexible repayment plans so that you can enjoy interest only payments in the initial months. In other words, it is a loan that offers low EMIs at affordable interest rates. You can now marry in style without the worry of finances.

Travel Loan
A travel loan is a short term personal loan that covers expenses arising out of a holiday or any travel. You can avail this loan to plan family vacations or travel for work. This loan offers interest only payments option (Step-up) in the initial months followed by fixed EMIs for the rest of the tenure. This makes the EMIs more affordable and repayment more favorable.

At LoanTap, we offer a variety of Repayment Options that are designed to lower the EMIs to make it more affordable to service. The Step Up Repayment Option allows interest only payment option for the initial 3 months, followed by fixed EMIs. The EMI Free Repayment option allows interest payments every month and bullet payments towards the principal outstanding every 3/6 months. One other repayment option is the Term repayment plan. This allows you to Pay equal monthly installments throughout the tenure. All these Repayment options are designed to make the repayment procedures more economical for the borrowers. Apply for a short term loan online and access funds in 24hrs!

Related Article –
Should I Choose a Long-Term or a Short-Term Tenure for my Loan?