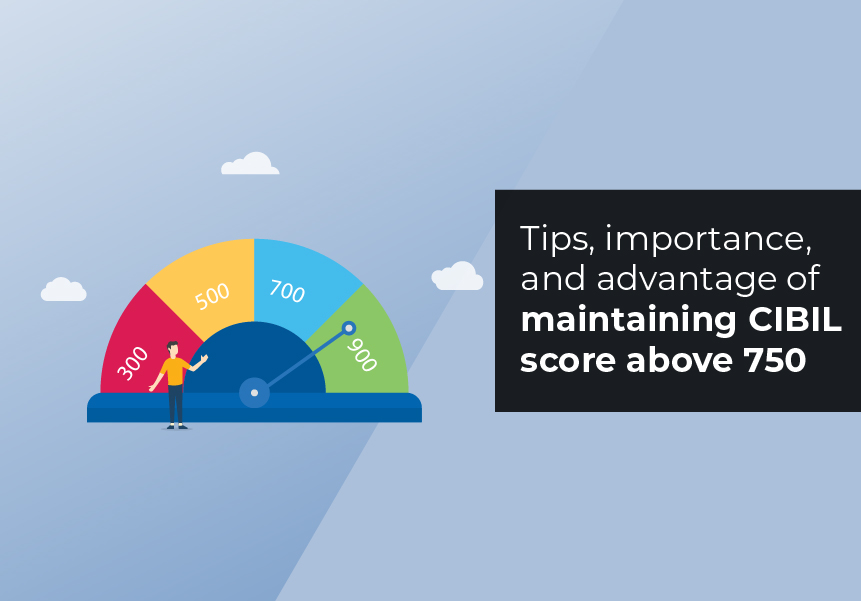 Published on : September 10, 2021
You are looking to buy the latest iPhone that has been released but you do not want to touch your savings. What should you do? The ideal option would be to avail of a personal loan. You look up the various options available. You come across this term CIBIL score above 750 mentioned in various places and wonder what it means and how it is calculated. Let us decipher this term called CIBIL score and understand how it impacts your personal loan eligibility.
What is Credit score?
CIBIL score or Credit score is a numerical summary of your credit history. Credit history starts getting generated once you have been employed for six months. Agencies like Transunion CIBIL is not just a credit-reporting agency but It is also a high tech global risk information provider. It provides information and tools for gaining a clear understanding of their credit history and financial reputation. This score helps lenders to make important decisions regarding loan approvals. Other such well known agencies are Equifax, Experian and CRIF high mark.
Based on the credit history of an individual, a credit score is generated which is a number in the band of 300 -900 with 300 being the lowest score and 900 the highest.
The credit score is impacted by the amount of debt, the number of defaults etc. A score of 750 or above is considered very good and over 95% of the loan applications with this credit score get approved.
What are the components of your Credit score?
Your Credit score is a combination of the following factors –
Payment History -30%
Credit Type and Duration 25%
Credit Exposure – 25%
Other factors – 20%
Your education, income, savings etc have no impact on your credit score.
Why is your credit score so important?
Credit score is your gateway to financial options. A good credit score reflects your good credit history and makes you eligible for personal loans. Most lenders use the CIBIL score as the most important parameter for the evaluation of loan applications. It is important to check your credit score on a regular basis to make sure it is reflecting the right picture. In case there are any errors due to no fault of yours, it is better to get them rectified. Else you will suffer when an emergency arises and lenders reject your application due to a lower credit score. A case in point is the update of the No dues certificate when you pay off a loan. In case you have not collected the No Dues Certificate after paying off a loan, it will still reflect as a debt against your name and your credit score will be affected. Therefore, it makes enormous sense to track your credit score on a quarterly or half-yearly basis to avoid such issues in future.
What are the advantages of maintaining a CIBIL score above 750?
Better Response from lenders
A CIBIL score over 750 is similar to scoring a distinction in your examination. It opens the doors to many opportunities. Since personal loans are unsecured loans, lenders have to be extra careful while approving them. That is why they depend on the credit score as an important parameter. A high credit score is appreciated by lenders. More than 95% of the loan applications with a credit score over 750 get their loans approved in a jiffy.
Cheaper Interest Rate on Loans
If you have a good credit score you can negotiate better terms with the lender. You may be able to get a cheaper interest rate on personal loans. It will give you better leverage when you talk to a lender.
Pre-approved Loans
Several lenders offer pre-approved loans to individuals having a CIBIL score over 750. This can be a boon to individuals who might need a loan in an emergency. They do not need to go through any paperwork or processes.
Loans with longer repayment period
Since personal loans are unsecured loans, lenders prefer to offer personal loans for shorter tenures to reduce the risk of default. Those with a credit score above 750 have a better chance of getting a loan for longer tenures.
Discount on processing fees
As an individual with a credit score over 750, you are favourably placed to negotiate a discount on processing fees since the lender believes in your capacity to repay the loan on time and would prefer to build a long term relationship with you.
Better card benefits and Rewards
A credit score over 750 can easily get you better credit card benefits and rewards as all lenders will view you favourably as a good customer.
LoanTap Advantage for Personal Loans
LoanTap offers personal loans that are tailored to meet the requirements of individuals. It is quite a simple process to get a personal loan from LoanTap especially if you have a credit score over 750. Then it becomes a breeze.
If you are an Indian citizen or resident over the age of 21 years and earning a net monthly income of over Rs 30,000, you are eligible to apply for personal loan.
All you have to do is to visit our website and fill up an online application form. You will need to upload the following documents-
PAN Card
Aadhaar Card
Salary slips for the last three months
Bank Statement of salary account for the last six months
The LoanTap team will evaluate your application. If your credit score is over 750 and your documents are in order, your loan application will be approved immediately and the money disbursed to your account. The entire process will not take more than 24-36 hours.
LoanTap offers personal loans from Rs 50,000 – Rs 10,00,000 for periods ranging from six months to five years. Interest rates start from 18% per annum. You can choose from a range of flexible repayment options. Once you service your loan for 6 months, you can prepay the loan without any prepayment penalty.
Maintaining a good credit score involves a certain level of financial discipline. It is prudent to never use more than 30% of your available credit limit. It is best not to run up multiple debts at the same time so that you can manage your EMIs comfortably. Keeping your monthly budget in control by managing the discretionary expenses will allow you to pay your EMIs on time and without much burden. It will also help to keep your credit score intact which will help you when an emergency occurs. Remember that whenever you are in need of funds, a good credit score will get you a LoanTap personal loan in a day. Your credit score is your certificate. Maintain it with pride and reap its benefits in the long run.
Related article – Can you get a personal loan even when your CIBIL Score <750?