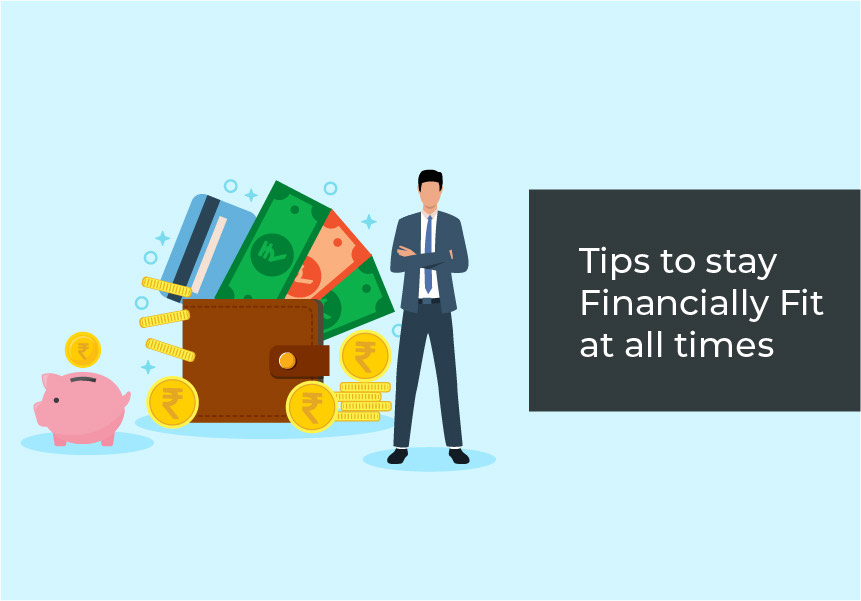 Published on : January 29, 2021
The pandemic has taught us that uncertain times can catch you by surprise, especially when you are least expecting it. It often takes a toll on our mental, physical and financial well being. No amount of prudent planning and preparation can help withstand unforeseen circumstances.

While we can work on our emotional and physical health with the help of friends, family and loved ones; what about financial stability? Financial health is one thing that we may tend to overlook at times, but is essential to maintain. In order to help you sustain financially in a sudden crisis, here are some habits to adopt to ensure that you sail through your low months regardless of any inefficiencies in your financial situation!
Save for Emergencies
In any alarming situation, the first thing you require is the fund to firefight! In case you encounter any medical emergency, you must have some back up fund to cater to that situation. Although, you may choose to avail a personal loan online or a medical loan; which is undoubtedly easily accessible today; you must consider the extreme scenarios. It may so be possible that you do not have the sufficient time to avail yourself a loan. Thus, timely savings will always come to your rescue without having to wait for personal loan approval.

Save Money and Money will save you! It is a good habit and rather mandatory, to save at least 20% of your monthly income as a part of an emergency fund. This fund can work as an armour against all emergency situations.

Cover yourself under Insurance
Apart from Savings, the best saviour is a good Health Insurance Plan. If you and your family aren't covered under a health insurance plan/ life insurance plan, it is never too late to get started! There are a plethora of vendors who offer maximum coverage at nominal premiums. If money has kept you from availing a Health Insurance you may also explore lenders who offer a Health Insurance Loan to minimise the load on your monthly budgets. You can opt for this loan and pay the premium in small payouts.
Why wait till the day when emergency strikes, when you can secure your family and ensure complete protection today!

Build and maintain a good credit score
Credit score is the primary factor that helps you when you want to borrow money in times of uncertainty. It may not be the only factor responsible for a personal loan approval but it certainly has some weightage! If you have taken a personal loan or are a frequent user of credit cards, you must ensure that you make timely payments against any EMIs or bills due. Also, timely credit checks will help highlight any errors in your report.

'Make good habits and they will Make You' You must ensure that you adopt the habit of reviewing your credit score and credit report at least once a year. First, build your credit score by taking the necessary steps; once the desired score is achieved ensure that you maintain it! These habits will certainly prove fruitful for your debt portfolio.

Opt for a pocket friendly loan
We all turn to personal loans when in times of sudden cash shortfall. However, what we may fail to interpret is the amount it may cost us. Lenders have innovated with multiple repayment plans to make the personal loan EMIs affordable for borrowers. Thus, you must ensure that you carry out adequate research and pick out the lender that offers affordable payout structures to avoid burdening your monthly budgets!

Maintain a healthy Debt to Income Ratio
Debt to Income ratio (DTI) is the ratio derived by calculating all debts borrowed against the income earned. A DTI ratio of 30-50% is considered to be a healthy ratio. Thus, you must ensure that your borrowings must not exceed 50% of your total monthly income at all times. Maintaining a healthy DTI ratio will help you maintain a good credit profile while increasing your chances of a seamless personal loan approval in future.

Adopting these credit habits as a part of your financial well being plan will certainly help you to stay equipped financially regardless of any situation that arises . Staying credit conscious not only results in a prudent finances but also helps you firefight unforeseen circumstances without any hassle!

Related Article –
How do I get hold of my Finances during times of uncertainty?