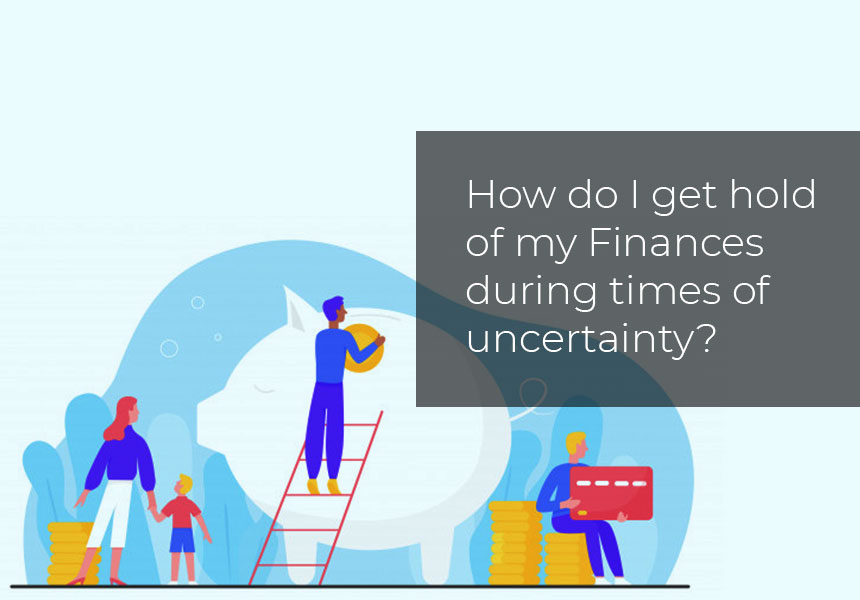 Published on : August 24, 2020
The spread of the Covid-19 pandemic led to a gradual lockdown across the globe. Many dimensions of our lives have been affected. On the bright side of it, we experienced new joys such as getting closer to our families, spending more time with them, learning new skills and more . We have almost adapted to the changes resulting from the lockdown life. However, along with changes come – uncertainties that crawl up unanticipated, which you might find difficult to cope up with. In such situations, when you may be facing financial instability as well, you certainly need a plan of action. This article will provide details of all the things you can do in order to manage your finances responsibly for the quarters to come.

1. Control your spending habits
To be able to sustain through uncertain times, you must consider altering your spending habits. You may be fond of dine outs or weekend getaways, expensive gadgets or luxuries. However, recognising the need of maintaining liquidity of funds for over 6 months, it is ideal to only keep necessities as your priority.

2. Increase savings
'Save Money and it will save you'. You must ensure that you save enough money in order to ensure that you can protect your family in case of any emergencies. You must keep aside a minimum of 20% of your monthly income every month as a part of your savings. Savings will certainly have your back when most needed.

3. Avoid falling into a Debt Trap
You must ensure that you repay your loan and clear off credit card outstanding bills on a timely basis. Credit Cards are debt instruments that may prove to be very costly when it comes to interests and other charges. If you fail to make timely payments towards these debts, you could be walking your way into a debt trap. Thus, it is essential that you pay off your debts in a regular and timely manner.
4. Invest in Health Insurance
Health Insurance is the need of the hour and we are all well aware of it! If you haven't yet covered yourself and your family under a Health Insurance Plan, this is the time to get going. There are a lot of vendors who offer the best health insurance covers that will ensure security for your family in times of medical emergencies. If you are unable to fit the expense in your budget, you can opt for a Health Insurance loan that helps you break down the amount into smaller monthly payouts.
5. Borrow only for emergencies
You may often depend on a personal loan or other debt instruments to meet your financial requirements. However, in times of uncertainty you must avoid stepping into a bigger puddle of debt. It is recommended that you must borrow only if you have an emergency.
Adopting these few simple habits will help stabilize your finances during a crisis and will ensure that you are armed to face catastrophic times.

Related Article –
Personal Loan as a form of Credit during a Crisis
How to Deal with Uncertainty – Mentally, Physically, Financially!