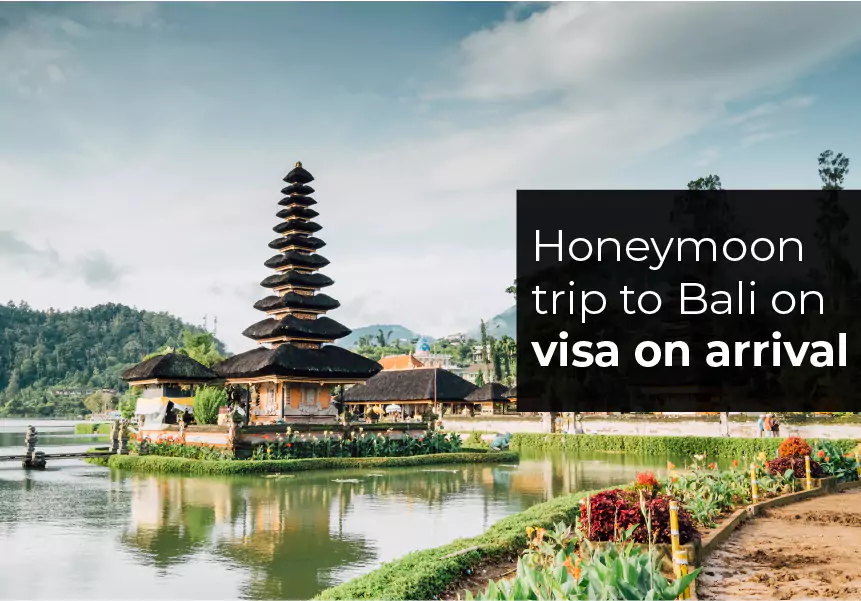 Published on : November 09, 2021
Honeymoon is a special time period for couples. It is a vacation that is considered romantic and very necessary for the couples to know each other better. Honeymoons are frequently enjoyed in exotic or romantic locations. Bali is a beautiful place that attracts many couples and is home to many exotic locales. Traveling is a restorative therapy that calms both the mind and the soul. Bali, an Indonesian island, is ideal for nature lovers and frequent travellers because of its picturesque splendour.
Bali has been a popular vacation destination for young people looking to get away from work stress and monotonous life. It is the brightest island in Indonesia's 17000-island archipelago. You should plan ahead of time because the tourist season lasts virtually the entire year.
Read on to know about how you can plan your honeymoon trip to Bali on a visa on arrival.
Visa On Arrival
Travellers from India who plan to stay for less than 30 days can get a visa on arrival. Those who are not eligible for free admission to Indonesia and who plan to stay for more than 30 days do not need to apply for a visa. Rather, after they get to Bali, they must purchase the same in the immigration hall. Indians can get a 30-day visa on arrival by paying an amount of USD 35 per person( INR 2625). This fee can be paid in cash or credit card. The Indonesia visa on arrival is valid for 30 days, however, it can be extended by paying an additional amount of USD 45 for another 30 days. The entire procedure of extending your tourist visa will take nearly 7 business days.
Documents Required
The documents required for applying for the visa on arrival at Bali are:
Information on the return flight and lodging.
After you return from Bali, your passport must be valid for at least 6 months.
Proof that you have enough money to cover your expenses throughout your stay in Bali. For every day you spend here, a minimum of USD 100 (INR 7500) is required.
Your visit's objective, such as social, tourist, or employment.
Two copies of the applicant's visa application.
2 pictures, each of 35X44 mm. Make sure it is matte and was taken against a white background.
A copy of the airline ticket bookings, as well as evidence of stay.
The itinerary is also known as the tour plan.
All of your tax filing records from the previous three years, as well as the applicant's form 16.
Bank statement from the previous six months for the applicant.
Salary slip from the previous three months for the applicant.
If you plan to stay for more than 30 days, you have to follow this process to apply for an extended tourist visa:
Download the application form from the website.
Prepare a cover letter that explains the reason for your visit.
Check that your passport is valid for six months and has two blank pages.
Copy and paste your photos into the form. Keep in mind that photos should be 3 months old.
Obtain your confirmed airline tickets and include them with your application.
A cost of 10 or 25 dollars must be paid in addition to the file.
Show evidence of your hotel reservation in Bali, Indonesia. Produce a sponsor letter if you are fortunate enough to have a sponsor in Bali. It will take 3-4 days to process the files.
The applicant must have sufficient funds in his or her bank account. It is to demonstrate that your vacation in Bali will be pleasant.
All applicants are given a file tracking number, which will allow you to track the progress of your visa application.
You can pick up your passport once all the procedures have been completed. Prepare to have a good time.
Who can apply for a personal loan?
Going on a honeymoon trip to Bali can literally be a breeze if you take the LoanTap Holiday Loan or Wedding Loan. If you are an Indian citizen or resident over the age of 21 years and earning a net monthly income over Rs 30,000, you can apply for personal loan.
How do you apply for a personal loan?
If you wish to apply for a personal loan, you will need to visit the LoanTap website and fill out an online application. You will need to upload the following documents –
PAN Card
Aadhaar Card
Salary slips of the last three months
Bank Statements of the Salary Account for the last six months
The team at LoanTap will evaluate the application and check whether all the loan parameters are being met. If the credit score is decent and the documents are in order, there is every likelihood that the loan application will be approved. Once the loan is approved, the loan will be disbursed to the mandated account within 24-36 hours.
LoanTap offers holiday/ wedding loans from Rs 50,000 – Rs 10,00,000 for time frames ranging from six months to sixty months. Annual Interest rates begin at 18% which is much cheaper than a credit card which charges interest at 2.5-3% per month. Once the loan has been serviced for six months, the loan can be foreclosed without any prepayment penalty.
Using a personal loan to pay for the honeymoon trip is a smarter move compared to using a credit card because it is cheaper in the long run. You can choose from a range of flexible repayment options to make the monthly cash outflow convenient. You can use the personal loan EMI calculator to work out the right tenure that will keep the EMIs convenient.
So, what on earth are you waiting for? You can just take that honeymoon trip to Bali on a last-minute impulse and use the LoanTap personal loan to pay for it. You can pay off in convenient EMIs on your return from the holiday. You can pay interest-only EMIs for the first three months and then switch to normal EMIs thereafter.
Whatever the plan, just go and enjoy that holiday without a care in the world. We, at LoanTap, will take care of your funding needs. You can worry about it when you return, all relaxed and rejuvenated.
Related article –