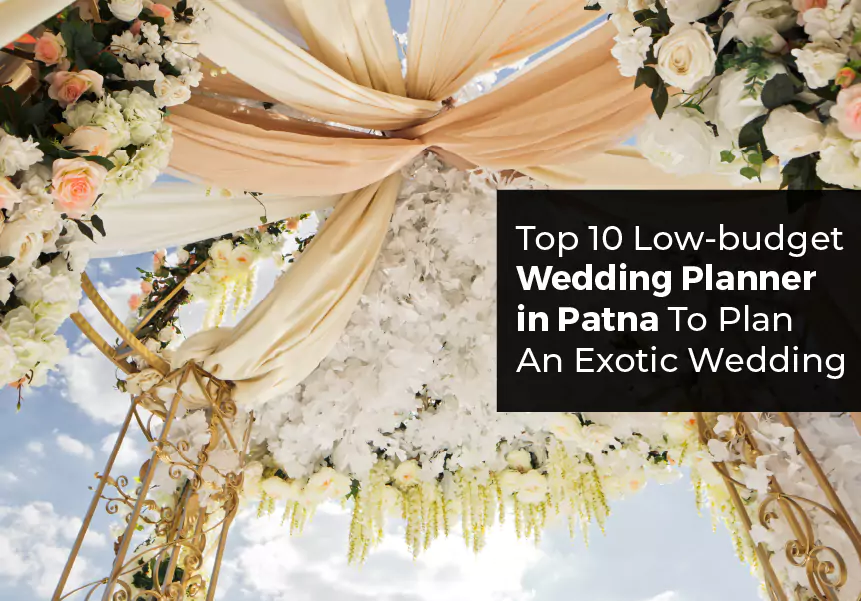 Published on : December 10, 2021
Weddings are the celebration of joy and Happiness. A life-changing event that one must cherish to spend the remaining life with their partner. Nowadays, planning a luxurious wedding is trendy and exciting for couples. Finding a wedding planner who presents you with out-of-the-box ideas is a tedious task per se but the most difficult thing is to search for budget-friendly wedding planners.
Here is a list of low-budget wedding planners in Patna for you. They will provide excellent services and the best deals on a budget.
Wedlock
Are you looking for professional Wedding Planners? Wedlock is the ideal wedding planning company for you. They offer customized and personalized wedding ideas. Also, you will get a fabulous and unforgettable wedding experience. Their team of professionals will convert your wedding day into a day of splendid memories. They will handle everything from creating wedding concepts to executing the plan flawlessly.
What makes them unique?
Take responsibility for hospitability and destination wedding management.
Decor Services that reflect your class with a professional touch.
Master the art of making stunning and customized invitations that stand out.
Exclusive catering services with high-quality food and beverages.
Offer best in bridal makeup, entertainment, and wedding photography.
Known for organizing international destination wedding places like Bali, Thailand, and Andaman.
Provide Royal procession services to make your entry grand.
Wedding Planning Cost: The minimum price is Rs 2.5 Lakhs.
Infinity Wedding Planner
This Indian wedding Planner in Patna offers budget-friendly solutions to make your wedding a memorable occasion. Infinity Wedding Planner considers what their clients want and expect within a budget. They ensure you enjoy ceremonies and functions hassle-free. They can create a majestic and stylish wedding for the lovely couple. You can enjoy every moment in peace with your family and friends.
What makes them unique?
Offer gorgeous decor services to set the perfect and comfortable ambience.
Mind-blowing mandap and marriage hall decorations services.
Arrange pre-wedding and post-wedding ceremonies and events.
Set up a spectacular Jaimala stage and grand entrance at the venue.
Multi-cuisine catering service with a lip-smacking wedding feast.
Provide other services like hospitality, bridal makeup, styling, and Venue Selection.
Wedding Planning Cost: The base price is Rs 1.50 Lakhs.
Shaadi Cart
Shaadi Cart is an online platform that provides booking services from banquet halls to buying flowers for decorations. It was founded in 2017. They focus on catering to the demands of wedding planning and management. They are offering the most affordable vendors in the wedding industry. This wedding planning company is a one-stop destination for couples to visit before their wedding hustle starts. You can explore vendors, shortlist them, and directly contact them.
Why make them unique?
Easily plan a wedding in a few steps with premium quality service.
Provide the best deals and prices in the entire city within your budget.
Book professionals for all wedding needs from 3000+ vendor lists.
No commission or extra charge on booking services.
Wedding Planning Cost: The Base Price is less than 2.5 lakhs.
Yes! We do
Yes! We Do, are known to be the best wedding planners in the city of Patna. They take care of all your decor ideas and transform them into a reality. Their dedicated team always tries hard to bring the essence of life-long celebration. This wedding planner perfectly prepares a wedding plan as per your expectations, budget, and lifestyle together.
What makes them unique?
Provide affordable services for pre and post-wedding functions.
On-site management solutions with proper assistance and guidance.
Choose any wedding packages as per your requirements and budget.
Offer services like vendor management, decor planning, entertainment, food and beverages, transports, and guest management.
Wedding Planning Cost: The minimum price is 5 lakh.
Band Bajaa Barat
This wedding planner has created millions of moments with love and innovative ideas. Band Baaja Baaraat is one of the best wedding planners in Patna. Rahul Singh and Prashant Choudhary are the two co-founders who established this wedding planning company to plan exquisite and unique weddings. They make sure you and your family enjoy all the cultural and traditional functions with peace.
What makes them unique?
Get wedding management services that include decoration, guest management, transportation, and more.
Customized decoration themes with fabric drapes, centrepieces, and romantic lighting.
Ensure royal treatment to guests and families with free transportation services.
Best caterers to seduce the taste buds of your guests.
Full assistance for other services like pre-wedding shoots, expert mehndi artists, makeup, and grooming stylist.
Wedding Planning Cost: Take a minimum cost of 2.50 lakh.
7 Phera Dream Destination
This budget-friendly wedding planner in Patna designs and arranges the entire wedding hassle-free. 7 Phera Dream Destination executes every wedding with a vision to stand out. A wedding is the most important day of a couple's life, where they take wedding vows during Saath Phere and tie the knot for a lifetime. It is the perfect wedding company for planning a low-budget wedding in Patna.
What makes them Unique?
Plan, design, and execute all your wedding ceremonies.
Skilled and creative wedding designers arrange everything effortlessly.
Stylish decor options to surprise the guests and make their jaws drop.
Entertainment design and choreography for sangeet and other occasions.
Affordable wedding packages to pick as per your expectations.
Wedding Planning Cost: Minimum cost should be 10 lakh.
Event Panda
Every couple's favourite, Event Panda has won the sixth position in the list of wedding planners. They provide a wide range of services with verified vendors. Their high-standard services and execution skills are incomparable. Event Panda is famously known for the finest work in Patna. Make your big day a grand success without you breaking a sweat.
What makes them unique?
Get all vendors at a one-stop-shop within your budget.
Provide world-class services by understanding the importance of all events.
Offer wedding packages at reasonable prices.
Grooming services for bride and grooms, outfits, and styling.
Wedding Planning cost: Package starts from 2.5 lakhs
Harmony Events
Since 2012, Harmony Events has become a reputed brand in the wedding planning industry. This wedding event company has successfully delivered 100 weddings to happy clients. Abishek Tiwari established Harmony Events to bring exquisite elements to your wedding. The enthusiastic and hard-working team always works 24 hours during your wedding to give you the best experience ever.
What makes them unique?
Works with creativity, honesty, and transparency to deliver the best services.
Provide Trousseau and gifts for guests.
Serve delicious food and beverages to increase the fun at the wedding.
Always on time and concentrate on giving a comfortable and exotic ambience.
Offer services such as DJ/Music, Venue Booking, Decor, Photography Services, honeymoon packages, and so on.
Wedding Planning Cost: Starting wedding package price is 2.5 lakh.
Shaadi Baraati & the Delegates
Shaadi, Baraati & the Delegates is a top wedding planning company situated in Patna. They aim to light up your gala affair that is worth remembering for a lifetime. SBD is an exceptional wedding planning company for organizing weddings fabulously. They do all the preparations on time and reduce your burden.
What makes them unique?
Offer decor planning and execution service with customized themes.
Allow selecting wedding packages according to price and preferences.
Event flow management for tackling unexpected situations.
On-site staff for 24 hours assistance and service staff to serve food.
Personal shoppers and stylists for the bride and groom to dress like royalty at their wedding.
Wedding Planning Cost: Minimum budget required is ten lakhs.
House of Balaji
The enthusiasm and passion made House of Balaji the best Indian wedding planner in Patna. Weddings need well-experienced designers and professionals to handle even small details. House of Balaji helps you plan a wedding and lets you enjoy a celebration with your significant other. If you are bored with traditional weddings and want to plan a glamorous wedding, this wedding partner will be a perfect choice.
What makes them unique?
Organize weddings by going beyond your expectations.
Deliver their performance on time with elegance and perfection.
Focus on staging, decorations, and managing catering.
Create menu, props, flowers, and design stationery too.
Wedding Planning Cost: Starting Price from 2 Lakhs.
There you go. We have provided you with a complete list of wedding planners in Patna.
As for the funds, you can depend on LoanTap to help you with that. LoanTap provides personal loans for weddings within 24-36 hours. You can get personal loans from Rs50,000-Rs10,00,000 for tenures ranging from six months to five years. Annual interest rates start from 18%.
To get a personal loan, you need to be an Indian citizen or resident over the age of 21 years and earn a net monthly income of over Rs 30,000.All you need to do is to fill up an online application on the LoanTap website and upload the following documents-
PAN Card
Aadhaar Card
Salary slips of the last three months
Bank statements of the last six months
Once LoanTap verifies your application and approves the documents, your loan is sanctioned and the cash credited to your account.
You can repay the loan in full after six months without any prepayment penalty. Getting a personal loan is the easiest way to access short term funds at rates cheaper than credit cards.
Go ahead and have a gala wedding. LoanTap will help you manage the expenses with a wedding personal loan. Remember, we are just a couple of clicks away!