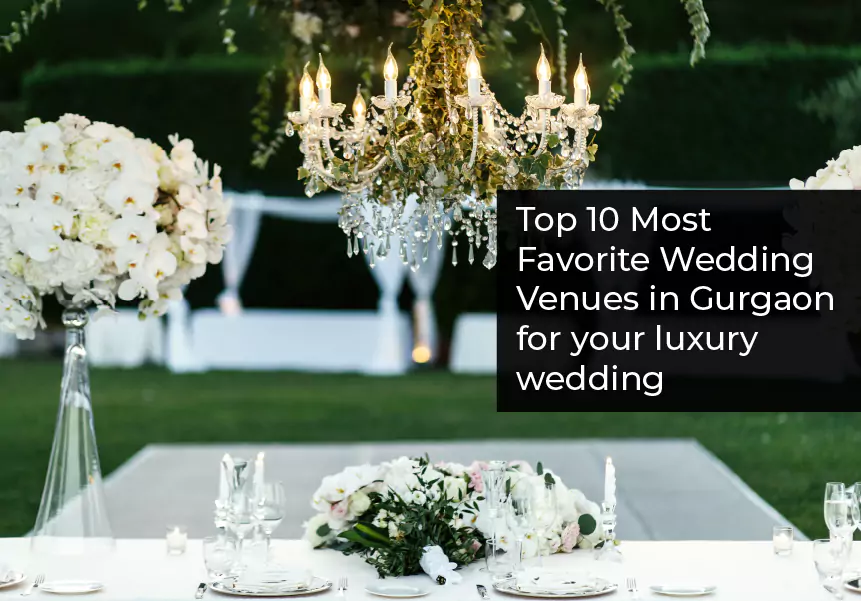 Published on : December 15, 2021
Got the Wedding Date? Yet, you haven't decided on your wedding venue. Your hands are full with innumerable tasks of the most awaited D-Day. There's one primary job before planning your glitzy affair, that's picking a wedding venue in the city of Gurgaon. Selecting one from too many options is not an easy task to do. You want to experience comfort, luxury, serenity, and magnificence away from the hustle of the city. Before you stress yourself out, take a look at this list of Wedding Venues in Gurgaon with the price.
Le Meridien
Le Meridien is a 5-star wedding venue with the perfect ambience to host your wedding. It can become the ideal wedding venue of your dreams. It has many party areas like Phoenix hall, Perseus, and a breezy terrace. Le Meridien ensures you have a lovely wedding celebration with the best end-to-end services to make your day even more special.
Key Features
Offer capacity to accommodate 1500 guests at a time.
Mouth-watering Indian and Italian cuisines.
Serves Indian/ international wines and drinks.
Stylish hotel rooms and luxurious suites to ensure comfort.
Dedicated management staff to make the stay convenient.
Decor team to decorate the centrally located venue for you.
Wedding Venue Cost: Starting price at INR 2,500 per person.
The Westin Sohna Resort
If you are looking for a grand venue to host a great wedding, the Westin is the ideal wedding resort in Gurgaon for you. It offers rich amenities along with luxurious and stunning interiors. It has magnificent banquet halls and lush green lawns to create enough space for your wedding. The Westin Resort has a professional team to make any wedding celebration special. It's one of the best wedding resorts in Gurgaon to create an unforgettable wedding.
Key Features:
Easily accommodate 1000 -1200 at a time.
Allow hiring vendors and caterers from outside.
Expert decor team for personalized themes.
Offer Global delicacies with in-house bistros.
Cocktail concoctions for guests.
Well-equipped indoor and outdoor space.
Wedding Venue Cost: Starting price at INR 3,500 per person.
Golden Tulip Suites
Golden Tulip Suites is a spectacular wedding venue in Gurgaon. It is a brilliant 4-star hotel that offers well-designed and decorative interiors. This luxury destination has two spacious banquet halls for conducting wedding functions. Golden Tulip Suites provides high-standard hotel rooms and suites for guests to ensure comfort, pleasure, and convenience at the hotel.
Key Features:
Venue spaces for accommodating an average of 600 people.
Excellent Staff ready to serve and assist you.
Chef service to cook a delicious menu.
In-house catering system with best cutlery settings.
Ample parking space to harbour all your guests.
Basic facilities like lighting, power backup, and electricity.
Wedding Venue Cost: Starting price at INR 1,600 per person.
The Oberoi
Celebrate your dream day with an exemplary wedding venue in Gurgaon. The Oberoi is a grand place for hosting a wedding without any hustle and bustle. It is an award-winning hotel group and popular among Indian Citizens. This beautiful destination has gorgeous and welcoming spaces with bespoke customer care.
Key Features:
Excellent event planning service for hosting wedding functions.
An exciting array of food and beverages with exceptional taste.
Accommodate up to 1000 people with the capacity of seating 650 guests.
The multi-cuisine menu includes both vegetarian and non-vegetarian.
Other services like valet parking and in-house catering.
Wedding Venue Cost: Starting price at INR 2,500 per person.
Trident Hotel
Looking for a pleasant and leisure wedding venue? Then, Trident Hotel will be the right pick for you. Trident is the perfect combination of luxury and comfort. It offers a range of banquet facilities to organize your wedding with elegance. This hotel spread over seven acres can save the cost of decorations. Its architecture and pretty-looking decor mix of Mughal, Moroccan, and Rajasthani influences attract couples who are looking to have a grand wedding.
Key Features:
Spacious banquet halls to accommodate up to 800 guests.
Arrange a bridal room to get dressed.
Parking space for 500 cars with valet parking service.
Multi-cuisines platter and a customized menu facility.
In-house caterers and cocktail bars for parties.
Dedicated event managers to organize a flawless wedding.
Wedding Venue Cost: Starting price at INR 2,500 per person.
The ITC Grand Bharat
India's first destination for luxurious weddings, ITC Grand Bharat is the most expensive and lucrative wedding venue for couples. It is the only place in Gurgaon to enjoy the royal lifestyle and rich heritage. Everything about ITC Grand is impressive. If you want a royal wedding, it is the foremost wedding venue to pick. You can have a glamorous celebration with incredible settings.
Key Features:
Prithvi – a pillarless stateroom that can accommodate 1100 guests.
In-house catering service with a customized and multi-cuisine menu.
Ample space for indoor events and functions with impaneled decor.
A Plethora of delicious dishes including Italian, Indian, Chinese, Thai, Jain, and fusion food.
Experienced staff to arrange everything without any hassle.
Wedding Venue Cost: Starting price at INR 4,500 per person.
Hyatt Regency
Hyatt Regency is a 5-star wedding venue, well-known for multiple banquet halls and lawns. It is the right pick to host a wedding for large gatherings. This contemporary-style wedding venue guarantees your D-day runs smoothly. The Venue management team remains focused and attentive towards every detail of the wedding. The Hyatt Place hotel will impress you with delightful food, warm hospitability, and a welcoming ambience.
Key Features:
All-Inclusive packages to arrange your wedding as per your needs.
Banquet halls and pillarless ballrooms can accommodate 240 guests.
In-housing catering service with open bar and restaurant.
Valet parking and transportation services for invited guests.
Multi-cuisine platter to match your taste buds.
Wedding cake for the couple.
Wedding Venue Cost: Starting price at INR 2,000 per person.
The Zarah
It is an exquisite place known best for hospitality and excellent services. The Zarah is a gorgeous farmhouse wedding venue in Gurgaon. They have the best wedding decorator and event managers who arrange everything as you have imagined. The Zarah has lush green lawns to accommodate your guest list. It is the best place for organizing open-air weddings and receptions.
Key Features:
Easily accommodate around 2000 guests in a banquet hall.
External catering vendors are allowed to serve delicious buffets.
Good transportation service for guests to commute.
Multiple event spaces for all pre and post-wedding ceremonies.
Valet parking, bar lounge, and bridal room are the other facilities.
Wedding Venue Cost: Starting price at INR 400 per person.
Casabella Banquet
If you want a romantic setup for your wedding. Casabella Banquet offers a beautiful and intimate space that will leave you mesmerized. It presents you with an opportunity to spend your important day with family and relatives. It brings out the charm by adding little details. Casabella Banquet is surrounded by peaceful surroundings and has an open-air terrace venue.
Key features:
Capacity to accommodate 700 guests.
Power back up to furniture set up facilities are available
In-house decor and sound team to save the cost.
Bridal rooms for the last touch.
Prefabricated decor to romanticize the venue.
Wedding Venue Cost: Starting price at INR 1100 per person.
The Ritz by Ferns and Petals
The Ritz is the most luxurious wedding hall in Gurgaon. You will get hospitality solutions and vibrant decor service to make your big day memorable. They ensure high-quality services with tastefully designed banquet halls. The Ritz's staff will cater to all your wedding needs and organize each function the way you have dreamed.
Key Features
Gracious staff to assist you every time.
Best for accommodating 2500 people at a time.
Provide catering services, decorators, and staff.
Arrange foods, drinks, and beverages for the guests.
Setup lighting, mandap, and DJ to add fun.
Wedding Venue Cost: Starting price at INR 1100 per person.
Celebrate the beautiful union of two people by picking one of these stunning wedding venues in Gurgaon. With your family and friends, you can create timeless memories in the setting of the finest resorts, outstanding hotels, and green lawns.
Once you finalize the venue, you will have a fair idea of the cost. Now you can figure out the funding aspect. In case of any shortfall, LoanTap is ready to help you out. LoanTap offers personal loans for weddings from Rs 50,000-Rs 10,00,000 for tenures ranging from six months to sixty months with interest rates starting from 18% per annum.
All you need to do is fill up an online application on the LoanTap website/app and upload your basic documents like PAN card, Aadhaar card, salary slips of the last three months and bank statements of the last six months. If you have a reasonable credit score and your documents are in order, there is no problem in getting your loan approved and credited. The entire process from application to cash shouldn't take more than 24-36 hours.
LoanTap will facilitate quick, efficient and convenient delivery of funds to ensure that you don't have to shortchange yourself on your big day. Go ahead and have the blast you dreamed of and make your wedding an unforgettable experience!