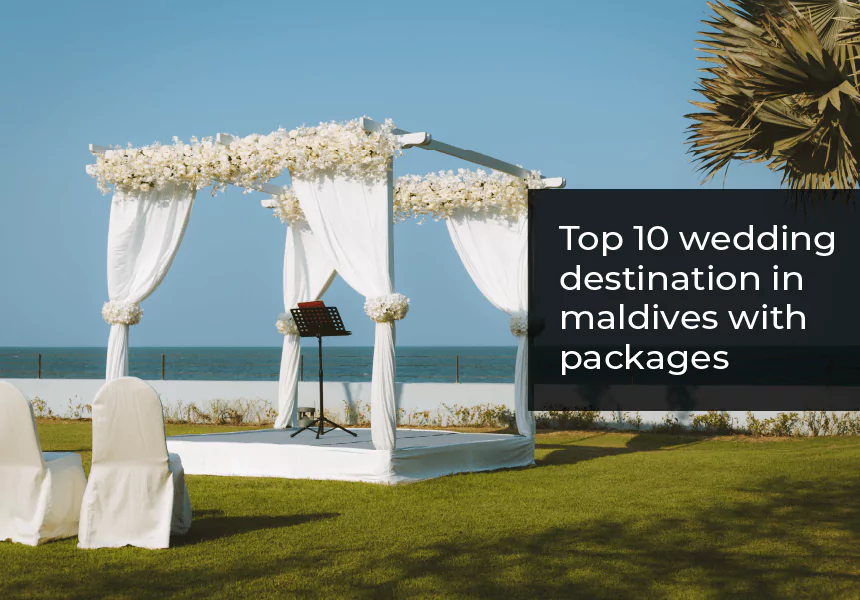 Published on : November 05, 2021
Destination weddings are a great way to celebrate the union of a lifetime. With so many alternatives, we have developed a list to spoil you for choice and assist you in deciding on a destination based on your budget, audience, and other variables. Check out our top Maldives destination wedding venues below!
Our Picks in The Top Wedding Destinations In Maldives
Veligandu Island Resort
This premium resort, located on the northern Ari Atoll, is noted for its beautiful surroundings and abundance of activities. With a beautiful lagoon and world-famous house reefs, this location will forever be remembered for its beauty. Water sports, scuba diving, sailing, and other activities are available at the resort. It also offers its visitors access to a world-class spa.
Starting price: INR 160000/-
Location: Northern Ari Atoll, Maldives
Cinnamon Dhonveli
The location itself is a renowned tourist destination. This private island, located on the Kaafu Atoll, not only exceeds expectations, but also beyond them. They ensure that the wedding is as heavenly as possible by providing a lovely backdrop. Water sports, spa, pool, private beaches, and a romantic candlelight dinner for two on the beach are just a few of the amenities available.
Starting price: INR 135000/-
Location: Kaafu Atoll, Maldives
Baros Maldives
This award-winning hotel is the epitome of providing premium, personalised services in a magnificent setting. Baros, which is located on a private island approximately half an hour from the capital, leaves no stone unturned in ensuring that its guests have the time of their lives. With Maldivian Boduberu's traditional procedures, you can hold your wedding on the beach or at the lighthouse.
Starting price: INR 200000/-
Location: Baros Island, Maldives
Sun Aqua Vilu Reef
This is a fantastic spot. The wedding is held on the Vilu reef of the Maldives, and it takes place on a beach. With waves lapping at the white sand beach and you saying your vows on a traditional set, this is as natural as it gets when it comes to grandeur. There is also some additional entertainment available, such as traditional Maldivian Boduberu and dance performances.
Starting price: INR 180000/-
Location: Vilu Reef, Maldives
Conrad
This magnificent hotel has been named the best hotel in the world twice. The fact alone should be enough to persuade anyone of its magnificence and services. This massive resort is located on two separate islands and connected by a stunning footbridge. The package includes gazebo decor, bridal cosmetics and gown, photographer, and more.
Starting price: INR 245000/-
Location: Conrad island, Maldives
Vilamendhoo Island Resort
This resort, located on the small tropical island of Ari Atoll, steals your breath away with its splendour even before you arrive. The resort is nothing short of heavenly, surrounded by reefs, azure lagoons, sparkling sandy beaches, and lush tall palm palms. The staff is really nice, and they have a strategy in place to get you dressed and ready for your wedding so that you and your wedding look even better.
Starting price: INR 135000/-
Location: Vilamendhoo Island, Maldives
Niyama Private Islands
The luxury offered at Niyama Private Islands in the Maldives, together with a magnificent butler service, cannot be compared to any other destination. It offers the world's first underwater nightclub on board. This resort features opulent beach pool villas and revitalising water villas with a pool, making it one of the greatest wedding venues in the Maldives. The on-site restaurant and spa treatments are well worth a visit!
Starting price: INR 39,000/-
Location: Olhuveli, Kudahuvadhoo Dhaalu Atoll, Maldives
Kuredu Island Resort
This tranquil location, located on the island's northern reef, is ideal for a frankly romantic wedding. With many amazing features such as wedding ceremonial sets, an authentic Maldives ring shell, a romantic villa for the couple with quite an elaborate decoration, a relaxing spa, and much more, this resort leaves nothing to chance when it comes to planning and providing you with the best wedding you could possibly imagine.
Starting price: INR 135000/-
Location: Lhaviyani Reef, Maldives
Kuramathi
Guests always get to experience unparalleled luxury here at Kuramathi. The island resort has a very lavish atmosphere and offers 12 dining options and 3 outdoor pools along with a spa to soothe you. It is one of the best beach wedding venues in Maldives.
Starting price: INR 47,000/-
Location: Kuramathi, Ari Atoll, Maldives
Meeru Island Resort
This resort, located on the Meerufenfushi island, ensures that the wedding is unspoiled by anyone not on the guest list. This island, which can only be reached by speedboat, is surrounded by picturesque lagoons and prehistoric white sand beaches. The backdrop is beautiful in itself, and it's a great way to get in the mood for the wedding.
Starting price: INR 120000/-
Location: Meerufenfushi Island, Maldives
There are exquisite locations in the Maldives where you can organise an exquisite destination wedding. It will be a dream come true to get married in paradise on earth. Do not worry too much about the expenses. LoanTap can easily make your dreams come true by providing a personal loan. LoanTap offers loans up to Rs 10 lakhs for periods ranging from six months – five years at interest rates starting from 18%per annum. You can enjoy the wedding and pay off the loan in convenient EMIs over the next five years. What are you waiting for? Check out the details and pick the destination that catches your fancy! After all, you get married only once. Make it king size with LoanTap personal loans.