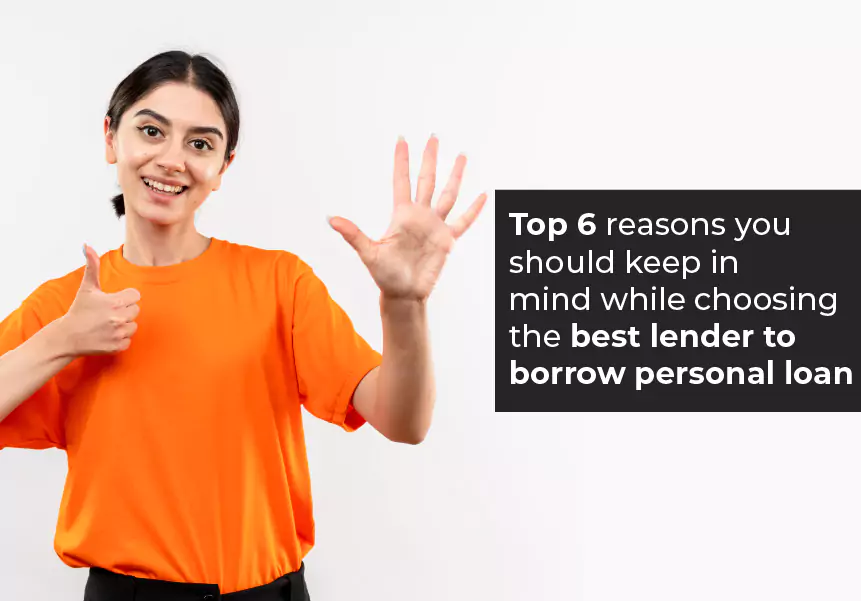 Published on : August 06, 2021
When you are faced with an emergency and you are short of cash, you will need to look around for a solution that will bail you out. Waiting for family and friends to pitch in and help may be one option but it is not very prudent in the long run. You are better off finding your own solution in the form of a personal loan instead of depending on an informal arrangement.
Remember to ask yourself a few questions before you assess the lenders and the options available in the market. It will not only improve your chances of getting a personal loan but also help you to secure the best deal. Please bear in mind the following factors before you make the decision to go for a personal loan.
Good credit history will stand you in good stead
Check the interest rates available in the market
Check for hidden costs
Do not borrow more than your requirement
Assess your ability to repay the loan
Do not fall for marketing gimmicks
Good credit history will stand you in good stead
It is always important to maintain a good credit history if you want a personal loan. Good credit history leads to a higher credit score and increases your chances of having your personal loan approved. A CIBIL score is a numerical summary of credit history. It is generated only after 6 months of credit history. The numerical score is in the band of 300-900 with 300 being the lowest and 900, the highest. A score of around 750+ is considered good and over 95% of loan applications with this credit score get their loans approved comfortably. To maintain a good credit score, you should ensure that you have minimum debts, you do not utilize more than 30% of your available credit and you do not default on your payments. A low credit score will result in your application being rejected or a higher interest rate is applied. So, you are better off maintaining a good credit score before approaching a lender for a loan.
Check the interest rates available in the market
Never take the first offer you get. Scout around and look at the websites of loan aggregators. Check the prevailing rates in the market. This will help you identify the most competitive rates available. In today's information-driven world, everything is available at the click of a button. Make use of the knowledge and make a data-driven decision.
Check for hidden costs
When you assess a loan offer, make sure you check for hidden costs and charges. Read the fine print to ensure that you understand all the terms and conditions. There could be clauses related to processing fees, late payment and prepayment penalties and other charges. These can vary from lender to lender. So, you should do your homework before signing on the dotted line.
Do not borrow more than your requirement
The amount of personal loan that you take should depend on your needs. There is no point in taking a loan in excess of your requirement because you will be paying interest on it. Assess your needs carefully and know where you are going to deploy the money before availing of a personal loan. Taking a loan in excess of your requirement is not a prudent decision and should be avoided.
Assess your ability to repay the loan
You are the best judge of your financial situation. You must be aware of how much EMI you can handle and take the loan accordingly. You can adjust the tenure of your loan to optimise your EMI. However, remember that a longer tenure leads to more interest outflow. As a matter of prudence, you should try to pay off the loan in full after 6 months when the prepayment penalty is no longer applicable. Taking a loan beyond your capacity and struggling to repay it is not a wise decision and should be avoided. Once you take a personal loan, it makes sense to tighten your monthly budget and avoid frivolous expenses. This will make the payment of EMI easier. At any time, it is not advisable to deploy more than 50% of your net income towards the EMI.
Do not fall for marketing gimmicks
Do not be swayed by the marketing gimmicks of lenders. It is up to you to read the offer carefully and look for red herrings. There may be hidden costs buried in the fine print. If something sounds too good to be true, it may be a hoax. Double-check before you enter into any agreement to avoid hurdles in the future.
Once you have checked out the above factors, the actual process of getting a personal loan is easy. Remember, personal loans are unsecured loans and do not require collateral which makes them very popular among young working professionals. At LoanTap, the process is very simple. If you are an Indian citizen or resident over the age of 21 years and earning more than Rs. 30,000 as net monthly income, you are eligible to apply for a personal loan. LoanTap offers personal loans between Rs. 50,000 – Rs.10,00,000 for a period of 6 months to 60 months. The Annual Interest rates start at 18%.
All you need to do is fill out an online application and upload the following documents –
PAN Card
Aadhaar Card
Salary slips of the last 3 months
Bank Statement of the Salary Account for the last 6 months
The LoanTap team will evaluate the application and check the documents. If your credit score is good and the documents are in order, your loan will be approved and disbursed within 24-36 hours. You can choose your own repayment plan according to your convenience.
Do your homework before you decide to go for a personal loan. Understand your need and your ability to repay the loan. Getting a personal loan is easy but repaying it requires discipline. Personal loans are cheaper than credit cards and a very convenient way to raise funds for short term needs. For all your personal loan needs we are just a few clicks away. Visit https://loantap.in/ for more information.
Related Articles – Why are FinTechs a better option for availing loans?
How LoanTap serves as a One Stop Solution for all your needs ?