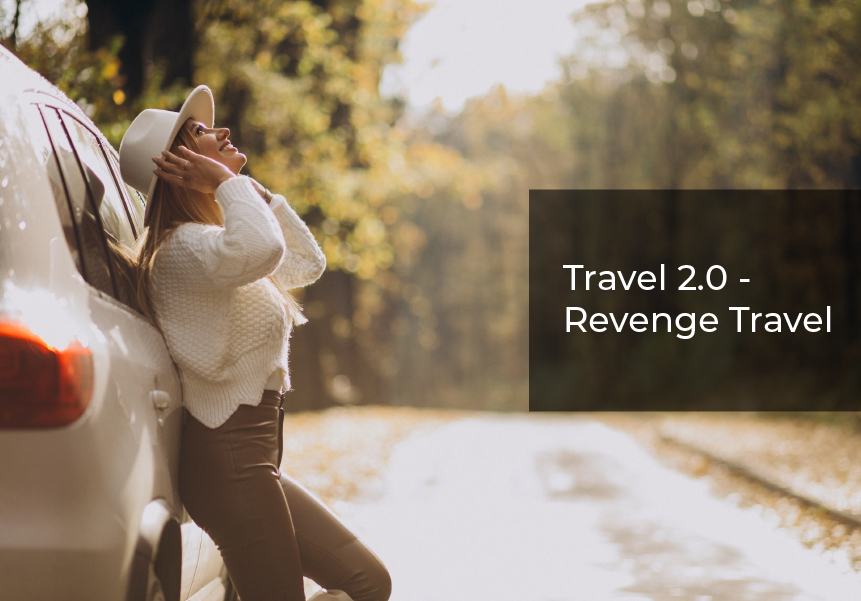 Published on : January 19, 2021
Travel – for some, it's relaxing on the beach and for some adventure! Travel tops the list of most millennials. But what if you were told that travel is going to remain at a standstill post Covid -19 too ?! That certainly is going to bring out the rebellious little one out of you! Isn't it ?
Well that precisely is the case ! This agitation that is deep within us because of being grounded for over months together has given birth to the concept of 'Revenge Travel' ! This article is going to tell you all about it and will have you all set to revenge travel !!

What is Revenge Travel?
The term revenge travel, though may sound aggressive; it pretty much is otherwise. It is a very passive concept that has emerged from the turmoil of frustration of sitting indoors all throughout the lockdown. While everyone loved the taste of a weekend getaway or a well planned holiday, the outbreak of the virus resulted in a complete halt of vacation planning. Well, how long can you do away with your dreams to travel! That precisely explains why Revenge Travel came to light.
Everyone has adapted to the new environment that the Covid-19 has brought into effect, , however, to make peace with their travel desires, people have started to take short trips around the city outskirts. Various landscapes that may not have been on everyone's visit lists, are now being explored. This not only helps people look after themselves, in terms of safety protocols, but also gives a break from the regular monotonous routine.

How to Plan your Revenge Travel ?
If this concept is urging you to plan one too, here's how you can make the most of it –
Opt for a Road Trip
Owing to the current scenario, travelling in masses on public transport is not the best way out. Road Trips on the other hand serve as the safest alternative. While you are not bound by routines and timelines, you also get to keep up to all the safety measures while travelling in your own vehicle. The duration of the road trip can obviously vary depending on the destination and the time allotted to your travel. If you have a short getaway, plan a nearby visit to landscapes that are less explored. Take time out to observe and soak in the peace and beauty of the destination. Having a strict timer on your stay would only leave the thirst for travel, unquenched.
Travel within the National boundaries
Everyone is facing similar emotions in the current scenario and we all know how uncertain situations can get. You certainly do not want to get grounded in another country if any unforeseen circumstances arise. It is best to stay within the National boundaries as you can access multiple mediums to travel back home. Speaking about the country, India is a land marked with beautiful landscapes and it will take a lifetime for you to explore them all! So why not gear up, and plan a multi-destination trip to explore the cultures, traditions, cuisines, architectures and diverse geographics of our motherland !

Plan a Staycation
This is another type of getaway option, where you can experience a holiday with the comfort of your home. Many people have invested in holiday homes that are located in other less populous cities. When the calendar brings long weekends, a lot of millennials push off to the other home to enjoy a change of routine and make the most of their leisure time. A staycation is a preferred travel routine for many because of the expenses being minimal and objective being served to the fullest. Infact, many millennials are now investing in such homes to secure their future as well as travel desires. What's better than a Win – Win in life ?!

How to fund your Revenge travel ?
Be it a short trip nearby or a road trip touring the entire country, planning your revenge travel within the budget is just a cakewalk. We certainly don't recommend that you dip into your savings to fulfill your travelling desires. There are many digital lenders that offer lifestyle loans at very reasonable terms of service. One such loan is a travel loan. A travel loan or holiday loan will help you cover all the costs of a trip and will allow you to repay in small, easy EMIs. There are many lenders that are venturing into tie-ups with travelling companies to offer you the best packages for your travel. Look out for such lenders that offer easy repayment on a personal loan for holiday and then your travel is just a few clicks away!!

Related Articles –
Guide to Travel Loan : Fuel your Travel Aspirations
Live your Adventure – How to get a loan for Travel?