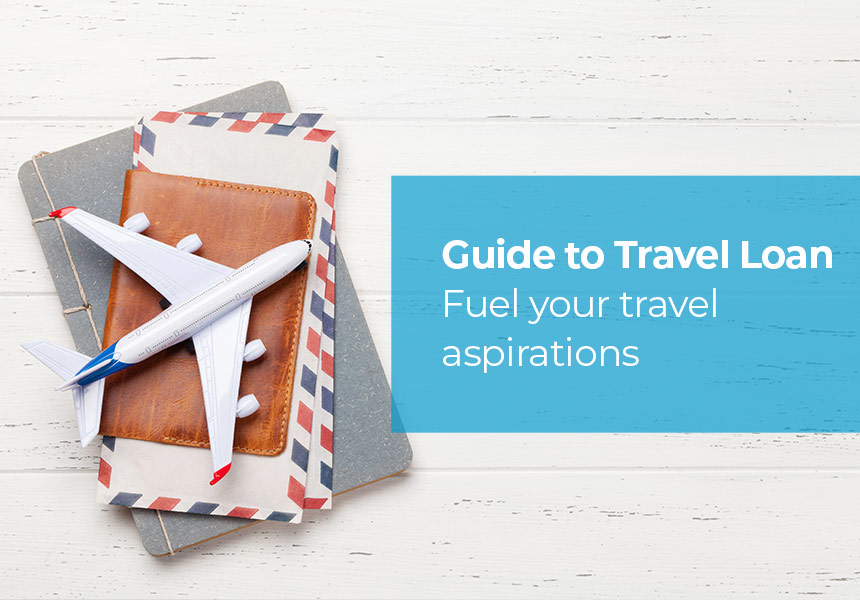 Published on : February 22, 2020
Millennials are not precluding themselves from exploring places of their dreams due to insufficient funds. You can see the social media of this generation flooding with pictures from exotic locations. Exploring new places and various cuisines are on the top of everyone's bucket list these days. This trend is not fading anytime soon because of the easily available and accessible travel loans. Fintech companies are providing competitive rates on travel loans and flexible repayment options to attract and encourage people to opt for their products.
When Should you Opt for a Travel Loan?
For many, exploring new destinations is a passion. For some, it may be the reason to spend quality time with their family. For others it may be a way of relaxation from their busy work life. Many do not have the luxury of taking a vacation due to financial constraints. Many also liquidate their savings to fulfil their dreams. Let us look at some of the situations where travel loans can ease up your finances and help you take a vacation when required.
Family Vacations
Planning a trip with the entire family to an exotic destination would require a big budget. If you have not saved up for the trip, it could twist your budget into a knot. Rather than enjoying your vacation, budgeting will be all over your mind. Travel loans come handy under such circumstances. It eases your financial burden and allows you to enjoy your vacation without having to worry about your budget.
Impulsive Travel
There are times when your trip is not planned, and you decide to take an impulsive trip with either friends or family. Sometimes, family or friends plan a sudden reunion or wedding. In most cases, people are unprepared for such trips and use their savings to meet the financial needs. Travel loans would be a great alternative at this time.
Business + Leisure
Combining business trips with leisure is a great idea as you get to explore new places. When you are travelling abroad for work, you can add few extra days to your business trip and turn into a short family trip. Travel loans can help you take care of the additional expenses of your family travel.
Honeymoon
Today's youth is obsessed with foreign travels. Most of them dream of going to an exotic location with their soulmate on their honeymoon. When you have already incurred a huge cost on your wedding, travel loans could help take care of your honeymoon. After all, this once-in-a-lifetime trip deserves your undivided attention and is often accompanied by an urge to splurge.
How Millennials are Changing the Face of Travel?
The face of travel and tourism is changing with time. The older generation's idea of travel was taking one family vacation each year, usually timed around the kids' vacations. But millennials are pioneering new trends. They are breaking the barriers of financial and time constraints. They are finding balance between work and pleasure. Let us look at some travel trends that millennials are popularizing.
Micro-cations
Millennials are downsizing the number of vacation days. That way, they can take more vacations and explore more places. Micro-cations are also termed as short getaways that last less than 4 nights. For these youth, quality and experience supersedes the quantity. Thus, they want to experience the best of one place at a time rather than cover a lot of places in a single visit. Shorter duration helps them plan their trips better. They can divide their time between places to visit, food to try, and goods to shop for, based on their interest.
Weekend Getaways
Weekend and long weekend getaways are becoming popular with working-class millennials as the number of holidays they get are limited. They want to cram as much fun as they can in the limited days. Such short bursts of fun also increase productivity once back in office because one feels rejuvenated and knows that the next break is right around the corner. Tracking, camping, and rafting are some popular activities that people prefer for weekend getaways.
Socializing
Millennials are choosing to travel for socializing and meeting new people. They are ready to try new cuisines, learn new languages, and know about unknown traditions to fulfil their social needs. Spending quality time with friends while exploring the word is a cherry on the cake for this generation.
Pursuing hobbies and adventure
Trekking, camping, paragliding, and scuba diving are some of the adrenaline-pumping adventure sports that millennials are keen on exploring. The more peace-loving ones tend to go for nature walks, museum visits, and historical trips.
Seizing opportunities and last-minute deals
When we talk about impulsive travel, millennials are at top of their game. They don't miss any opportunity of having fun. They are on a constant lookout for flight and hotel deals that help them set off to explore new destinations.
This generation is relying on innovative products like travel loans to fulfil their dreams. They believe in living today without letting financial issues get in the way. Easy to avail travel loans at reasonable interest rates are making these dreams a reality.
Benefits of Travel Loan
Let us look at some of the benefits of travel or holiday loans:
Previously, travelling to exotic international destinations was a luxury that only the rich and the elite indulged in. But, today, with the easy availability of travel loan, anyone can travel far and wide without financial constraints.
You don't need to painstakingly save every rupee until you have enough for a trip. Neither do you need to liquidate your savings for holidays. Let your investments reap rich rewards, while you manage your holidays with travel loan.
You need not restrict your travel expenses with limited budget and activities. Explore local joints, splurge on that expensive ride, and shop till you drop. Travel loans do not impose any restriction on how you use your funds.
Taking an unplanned vacation has become possible with travel loans. Impulse travelling is much more fun than a planned trip, and this is backed up with the ready cash that travel loans give at your disposal
Travel Loan Vs Personal Loan : Which one is better?
There are many products and alternatives for travel loans available in the market. Some of them can be listed below:
Major firms such as Thomas Cook and MakeMyTrip who are in the travel and tourism business provide packages for domestic and international travels. They tie up with banks and credit card companies to provide EMI options. The rates of interest applicable on these EMIs are usually higher than the travel loans. You must compare the benefits before opting for these packages.
Personal loan is another form of credit you can opt for. But unlike travel loan it does not have flexible repayment terms. Also, depending on the lender, you may end up paying slightly higher rate of interest than travel loan.
Credit Card Vs Travel Loan : Credit card-based EMI loans are another form of debt people opt for. You can utilize your credit card for expenses and then convert the outstanding amount to an EMI loan. The interest for these ranges between 24% and 36% and the repayment tenure is 3–12 months. The major drawback for such loans is that it is limited to your credit card limit. Also, compared to the travel loans, you are paying higher interest rates.
Travel and Holiday Loan at LoanTap
LoanTap is one of the pioneers of innovative loan products, such as travel loan. Travel loan is a form of personal loan that is extended to salaried professional with a monthly income of more than INR 30,000. You can avail an amount ranging between INR 50,000 and INR 5,00,000 based on your eligibility and credit checks.
✈Explore Travel Loan From LoanTap
Key Features of Travel Loan
The disbursal can happen within 24-36 hours if you provide all the necessary documents.
It comes with the ease of repayment. The applicant pays only the interest for the first three months and the remaining amount as EMIs for the remaining tenure. The flexi loan repayment options and competitive rate of interest allows you to enjoy your vacation without stress.
The loan tenure for travel loans is 12 months.
You have the option of prepayment or foreclosure post 6 months of servicing the loan regularly, without any charges.
Travel loans cover all kinds of expenses, domestic or international. There is no restriction on the kind of expenses you can use the loan amount for.
Documents Required to avail a Travel Loan
While lenders provide these loans with minimum documentation, there are certain mandatory documents required for a travel loan application.
Identity proof documents like passport or PAN card
Address proof documents, such as Aadhar card, electricity bill or ration card
Income proof papers, such as Payslips or IT returns
Salary account bank statement(s)
E-NACH mandate form
These are the common list of documents. Different lenders have different requirements. You must check with their representative or refer to their official website for the documents before applying for the loan.
Conclusion
Travelling and exploring rejuvenates your mind and body. The positive effects it has on your physical and mental health are immense. It helps to disconnect with your work and worries for some time. It enhances your understanding about new cultures and people. You can expand your social circle by meeting and making new friends.
Do not let financial constraints stop you from creating lifetime memories. Let travel loan ease your worries and help you take a relaxed and stress-free vacation.