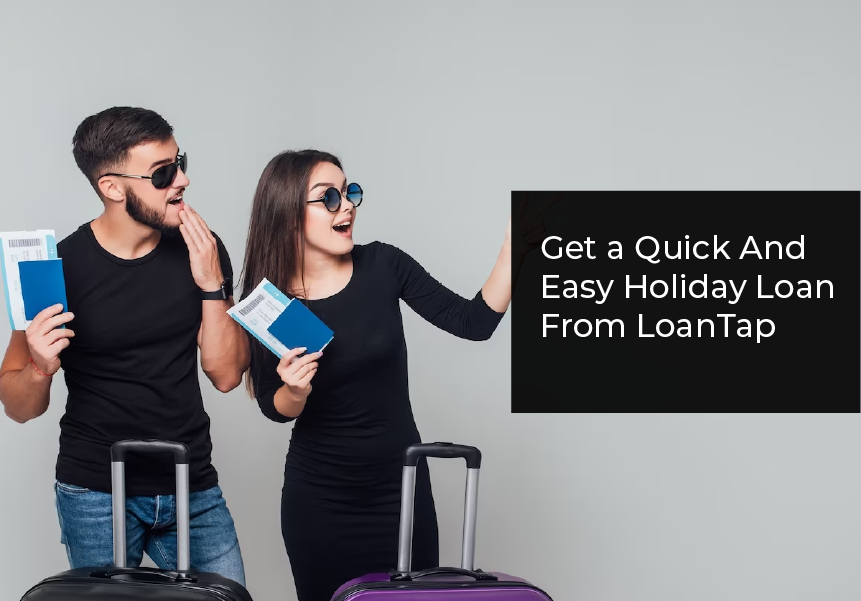 Published on : March 01, 2023
Need to take a few days off? Tired of the same routine? Want to take a break with family and enjoy a weeklong trip to some exotic destination? Maldives, Mauritius, Bali, Phuket or any other? After a demanding work schedule that can drain your mind and spirit, vacations are a fantastic opportunity to unwind and rejuvenate. A trip can be a wonderful opportunity for bonding time. In fact, you should take short holidays around the year to keep yourself recharged and energized.
You surf through the net and come across an incredible offer from a big tour operator. The kids are having their vacation soon, and you want to grab this opportunity. Unfortunately, you had a big ticket expense last month, and your savings have dwindled quite a bit. It is a catch-22 situation. What do you do?
There is no need to fret at all. LoanTap has the perfect solution for you. LoanTap offers tailored holiday loans for you that you can repay over the agreed loan tenure at competitive rates. You can get loans from INR 50,000 – INR 10,00,000 for periods ranging from 6 to 60 months.
Do you qualify for a holiday loan?
Well, if you are an Indian citizen or resident over the age of 21 years and earn a net monthly income of over INR 30,000, you qualify to get a holiday loan from LoanTap.
How do you apply for a holiday loan?
Well, it is as easy as saying 1-2-3.
All you have to do is download the LoanTap app on your smartphone and fill out an online application with the necessary information.
Now you need to upload the necessary documents like PAN Card, Aadhaar Card, Salary Slips for the last three months and Bank Statements for the last six months.
Once you complete this, you can wait for the system to process your application. LoanTap will verify all your documents, and if found okay, the loan will be approved.
Your loan amount will be credited to your bank account within 24-36 hours.
You can foreclose the loan after six months without any prepayment penalty.
What are the flexible repayment options?
LoanTap offers several flexible repayment options to repay your loan. You can choose the most suitable one according to your needs.
Term Loan – This option allows you to pay both the principal and interest components on a monthly basis as EMI. This is perfect for those with a consistent income.
Step up Loan – You can pay only the Interest component for the first three months, after which the normal EMIs will commence. This is great when you are back from a holiday and trying to get back to normal. It will give you some leeway to get back on your feet.
EMI Free Loan- This is ideal for those with lumpy payments in the form of incentives or bonuses. In this option, you can pay only the interest component on a monthly basis, while the principal can be paid in bullets once every three or six months.
Overdraft Loan – In this option, you can get a pre-approved loan amount which you can withdraw as per your needs. You will be charged on the basis of actual usage. This is good when your expenses are incurred on a staggered basis.
Benefits of a Holiday Loan from LoanTap
Instant disbursement – You can get the cash in your bank account within 24-36 hours. Compare this to a traditional loan, where you may be forced to wait for even a week to get the cash.
24/7 availability – Instant holiday loans are available round-the-clock irrespective of working hours, weekends or public holidays. This gives you complete flexibility to apply for a loan whenever you want.
No collateral – Holiday loans are personal loans and require no collateral. You don't need to pledge any assets to avail of the loan.
No physical paperwork – There is no need for any paperwork apart from the online application you fill out. This is a great departure from the multiple forms that you are used to filling out for a traditional loan.
Minimal documentation – You will need to submit only the mandatory documents specified above, which makes the process quite simple and hassle-free.
Cheaper than credit cards – Credit cards charge between 2.5-3% per month on outstanding balances while personal loans are available at half the rate. It is prudent to opt for personal loans for planned big-ticket expenses.
Wrap Up
If you are planning to take your family on a wonderful vacation, don't let a temporary shortage of funds sway you from your goal. LoanTap understands your needs and has come out with an extremely convenient holiday loan. It gives you the flexibility to choose a convenient repayment option that can make repaying the loan quite simple. The process is quick, efficient, seamless and digital making it seem like a walk in the park. What's stopping you from downloading the LoanTap today? Get a Holiday Loan and fly away to your dream destination. You have never had it so easy before!