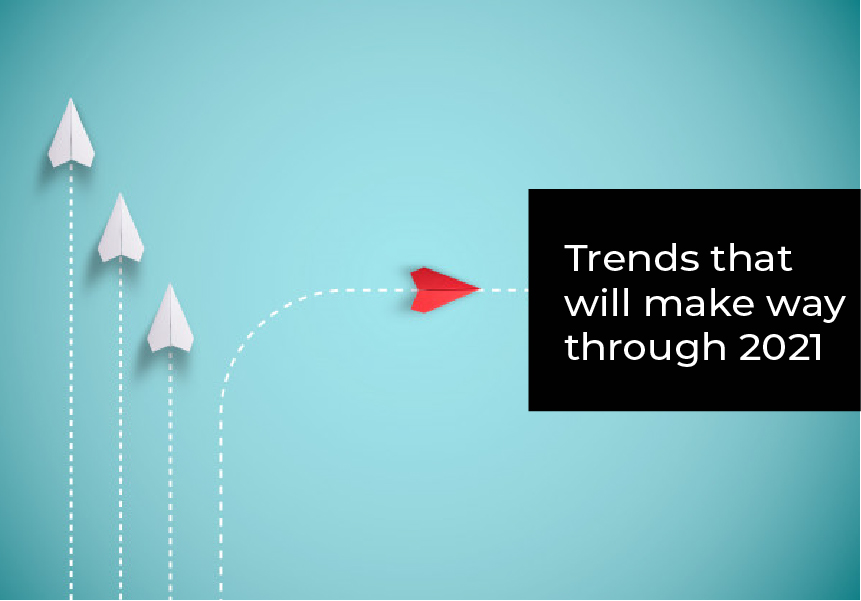 Published on : December 29, 2020
While 2020 has been challenging for many, it has also opened up new opportunities and doors for most of us. For the ones who have adapted to the evolving challenges have managed to permute these challenges into new trends. Some trends withstand all seasons and some may barely survive the flurry of ever changing consumer demands. Taking a ride through the year, we have enlisted some trends that will certainly make their way to 2021! Read on..
1. Road Trips
While travel is on everyone's list at least once or twice a year, the trends in travel seem to have taken a detour. From travelling to International destinations to exploring places within the National boundaries, choices have certainly seen a shift. Also, Road trips are the preferred medium of transport with regards to costs and safety. People are further going to continue to travel by road as against Air or otherwise.
2. Limiting discretionary spends
As everyone has faced some sort of interruption in income, prudent spending has gained importance with the intent to save as much as possible for unforeseen scenarios. Spending on Experiences or luxuries has taken a step back. The trends of dining in at home, cooking meals and virtual parties gained limelight. Millennials will continue to be cautious when it comes to discretionary spending, especially on things that do not come under the bracket of necessities.
3. Health and Immunity
The outbreak of the pandemic has led everyone to focus on their health and safety first. Everyone is on the watch out for exercises that will help build immunity. Be it taking that 5 minutes of steam twice a day or practising yoga, everyone is doing and will continue to do that little extra bit to take good care of their health and immune system.
4. Ayurveda and Home Medicine
Having said that health tops everyone's priority list, there is a shift in the choice of medication people opt for. Natural remedies or Ayurvedic medication has seen major adoption. People are also relying on basic workout regimes like yoga or breathing exercises to keep their lungs and overall immunity strong. The necessary herbs are being consumed more regularly to keep oneself fit as a fiddle and these habits are going to continue in the coming year too.
5. Work from Anywhere
One of the most obvious things that has changed is the work regime of millennials. Whether the change was a favourable one or not, is a story for another day, but certainly adoption was quick ! Millennials have adapted to the concept so well that we would soon hear about "Work from Anywhere" take over the trend charts. Location or movement related constraints will not be able to interrupt work or put a standstill to most operations.
6. Cooking
Millennials' aspirations know no bounds, as we all know; this strong suit prompts them to experiment constantly. Cooking is one such example! While dine out experiences are not a priority anymore, what's better than becoming the Master Chef yourself ! Millennials are experimenting with preparing various dishes with easily available online recipes. They have started to enjoy the concept of self cooking and thus, this trend seems to make way through the year to come.
7. Comfort Clothing
While we have spent the entire lockdown and work from home schedules in comfortable clothing, we have barely had to visit our wardrobes. Clothing like bermudas and pyjamas have made way to the best fashion clothing of 2020. As old habits die hard, comfort clothes are going to continue to be a major part of our dressing styles through the year to come. There is nothing better than the experience of 'Feeling at Home' !
8. Online Classes
We have accepted every challenge and adapted with every alternative available, like literally! In terms of education, it took awhile for schools and colleges to adhere to the sudden shift to providing online education. However, we have seen most educational institutions adopting the concept, across the world. Students are also getting more and more comfortable with the same. To abide by the social distancing norms, online classes will further continue to be a resort for institutions and students.
9. Zoom Weddings/Zoom Parties
One of the coolest trends witnessed was – Zoom Weddings and Parties! This trend has various benefits apart from the primary one of keeping people socially distant and virtually connected. Weddings bring along a lot of expenses for venues, catering, decor, photography and so on ! But with Zoom weddings, you can literally delineate down to clothing and minimal photography costs that are limited to the couple. It is going to continue to be a trend through the coming years as it is one easy way to save on various expenses while still having the desired celebrations!
10. Second Homes
Weekend getaways were always a relief after a long week of hard work. However, with the onset of the unforeseen virus, travelling to public places wasn't wise enough. Thus, millennials found resort in second homes. Having a small house in another not so far city serves the purpose of a weekend getaway. Thus, more and more people will look forward to investing in such hideouts and taking more trips for leisure and home-like comfort.