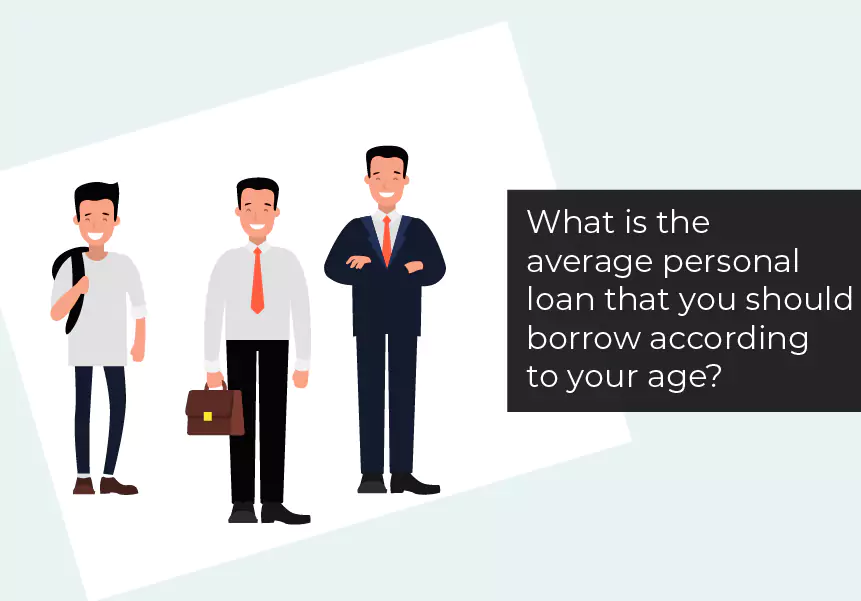 Published on : August 24, 2021
A personal loan is a short term financing option available when you are facing a shortage of funds. It could be for any purpose, be it a medical emergency, a wedding, home renovation, purchase of an expensive item, a vacation, education or even a health care treatment. It is quite popular among the younger generation because of its ease, speed and convenience. The fact that it is a collateral-free loan makes it attractive to borrowers as it helps a large base of people to obtain short term financing.
Factors that determine the average personal loan that you should take?
The personal loan that you take is determined by your need and your eligibility. First of all, there is no need to borrow unless it is absolutely necessary to do so because a debt comes at a cost. Most banks/ NBFCs limit the maximum personal loan that you can take to 30 times your net monthly income. The upper limit for personal loans is usually capped at Rs 25,00,000.
Use the purpose to determine the loan amount
For example, if you earn a net monthly income of Rs 40,000, you are eligible for a personal loan of Rs 12,00,000. It doesn't make sense to borrow the entire amount just because you are eligible for it. The loan you take should be determined by the purpose for which you are taking the loan.
The reputation of your employer
The personal loan that you can get can be affected by the reputation of your employer. If you are working with a public sector or blue-chip private company, you stand a chance to get a higher personal loan since the lender will view your job as stable.
Total EMI cannot exceed 50% of net monthly income
If you are paying EMI on other debts, your personal loan gets reduced because lenders do not allow the total EMI to cross 50% of your net monthly income.
Use tenure to optimise EMI
Personal loans are usually given for a tenure of 6 months to 5 years. When you are young, you can opt for the longest tenure to pay off the loan. This will reduce the monthly EMI that you have to pay. However, tenure has an inverse relationship with the interest outgo. The longer the tenure, the more your interest outflow. So, it is recommended that while you opt for the longest tenure to keep the EMI low, you are better off if you prepay the loan after 6 months when the prepayment penalty is no longer applicable.
Protect your credit score
It is best that you do not have more than one debt at a time as it can reduce your credit score. Your credit score takes a hit if you use more than 30% of your credit limit.
How does a personal loan from LoanTap work?
LoanTap has designed customized lending solutions to suit the needs of different categories of borrowers. They understand that each borrower has unique requirements and one size does not fit all. They have designed multiple repayment options that work according to your convenience. For example, a step-up EMI gives you 3 months of breathing time by charging only interest before the actual EMI starts. An interest-only EMI lets you pay only the interest while the principal is repaid in bullet payments.
LoanTap offers personal loans in the range of Rs 50,000- Rs 10,00,000. The tenure can be from a minimum of six months to a maximum of five years. Annual Interest rates at LoanTap start from 18%.
Who is eligible to apply?
You are eligible to apply for a personal loan at LoanTap if –
You are an Indian citizen or resident
You are over the age of 21 years
Your net monthly income is over Rs 30,000
What are the steps?
Step 1: Fill up the online application
Step 2: Upload the following documents-
PAN Card
Aadhaar Card/Passport/Driving Licence
Salary slips for the last 3 months
Bank statement of the salary account for the last 6 months
Step 3: The LoanTap team will evaluate the application. If the credit score is okay and the documents are in order, the loan application will be approved.
After approval, the loan will be disbursed to the mandated account. The entire process will take 24-36 hours.
What are the benefits of a personal loan from LoanTap?
A personal loan is attractive to borrowers because of the following reasons –
No collateral – You need not pledge any assets to take a personal loan. Your salary slips and good credit score are enough.
Quick processing – The loan is disbursed within 24-36 hours from the time of filling the online application.
Minimal paperwork – The best part is that there is minimal paperwork involved. Everything happens online and you only need to upload the relevant documents.
Cheaper than a credit card – Personal loan interest starts from 18% per annum while credit cards charge 24 to 36% p.a.
Flexible repayment plans – You get the option to choose from multiple repayment plans and optimise your EMI.
No prepayment penalty after 6 months – You are free to repay your loan in part or full after servicing it for 6 months without any prepayment penalty.
The personal loan that you take should be determined by your need and the purpose you are going to deploy it for. Exercising financial prudence and minimizing the amount of debt will help you in the long run. Your credit score will be intact and you will be able to borrow a higher amount when a genuine need arises. At LoanTap, we provide you with a slew of tailored options to choose from. We understand your need for finance and endeavour to provide you with a solution that perfectly suits you. Visit https://loantap.in/ and check out our personal loan options. Our friendly team members will be glad to assist you.
Related article – How much loan can I get in my Salary?