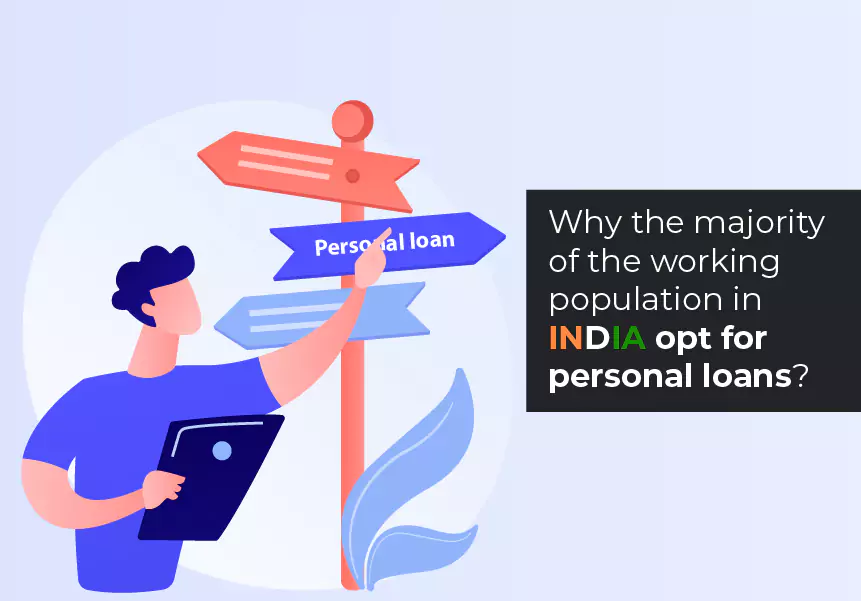 Published on : June 22, 2021
As we go through life we encounter multiple expenses on various counts. Apart from daily expenses, there are always additional big-ticket expenses. For instance, there is always a new gadget or appliance to buy, an educational course to enrol for, a vacation to be planned, a wedding, an investment idea and so on. It is quite possible that you run out of funds while planning these expenses. Moreover, you cannot dip into the contingency fund that you create for a rainy day. So, how do you meet these expenses? Where can you access funds for this purpose?
Normally, people end up using the easy option of swiping their credit card and treating it as an extension of their paycheck. It is worthwhile to remember that while swiping is easy, it is important to pay the credit card due on time to avoid interest cost which comes at a whopping 2-2.5% per month. Unless you are disciplined enough to pay the bill on time, credit cards can create a debt trap sooner than you can figure out.
So what is the other option available to the working population to finance their one-off expenses? Yes, you guessed it right! The personal loan is the most popular go-to option for the younger generation. What makes a personal loan so convenient?
Let us explore the reasons for the popularity of personal loans –
Simple Eligibility Criteria
No collateral
All purpose loan
Minimum Documentation
Convenient processing
Instant access
Flexible repayment options
Variety of tailored loans
Pocket friendly credit option
Simple Eligibility Criteria
One of the primary reasons why personal loans are so popular is because the eligibility criteria for application are basic. If you are an Indian Citizen or Resident over the age of 21 years earning a monthly income of more than Rs 30,000, then you are eligible to apply for a personal loan. Simple, isn't it? That is one of the reasons why many people find it convenient to apply for a personal loan.
No Collateral
A personal loan is an unsecured loan which means that you do not need to pledge any collateral against the borrowed sum. This differentiates a personal loan from other loans like a home loan or auto loan where the asset needs to be mortgaged or hypothecated. This makes the loan convenient and free from hassles. It also means that this loan is accessible to the young working population who have just started their careers and have spent more than six months on their job.
All purpose loan
Unlike the home loan or vehicle loan, in the case of a personal loan, you do not need a specific reason to apply. You can apply for a personal loan and fund any expenses arising be it planned or unplanned.. This is extremely convenient for those who need finance for a few purposes but haven't made up their mind yet.
Minimum Documentation
The documents needed for a personal loan are extremely common and readily available. They normally include the following –
PAN Card
Aadhaar Card/Driving Licence/Passport
Salary slips of last three months
Bank statements of last six months of Salary Account
Convenient processing
The process of applying for a personal loan is extremely simple. For example, at LoanTap, all you need to do is fill out the online application on the website and upload the required documents. The LoanTap team evaluates the application and if your credit score is good and you have a regular job, the loan will get processed without any issue.
Instant access
The ease in accessibility to the funds is one of the highlights of the personal loan facility. In normal cases, if the application and supporting documents are in order, the loan can be processed within 24-36 hours and the money will be instantly disbursed to the mandated account. This means that you will have access to finance whenever you need it. It could be a medical emergency or a fee payment deadline or it could be a deposit on rental accommodation. Whatever be your need, a personal loan can be processed as good as instantly !
Flexible repayment options
Personal loans usually come with a variety of repayment options. You can tailor the loan to suit your personal circumstances. You can choose a step-up repayment plan where you pay only the interest component for the first three months and the balance in fixed EMIs. You can have an interest-only repayment where the principal is adjusted against bullet payments. Once you service the loan for six months you can prepay the loan without any prepayment penalty.
Variety of customised loans
Looking at the plethora of consumer needs, lenders have designed a variety of personal loans to meet individual needs. For example, at LoanTap, we have the Wedding Loan, Advance Salary Loan, Credit card takeover loan, Home renovation loan, Medical loan, Personal loan, Holiday loan, etc. Whatever be your purpose, we have a loan tailored to best suit your needs. Whatever be your choice, we will make it work for you.
Pocket friendly
The advantage of a personal loan is that you can adjust the EMI to suit your monthly budget and cash flow. At LoanTap, you can take a personal loan from Rs 50,000 to Rs 10,00,000 for tenure from six months to sixty months. The annual interest rate starts at 18%. What you can do is to use the Personal loan EMI calculator to determine how much loan you need and what is your ideal tenure. A longer tenure ensures that the EMI is lower. It may be convenient to pick the longest tenure at the start. After paying the EMI for six months, you can decide whether to prepay the loan entirely or in part without any prepayment penalty. This gives you sufficient flexibility to plan your monthly cash flow.
After analysing why personal loans are so popular, is it any wonder that they have become the most preferred financing option among India's working population? If you are keen on finding the right personal loan, please visit the LoanTap website and we will be glad to be of help!