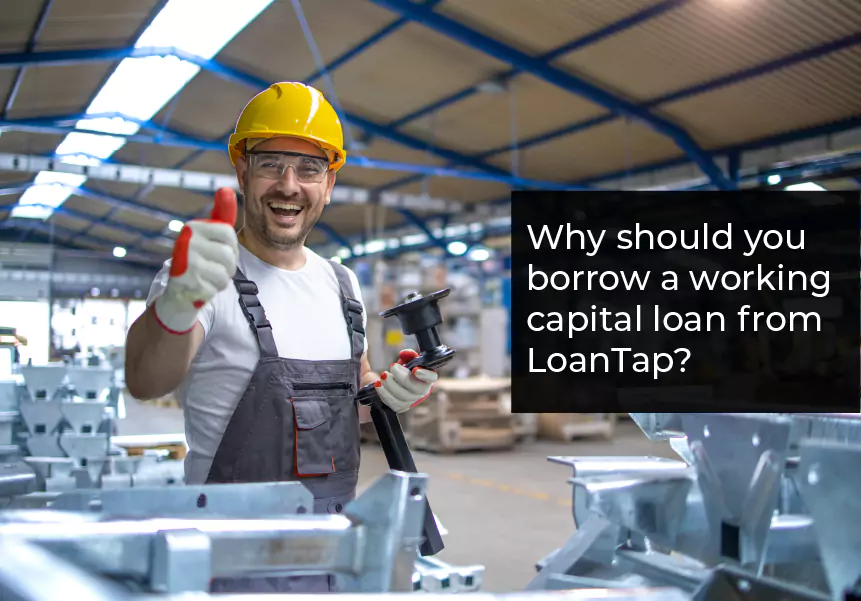 Published on : June 18, 2022
Are you a business owner? Do you need capital for your business? If yes, then you are at the right place. You may have heard about the Working Capital loan. If not, this blog post brings great information for you.
So, let's start!
Working capital is the amount that is needed to manage the daily operations of a business. It is the liquid cash that maintains the company's immediate expenses. Businesses can use working capital for short-term expenses, such as inventory management, operations, buying new resources, and so on.
With working capital, a business can operate efficiently and maintain cash flow to carry out day-to-day business. If you don't have enough to manage the daily operations, your business may face difficulties in expanding.
Small or medium-sized businesses can take loans to meet their financial needs. There is a special type of loan for business owners. It is popularly known as Working Capital Loan.
What is a Working Capital Loan?
A working capital loan is only designed for conducting daily business operations. The working capital loan fulfils the difference between current assets and liabilities. Business owners can take working capital loans when a company's liabilities outweigh assets.
It helps to continue the business operations and handle all the financial responsibilities hassle-free. This short-term business loan is the perfect option to meet the operational requirements. However, this loan is not suitable when you need long-term stability for the business.
Next Question, How to Get Working Capital Loan?
Self-employed professionals can get the working capital loan online in a shorter period as there are several lenders available for borrowers to choose from. If you are finding it difficult to choose, you can simply go for the best.
LoanTap provides convenient access to funds with minimal documentation and competitive interest rates. When you face any low liquidity in day-to-day business operations, Working Capital Loans from LoanTap will come to the rescue.
But, Why take Working Capital Loan from LoanTap?
LoanTap offers working capital loan to get the extra cash to run your business smoothly. Borrowers can choose any amount ranging from INR 50,000 to INR 2,50,000. Along with a high loan amount, you can choose tenure as long as 36 months to repay the loan. It is time to scale your business and achieve big goals. If you are still in doubt, why choose LoanTap as a lender? Here are the following benefits:
Fast Loan Disbursal: Your business needs instant cash stopping no business operation. LoanTap provides a simple online process to sanction the loan within 24-36 hours.
Lower Installments: Business owners need money to maintain liquidity. Business loans from LoanTap make the repayments easier by providing lower instalment options. So, borrowers will ‌repay the loan amount after six months of disbursal.
Higher Loan Amount: This short-term business loan offers you an amount ranging from INR 50,000 to INR 5,00,000. It may vary depending on the business requirements, financial status, and income.
Longer Tenure: Paying a big chunk of your income every month may affect your monthly expenses. You can choose a longer tenure from 6 months to 36 months to repay the loan in lower EMIs.
Minimal Paperwork: No need to fill out many forms to avail of the working capital loan. To verify your loan application, you are required to submit the basic documents such as PAN Card, Aadhar Card, bank statements/income proofs, etc. To know more, click here.
No Hidden Fees: No prepayment charges or foreclosure are charged on the loan amount when you take any business loan from LoanTap. But, if you want to pre-close the loan amount within six months, LoanTap ‌ will ask you to pay a small fee.
Why Should You Take a Working Capital Loan?
Working capital is derived by the subtraction of current liabilities from current assets. If the value is positive, it means that the company is stable. Negative value shows that business gets unstable during a lean season. Working Capital Loan helps businesses when they are unstable during a prime season. Here are the following benefits of taking a working capital loan:
A business always faces ups and down on its journey. It may affect the revenue they earn at the end. This is where an online working capital loan is useful. It can provide small business loans at affordable rates. It keeps the business stable with a sufficient amount. This business loan from LoanTap enables the company to cover any urgent financial crunch.
Meet Short- Term Expenses
Borrowers will get a flexible repayment tenure to manage finances You can meet any short-term operations with ease. Businesses don't need to worry about fulfilling any sudden cash requirements. You can complete the day-to-day operations.
Improve your Credit Score
Your credit score is improved when you pay your debts on time, and as a result, you will get loans easier. Small businesses in India need a good credit score to get financing.
Maintain Business Ownership
As a business owner, you can apply for a working capital loan in India while maintaining the business's ownership. As soon as you allow others to own your company, you lose control of decisions, but not with a working capital loan.
For seasonal businesses, working capital helps to purchase inventory during the peak season. It can maximize your business sales as continuous cash flow allows you to buy more inventory.
Steps to Apply for Business Loan Online
Working Capital Online is easy to get through an online loan application. You can complete the entire loan process in just a few minutes. If you want the fastest disbursal, you can follow these steps:
To apply online, download the LoanTap app from Google Play Store or go to https://LoanTap.in/apply.
Fill out your basic profile information, such as your email address and residential address.
Browse the offers and enter the loan amount after creating a profile.
Provide the basic documents to your team via email or upload them directly.
Wait for the verification of the documents and scrutiny of the credit score.
After the KYC is completed, the loan will be approved.
After you match all the parameters, they will activate instant disbursement online and send you an approval. When the loan amount is credited to your account, you can withdraw as much as you need. Depending on the type of loan and customer profile, interest rates start from 18% p.a.
In Conclusion
Small businesses need enough finance to run their daily operations smoothly. The working capital loan can help you ensure the sustained growth of your business. Cash flow may not meet the operational expenses. Consider a working capital loan with flexible repayments and competitive interest rates. If you are in need of working capital for your business contact LoanTap today.