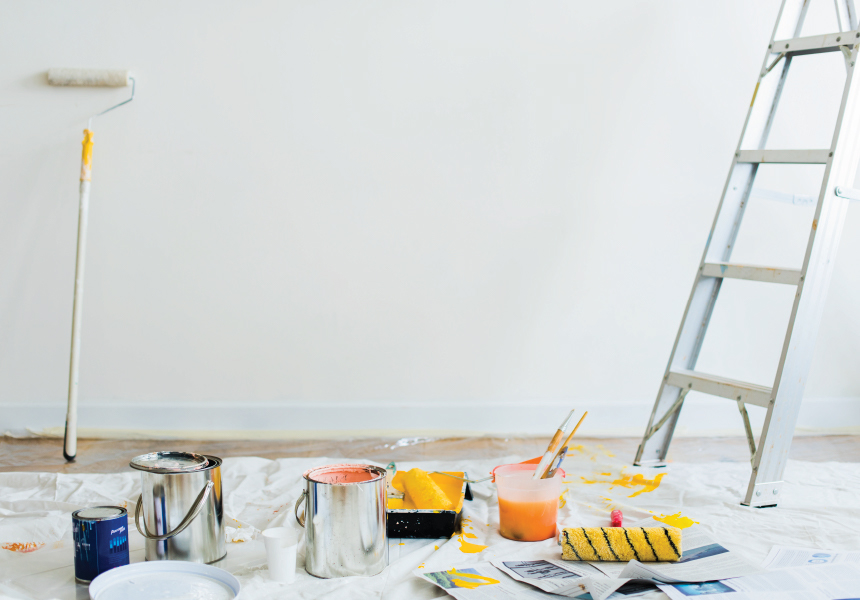 Don't Move, Improve! Improvements can add value to your home and maximize the living space. Whether planning to upgrade the interior or require more space for closets, it is possible to renovate the home on a budget. Sometimes the expenses for the home renovation can go over budget. It becomes difficult to keep the renovation within budget. But, how to do a home renovation on a budget? Here are the budget-friendly ways to save the cost of home renovation and upgrade your home with small improvements.
Yes. Home renovations can cause a bomb. Don't fret about it, though. We, at LoanTap, offer you tailored home renovation loans that can take care of your expense. You can repay the personal loan in convenient EMIs. Instead of worrying about funds, focus on getting the renovation right.
Ideas to Renovate Your Home Budget-friendly
DIY or Do It Yourself
DIY saves too much money. It is a great way to renovate a home with little knowledge and planning. You can change the look of your house by changing the interior accessories, adding beautiful elements, clearing the space, or buying new furniture for comfort and style. Also, some designs don't need professionals like contractors and interior designers. If there's structural work, You can take the help of renovation contractors. To hire a contractor, you need to look at the fees involved.
Paint the Walls
Are you tired of the same colour on the walls as your house? It's the right time to change the colour of the walls. For that, you do not need to hire someone. If you know how to paint, follow the instructions and add colour to your home life. It enhances the abode by hiding the rustic look, spots on the walls, and dullness of the interior. You could go for trendy colours like olive green, turquoise, or solid colours for the single walls in your bedrooms. Even hiring a painter will be a cost-effective option for homeowners.
Change Old into New
Changing outdated furniture into new is the perfect way for upgrading your home. You can replace old showpieces with new decor items. When you look around your house, You will find some of the things easy to get rid of and, at the same time, it increases the space. Buying new furniture and decorative items is a good way to give your home a good makeover.
Update the Kitchen
If remodelling the kitchen gives you a headache, try updating the worn-out kitchen cabinets. You can change the paint of the existing cabinets and add vibrant colours to transform the look of your kitchen. Check that electrical wirings and fittings are in perfect condition or not. These small changes will require less money and can be done with no professional help. Always emphasize the kitchen layout rather than stuffing with gadgets and accessories like knobs or handles.
Refurbish the Interior
Have the old interior design in rooms and don't know what to do? You can go for interior refurbishment that will repair and restore the appearance of the interiors. Changing the interior decor brings out the functionality and modernizes the home. Refurbishing methods involve plastering a wall, decorating the room, or fixing a troublesome problem. It also saves a lot of time and money.
Proper Lighting
Add bright lights to the living halls or rooms to lighten the mood. You can go for soothing shades of lights for bedrooms to relax. It looks better when you hang the chandelier in the dining room or industrial-style pendant lights over the kitchen island. Before choosing the lights, you should balance the shades of the walls with the colour of the lights. Try out designing your lights using repurposed glass bottles or jars.
Install Energy-Efficient Appliances
Check the appliances installed in your house. Or are they just outdated machines that inflate your electricity bills? You can modernize your home by installing new appliances. Buying or renting energy-efficient appliances every month is much more affordable. It can save the house from any catastrophic event. If your machines need just a quick fix, you can take help from an electrician. You can choose LED lighting to light up the space which makes the home look more convenient and modern.
Update the Flooring
Check the colour of the flooring underneath the old dingy carpet. If the floor shade makes you feel uncomfortable or wooden flooring needs finishing, remove the carpet and install new flooring at a minimal cost. A way to spruce up your home budget is by installing new floors. You can think of using easy to clean ceramic tiles, non-faded laminate flooring, or water-resistant sheet vinyl flooring
Change the Plumbing
The most important aspect of home renovation is plumbing, especially in old houses. The water leakage from the old pipes can cause the dampening of the floor and cracks on the walls. That can result in severe damage to the property. If your house has old and rusted pipes, it's better to change them as soon as possible. It is inevitably necessary to maintain the plumbing and keep them up-to-date.
Create Small Green Space
If there's an outdoor space in your house, you can create an instant lawn with an ultra-realistic artificial lawn. Or, If you have a big courtyard or balcony, you can decorate it with a variety of flower pots. Creating a small green space will bring positive vibes.
Doors and Windows
Start your home renovation with the front door or windows to make a lasting impression. A fresh coat of paint can do wonders on the windows and doors. It improves the exterior look of your house. You can replace the door and windows if they are very old. Investing in new ones will help in making the first impression. Hiring a carpenter will also cost less than a renovation contractor.
Makeover the Bathrooms
Giving a stylish makeover to the bathroom can improve the value of your property. A well-ventilated and clean designer bathroom elevates the aesthetics of a home. Designer bathrooms are as important as designing the living room. You can take some eco-friendly measures in renovating the bathrooms. Also, installation of tiles or repairing the hardware can save cost.
Key Steps to Follow to Renovate Your Home
Decorating your room can seem an exciting job. Yet, it can be unnerving for beginners. Your mind will be filled with doubts and nervousness. Like, which design to choose? Should you stick to the previous rustic decor? As soon as you start researching, you will be bombarded with many ideas. That can make your job more difficult. To save you from hassle, here is a list of six steps for you to give your home a fabulous facelift.
Plan Home Renovation
Start by planning which room needs to be renovated immediately. That can be your bedroom, bathroom, or kitchen. If you are thinking of changing the decor, plan what you want to change first. Note it down on paper and keep track of it. Planning helps you to focus and finish DIY projects quickly. It will give you a rough idea while setting up a budget.
What Changes Needed
Think deeply about which item should be removed. Is there any item to get rid of which can create enough space and make your room more comfortable? Answer these types of questions while planning a budget-friendly home renovation.
Collect Renovation Styles
You can collect trendy and budget-friendly designs to get an idea for home renovation. Today, it is easy to find your favourite renovation styles on Instagram and Pinterest. You can also refer to some magazines and blogs related to revamping ideas for your home on a budget.
Note Do's and Don't
It is one step that you shouldn't miss. Make a list of what you need to include that suits your lifestyle and preferences. Also, do not forget to put the list of things that you want to get rid of immediately. It will take some time to note down Do and Don't while planning for home renovation.
Set a Budget
There's no need to explain why this step is significant. Setting a budget will help you in making decisions for renovation. It will also restrict you from overspending. It will give you a clear goal. You can easily measure the cost-effectiveness of hiring any professional for the job.
Buy Proper Tools
For DIY, you need to buy tools for building things from scratch. If you know how to cut the wood or paint the walls, buy tools cautiously which are easy to use and handle. Keep your plan intact and start working on the project.
Home Renovation is a difficult task If you choose to do it yourself. There's no harm in taking help from professional interior designers or renovation contractors. These ideas will help you to design and renovate your home. It will also strengthen the home and reduce the cost of maintenance every year. However, renovations can be a small task or a big project that takes weeks to complete. If you are not skilled, don't take the risk. You can check the best renovation contractors who offer affordable renovation solutions and complete the projects within a few weeks.
Well, now that the budget is set, check out if you have sufficient funds. Don't worry if you fall short. LoanTap can help you out with a personal loan for home renovations.
What is a personal loan?
A personal loan is an unsecured loan that can be taken for any purpose. It becomes the ideal funding instrument for short term financing requirements.
Who is eligible for a quick personal loan?
You are eligible for a personal loan if
You are an Indian citizen or resident
You are over the age of 21 years and less than 60 years
You have a net monthly income of over Rs 30,000
If you fulfil these conditions you are eligible to get a quick personal loan.
How to get a personal loan?
To apply for a quick loan online, you will need to visit the LoanTap website or download the app on your mobile.
You will need to fill in an online application form and upload a few documents –
PAN Card
Aadhaar Card/Driving License/Passport
Salary slips for the last three months
Bank statements for the last six months
The LoanTap team evaluates your application and if your credit score is decent and the documents are in order, your personal loan application will be approved and the amount credited to your bank account. The entire process takes 24-36 hours.
LoanTap offers instant personal loans for home renovation from Rs 50000- Rs 10,00,000 based on your salary eligibility. Tenures can range from six months to sixty months. Interest rates start from 18% per annum.
You can choose from a variety of flexible repayment options like the interest only EMI, step up EMI or the overdraft facility.
The process is very simple, quick and convenient. Interest on personal loans is lower than the interest charged on credit card outstanding payments.
LoanTap understands your need for funds when you are planning a home renovation. That's why we offer a three month interest only EMI option for you to settle down before you start paying the normal EMIs.
Go ahead and give your home a brand new look. LoanTap will support you all the way.