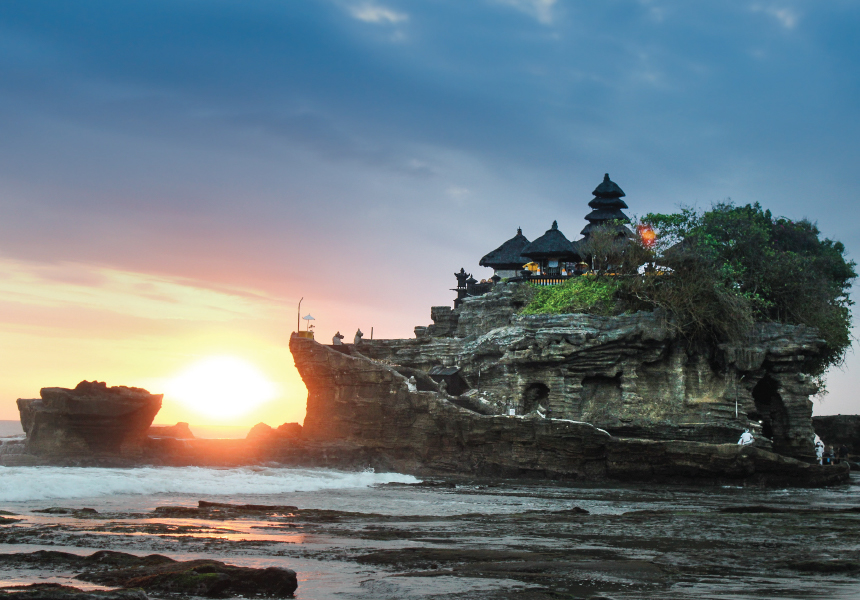 Indonesia's paradise Bali is an exotic place to plan your next holiday vacation. This world-renowned destination offers you stunning beaches galore along with a fine blend of culture and tradition. A perfect blend of luxury and adventure makes it an ideal place for a family vacation. Bali has an enchanting charm and true beauty which lets you explore. But, you may be confused about the best Bali tourist places. So, to help you with the best things to do in Bali, here is a list of places and things to experience during your first visit. You can decide on your Bali packages after deciding which places you want to visit.
When you are planning your vacation, focus on your happiness. Don't let funding issues come in the way. LoanTap offers tailored personal loans for vacations. They are very simple to process. A few finger clicks on your smartphone will ensure that you get your funds within a day. An instant personal loan from LoanTap will put you in the holiday mood in no time. Relax and go through the exciting stuff you can do at Bali. Leave the money issues to LoanTap. We will deal with them for you.
Best 14 things to do during Bali Holidays with family/friends
Uluwatu Temple
Pura Luhur Uluwatu is one of the major Hindu temples located at the southern tip of Bali. Built in the 11th century, Uluwatu Temple is situated over a 70-meter cliff above the sea. You can experience the beauty of the location overlooking the blue Indian Ocean. With your family, you can enjoy the Kecak fire dance in the local theatre of Uluwatu town. In the morning, it's good to go for blessings to Uluwatu Temple.
Location:South Kuta, Badung Regency, Bali.
How to reach: A taxi or bus ride from Kuta
Best Time to visit: 6:00 PM to 7:00 PM
Ubud
Ubud is a centre of old artisan traditions and spiritual life, showcasing Indonesian culture through rice terraces, Hindu temples, street dance performances, and local cuisine. This place is famous as Bali's cultural heart. Ubud art market, Goa Gajah Elephant Cave, and Campuhan Ridge Walk are the most important attractions of Ubud.
Location: Gianyar, Bali, Indonesia
How to reach: Denpasar Bali Airport is the nearest airport to Ubud from where you can easily get a car or a bus to reach Ubud.
Best Time to visit: June to August
Nusa Penida
Nusa Penida is larger than the other two sister islands, Nusa Lembongan and Nusa Ceningan. The island offers you the best place for snorkelling, scuba diving, and surfing. Nusa Penida is less explored and an awaiting place for tourists. The most famous attractions of Nusa Penida are the crystal bay sand beach and sunset panorama.
Location: Nusa Penida, Klungkung Regency, Bali, Indonesia
How to reach: A local boat ride from Sanur Beach
Best Time to visit: May to September
Bali 3D Museum
Mind-blowing 3D museum, mainly known as Dream Museum Zone, is a must-visit place with family and friends. It is a fun and impressive art gallery that will blow your mind with 3D and life-sized wall paintings. These masterpieces are the artworks of professional Korean and local artists. It has a collection of more than 120 realistic paintings that encourages visitors to click pictures. Make sure to bring a good camera when you visit.
Location: Nakula No.33X, Legian, Kuta, Kabupaten Badung, Bali, Indonesia
How to reach: A 20min drive from Kuta beach
Best Time to visit: 9:00 AM to 10:00 PM
Lovina
Lovina beach is a playground of bottle-nosed dolphins, covered with grey and volcanic sound. This 8 km stretched Lovina coastline is now a famous tourist attraction in Bali. It has stunning places like Kaliasem, Kalibukbuk, Anturn, and Tukad Mungga, collectively called Lovina. The spectacular sceneries and sea creatures are the best attraction among tourists.
Location: Jimbaran, Bali Indonesia
How to reach: Take cab services from Denpasar Airport
Best Time to visit: 8:30 AM to 6:00 PM
Waterbom Waterpark
Waterbom Waterpark is the number one waterpark in Asia. It offers you a fun day filled with water adventures for families and friends. This waterpark has an array of rides from the Lazy River to the exciting 20m tall Boomerang. Waterbom is an exciting venue with dining restaurants and cafes to go with family. The waterpark rides promise you excitement and make your kids happy.
Location: Jalan Kartika Plaza, Kuta, Bali, Indonesia
How to reach: Hire a taxi or take a scooter to reach from Kuta. Another way is to take the kura-kura bus shuttle from the discovery mall.
Best Time to visit: 8:30 AM to 6:00 PM
Sacred Monkey Forest
Also known as Ubud Monkey Forest, this forest sanctuary is a natural habitat of over 600 Balinese monkeys. It serves as a famous tourist destination because of its religious and wildlife value. This place has preserved the ancient temples built in the back 14th century. Your children will love to take a stroll in nature. Don't forget to bring bananas with you to feed the playful monkeys.
Location: Ubud, Kabupaten Gianyar, Bali, Indonesia
How to reach: A walk or a taxi ride from Ubud
Best Time to visit: 8:30 AM to 6:00 PM
Legian Beach
This sweet and pleasant beach is a popular destination to watch the sunset and play water sports. Legian Beach attracts tourists with its turquoise blue water and white sand. You can enjoy a peaceful walk on the beach with friends and play with kids in the water. There are numerous party places for you and your friends to experience the extravagant nightlife.
Location: Legian village, Kuta, Bali, Indonesia
How to reach: Hire a taxi to reach Legian beach.
Best Time to visit: 9:00 AM to 5:00 PM
Safari and Marine Park
Kids love to see animals in real life. Safari and Marine Park is home to thousands of animals, including more than 100 rare and endangered species. It is a combination of Balinese culture and the African savannah. While visiting the open zoo, you will spot Sumatran elephants, white tigers, leopards, komodo dragons, and other fascinating creatures.
Location: Gianyar, Kabupaten Gianyar, Bali, Indonesia
How to reach: Hire a taxi to reach and book a Safari for experience.
Best Time to visit: 9:00 AM to 5:00 PM
Mount Batur
Are you wondering about an adventurous place to visit in Bali? Then, climb the top of Mount Batur to watch the sunrise. It is a non-active volcano situated on a dramatic island surrounded by many villages. You can easily reach the mountain peak in 2 hours If your health is in perfect condition. Mount Batur has a sacred Hindu temple in Bali, named as Pura Ulun Danu Batur.
Location: South Batur, Kintamani, Bangli Regency, Bali, Indonesia
How to reach: Either Take a bus ride from Ubud or a taxi ride from Kuta.
Best Time to visit: May to July
Tanah Lot Temple
Tanah Lot Temple is the most famous Hindu temple situated on a rock. It attracts thousands of tourists from around the world to witness the mesmerizing sunset. Take the blessings in an ancient temple with stunning architecture with your family and friends.
Location: Beraban, Kediri, Tabanan Regency, Bali, Indonesia
How to reach: Take a taxi from Kuta, Ubud, Legian, or Seminyak.
Best Time to visit: 6:00 PM to 7:00 PM
Seminyak
Seminyak is the most famous attraction in Bali, located on the south coast of Bali. It's the best place to catch the beautiful sunsets and laid-back evenings on smooth beach sands with your friends. Sophisticated spas and high-end boutiques are the most exclusive attractions for travellers. The Seminyak beach offers a beautiful view of the Indian ocean and entices professional swimmers or surfers to ride the blue waves.
Location: Seminyak, Badung, Bali, Indonesia
How to reach: Take a car from Ngurah Rai International Airport/ Denpasar Airport
Best Time to visit: At any time of the day ( April to September)
Sekumpul Waterfall
Sekumpul Waterfall is the most beautiful attraction in Bali to explore with your family. This majestic waterfall hides away in the dense forest. It takes a little effort to walk down a dirt road and cross a hundred stairs to see it from close. Sekumpul can become a part of your Bali adventure while trekking through the rugged trails. It is a cluster of seven small waterfalls that plunge from the rocky mountains and form a pure pool. Take a deep dip in the refreshing pool with your kids.
Location:Sekumpul, Lemukih, Kabupaten Buleleng, Bali, Indonesia
How to reach: Take a short trek from Sekumpul village to reach the waterfall
Best Time to visit: 8:30 AM to 2:00 PM(October to April)
Kuta Night Market
Don't miss the chance to shop in the Kuta Night market of the Kuta. This buzzing market is the best place to hang out with friends and shop around to buy a local souvenir. It is the most popular market in Bali, with lined stores of clothes, artefacts, and some street food stalls to enjoy the taste of Bali. This night market is a favourite place amongst clubbers looking for a cheap bite after dancing.
Location: Kartika, Kuta, Kabupaten Badung, Bali.
How to reach: Take a 10 min walk from Kuta beach
Best Time to visit: 6:00 P.M – Midnight
A trip to Bali is the best way to utilize your holidays with your family and friends. If you have decided on going there, here are the popular Bali packages to make your trip smooth. All these inclusive packages are reasonable and save cost. Check out the Bali trip cost from India in these packages and make your choice as per budget.
Best Bali Packages for Family/Friends Trip
| | | | |
| --- | --- | --- | --- |
| Trip Packages | Duration | Inclusions | Price |
| Bali Dream Tour Package | 4 Night/5 Days | Accommodation, sightseeing, meals, and transfers. | INR 19,990 |
| Bali Youth Special Package | 5 Nights/ 6 Days | Accommodation, meals, sightseeing, flights, transfers. | INR 25,000 |
| Bali Delight Package | 6 nights/ 7 days | Accommodation, flights, cab transfer, sightseeing, meals. | INR 34,990 |
| Bali Friends Package | 4 days/ 5 Nights | Up to 4-star hotels, sightseeing, meals, and transfers, | INR 27,999 |
Now that you have all the information related to your Bali trip package at your fingertips, what is stopping you from booking the tickets?
If it is a matter of funds, you don't need to worry. LoanTap will do the heavy lifting for you. You can pay off the loan in easy EMIs by choosing your tenure.
LoanTap offers holiday personal loans from Rs 50,000 to Rs 10,00,000 for periods ranging from six months to five years. Interest rates start from 18% on a yearly basis.
You can foreclose the entire personal loan after six months without any prepayment penalty. Personal loans are extremely quick and convenient. All you need to do to avail of an instant personal loan is to visit the LoanTap website or download the app on your smartphone.
You will need to fill an online application and upload the following documents –
PAN card
Aadhaar card
Salary slips of the last three months
Bank statements of the last six months
The LoanTap will evaluate your application and approve it if you have a good CIBIL score. Your cash will get credited to your bank account. The entire process will not take more than 24-36 hours.
Getting a personal loan from LoanTap is so easy that you may be tempted to take a vacation regularly. What we mean to say is that we make loan taking a very comfortable experience for you. You don't need to defer your aspirations anymore. You can decide on a sudden trip and apply for a personal loan at the nth hour. We assure you that you will get your loan within 24-36 hours.
So, just go ahead and pick out the right Bali tour package for your family and friends and have a gala time. With LoanTap around there is no reason to worry.
It has been a grueling two years because of the pandemic and most of us are sapped mentally and physically. Nobody can fault you if you want to leave this nightmare behind and spend a nice long vacation in Bali with your family and friends.
Don't fret about the costs involved. Just take time out and plan a nice long luxurious vacation. Work out the costs and figure out how much you need. There is no need for you to dip into your savings.
You can avail of a personal loan for vacation from LoanTap. LoanTap offers vacation loans in India from Rs 50,000- Rs 10,00,000 for tenures ranging from 6 months to 5 years at an annual interest rates starting from 18%.
Why should you fund your vacation through your credit card and pay 30-36% interest yearly?
If you are over 21 years old and earn a net monthly income of over Rs 30000 while having a credit score between 680-730 you are the perfect candidate for a personal loan for vacation.
All you have to do is to download the LoanTap app and fill out an online application. You can upload the documents or let our representatives collect them from your place. LoanTap provides loans in several cities in India including Delhi, Mumbai, Chennai, Bangalore, Pune, Kolkata, Noida, Vadodara, Coimbatore, Bhopal, Jaipur, Lucknow, Ahmedabad, Bhubaneswar, Indore and more.
You can repay the loan in easy installments and can even foreclose the loan after 6 months without any prepayment penalty.
What are you really waiting for? Go ahead, get that vacation loan in India and escape on a wonderful holiday to Bali with family and friends.
This is the easiest way to fund your vacation without paying interest through your nose or dipping into your precious savings. Life is unpredictable. You deserve to go on a vacation once in a while. LoanTap personal loan for holiday will help you make that happen.