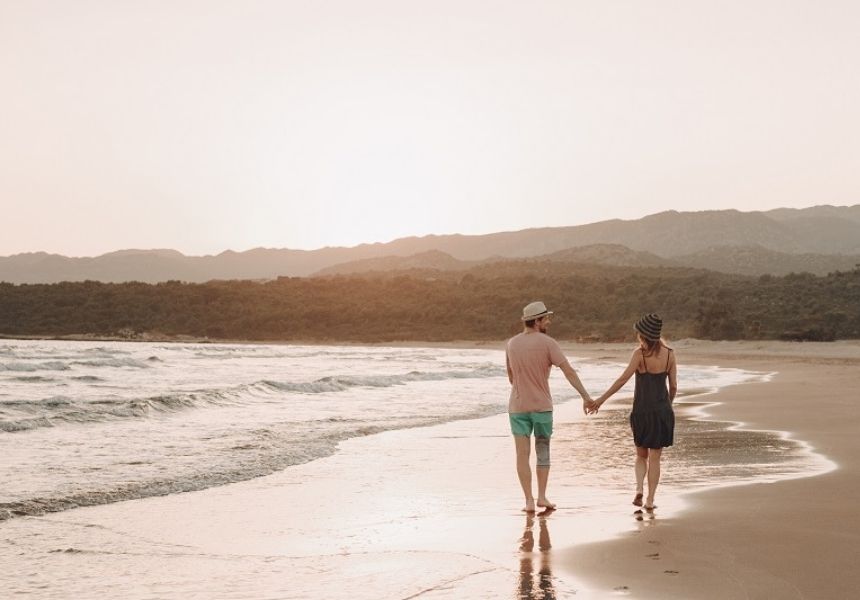 Plan a wedding in India and combine it with a Maldives Honeymoon package. Enjoy the most important event in your life and make every moment worth it. Instead of opting for a destination wedding, you can have a splendid affair in your own city and follow it up with a fancy honeymoon in the romantic Maldives. Shimmering crystal pools overlooked by swaying palms.Soft sandy beaches circled by cerulean blue waters. There is love in the air. What more do you need if you have a Maldives honeymoon package?
Laying down on the beach at night, watching the twinkling stars, soaking in the magic of this splendid island. Take a dip with your spouse in the clear blue waters, enjoy the sun, participate in water sports, get a massage and pamper your senses. You have a range of honeymoon packages to choose from.
Check out the honeymoon packages offered by different operators. You need not worry about the funding. LoanTap personal loans for weddings make it easy to get funds in a jiffy. You can pay the loan off in easy instalments.
Thomas Cook offers several Maldives Honeymoon packages
| | | |
| --- | --- | --- |
| Maldives Tour Packages | No. of Days | Price* |
| Maldives – Bandos Resorts with Flexi Flights | 3 Nights / 4 Days | Rs. 65 725.00 |
| Maldives – Hotel Arena Beach | 3 Nights / 4 Days | Rs. 18 020.00 |
| Maldives – Embudu Village | 3 Nights / 4 Days | Rs. 44 130.00 |
| Maldives – Adaaran Club Ranhali | 3 Nights / 4 Days | Rs. 45 601.00 |
| Maldives – Paradise Island Resorts | 3 Nights / 4 Days | Rs. 45 969.00 |
Yatra .com offers the following packages-
| | | | | |
| --- | --- | --- | --- | --- |
| Magical Maldives (Air Inclusive) | Rs 55,040 | 3 Nights | Meals , Flights , Accommodation , Transfer , Sightseeing | |
| Best Of Maldives- 1+1 Offer | Rs 74,999 | 3 Nights | Meals , Flights , Accommodation | VIEW DETAILS |
| Magical Maldives (4 Nights/5 Days) | Rs 64,990 | 4 Nights | Meals , Flights , Accommodation , Transfer , Sightseeing | VIEW DETAILS |
| Sweet Mist Of Maldives | Rs 55,500 | 3 Nights | Meals , Accommodation | VIEW DETAILS |
| Hello Maldives (Air Inclusive) | Rs 54,990 | 3 Nights | Meals , Flights , Accommodation , Transfer , Sightseeing | |
MakeMyTrip offers a few exclusive packages –
Adaaran Club Ranaalhi with all meals – 3 nights – Rs 101239
Biyadhoo Island Vacation Honeymoon Package – 4 nights Rs 63107
Saii Lagoon by Hilton -4 nights Rs 97697
All rates are for 1 person on twin sharing basis.
There are numerous reasons why you can pick the Maldives as your honeymoon destination. Here are some curated ideas on what you can do there to make your trip memorable.
Diving or snorkel among the reefs
You can go on a mind-blowing underwater adventure with coral reefs, clear waters and so many marine species that you have never seen before. Swim in tandem with your partner and savour the experience of a lifetime. Ari Atoll and Tewa Stross are highly recommended.
Explore the magical islands
What could be more exciting than a romantic getaway with your beloved on these magical islands? Explore every corner of the island and enjoy the natural beauty. There are over 200 beaches for you to check out. You can visit Male, the capital of Maldives. There are three excellent island resorts in Male – Maalifushi by COMO, Centara Ras Fushi Resort & Spa, and Makunudu Island.
Get a romantic couple massage
The two of you can get yourself a blissful sand massage on the beach with virgin coconut oil. It be unlike anything you have ever experienced. Combine it with the breathtaking views and the energizing breeze and you have your own piece of paradise.
Try out the underwater hotel
The thought of spending a whole day with your partner underwater can be exhilarating. The Ithaa underwater aquarium restaurant and the Maldives Rangali Islands Resort is a big hit among honeymooning couples. The hotel converts from a restaurant to a bedroom right in front of you and you can enjoy with the marine life outside and a wonderful champagne breakfast next morning. Irresistible, isn't it?
Get on a Submarine
Take a trip to the bottom of the ocean in a submarine with your partner. A Whale submarine can be booked through your resort. You will have loads of fun and be thoroughly amazed by the species you see.
Check out The Glow-In-The-Dark Beaches
The bioluminescent beaches of Maldives are something worth experiencing. The effect is caused by bioluminescent planktons that are present in warm coastal waters. When your bare feet step on wet sand or when the waves crash inwards you can see a bright green-blue glow.It gives you some wonderful memories to share.
Enjoy a private Luxury Cruise boat ride
While in Maldives, don't forget to stay at the Gili Lankanfushi resort for a day or two. You can book a private luxury boat with a king size bed and a private deck. Now, isn't that a gorgeous idea?
Go on a fishing expedition and watch the sunset
Try going on a fishing expedition in the Maldives, You can check out Madoogali Island Resort, Kuredu and Meemu atoll. Imagine being in the middle of the sea in a fishing boat watching the sunset hand in hand. It would be an experience you would savour for a long time.
Now that you know what to do on your honeymoon, you can plan your wedding in style. Work out a plan either independently or take the help of a wedding planner. They can handle the venue, decorations, food, transportation, photography, make-up etc.
Once you have finalized your total cost, you can apply for a personal loan.
What is a personal loan?
A personal loan is an unsecured loan that can be taken for any purpose to meet a short term need for funds.
Can I get an instant loan online?
Well, if you are an Indian citizen or resident over the age of 21 years and earning more than Rs 30000 as net monthly income, you are eligible to apply for a personal loan.
How to get a personal loan?
If you want to get a personal loan online, the process is very simple. You will need to go to the LoanTap website or download the mobile application and fill in the online loan application.
You will need to upload the following documents-
If you are salaried –
PAN Card
Aadhaar card/Driving license/ Passport
Salary slips for the last three months
Bank statements for the last six months
eNach Mandate
If you are self-employed –
PAN Card
Aadhaar card/Driving license/Passport
Income Tax returns for the last two years
Memorandum of Association and Articles of Association
Bank statements for the last six months
eNach Mandate
Once this is done, you should wait for LoanTap to evaluate your application. If everything is in order and your CIBIL score is decent, you will get your loan approved and the amount credited to your account within 24-36 hours.
You can get the option to pay interest only for the first three months after which you can pay the normal EMI. LoanTap offers personal loans of Rs 50,000- Rs 10,00,000 for tenures up to 5 years. Interest rates start at 18%. There is no prepayment penalty if you foreclose after 6 months.
What are the benefits of taking a personal loan in India?
There are several benefits of taking a personal loan some of which are listed below.
No collateral – Personal loans, being unsecured loans need no collateral. This means that you do not have to pledge any assets. This makes it very popular among the younger generation.
No need to specify purpose – Personal loans can be taken for any purpose without the need to mention the same on the application.
No paperwork – Unlike traditional loans, personal loans online do not require any paperwork. There is no need to fill numerous forms or submit photocopies.Mandatory documents need to be uploaded along with the application.
Quick processing – Personal loans are processed very quickly. It can take a few minutes to a maximum of 24-36 hours from the time of application.
Cheaper than credit cards – Personal loans work out cheaper than credit cards. Credit cards charge 2-2.5% interest per month while personal loans can be availed at lower interest rates.
LoanTap makes it very easy to avail of personal loans. Make sure you have a great wedding and an exciting honeymoon in Maldives. We can take care of your funding requirements. You can repay in convenient instalments over the next five years. LoanTap provides tailored personal loans to meet specific needs. No matter what your purpose, we have a personal loan specially designed for you. What are you waiting for? If wedding bells are ringing and you are wondering where to get additional funds from, LoanTap has the answer for you. Visit our website or download the app on your phone and let us do the balance.
Marriage loans are a good solution for meeting fund shortages when you are planning a dream wedding along with Maldives Honeymoon package. Whether you live in Delhi, Mumbai,Chennai, Bangalore or Pune you can plan a great wedding with family and friends. Now the great Indian fat wedding need not be limited to the elite. You can have a grand wedding too exactly the way you had planned.
In today's social media crazy world, everyone wants to have a grand affair that stays in the memory for a long time. The dreams that have been fed by Bollywood films have created aspirations in the minds of young couples but the middle-class marriage budget in India may still fall short of meeting all expectations.
This is where a marriage loan comes in handy. LoanTap provides loans in several cities in India including Delhi, Mumbai, Chennai, Bangalore, Pune, Kolkata, Noida, Vadodara, Coimbatore, Bhopal, Jaipur, Lucknow, Ahmedabad, Bhubaneswar, Indore and more.
With LoanTap you can make your dream marriage come true. In addition to your savings you can get a marriage loan from LoanTap individually which would amount to INR 20 lakhs if both of you meet the eligibility criteria. If you are an Indian citizen over 21 years of age with a net monthly income of Rs 30,000, you can get a marriage loan in your individual capacity. This marriage loan can be paid off in EMIs over the agreed tenure of the loan from 6 months – 60 months. This will give you ample time to repay in convenient instalments without any constraints on the budget.
If you are planning to marry in any major town/city in India, you can download the LoanTap app and say goodbye to the hassle of traditional loans. Don't give up on your dreams. Just find new solutions to make them come true. LoanTap can be your friend in this regard. You can indeed use a LoanTap loan to boost a middle class marriage budget in India and create an occasion for a lifetime.