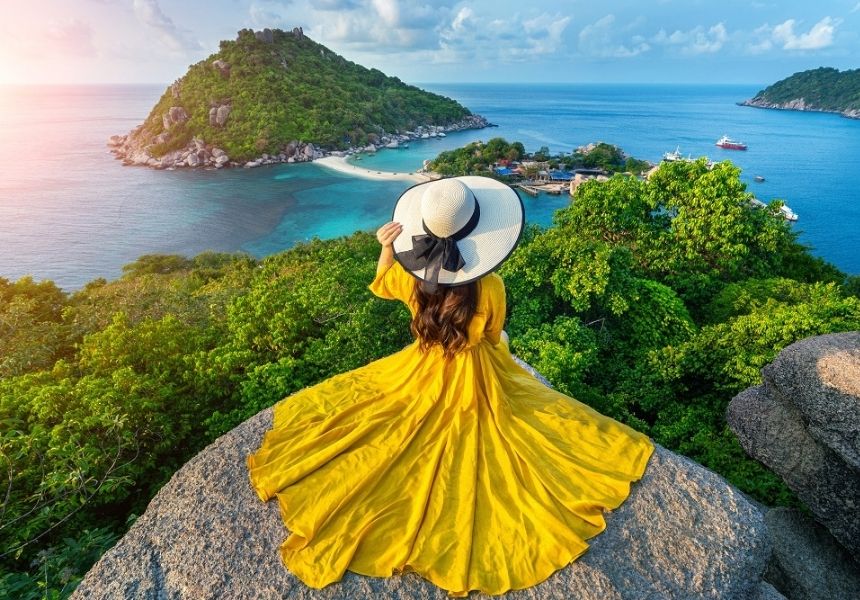 Thailand is the most popular destination among travellers and digital nomads. Its beauty and breathtaking beaches mesmerize people to visit again. On the one hand, you witness the history of Thailand, and on the other hand, get excited by seeing the modern urban sprawl in the famous capital city, Bangkok. Thailand is known as The Land of Smiles, where you meet the friendliest locals to help you while travelling. There are countless numbers of tourist spots that impress visitors so much and make them want to come back to enjoy a peaceful holiday vacation in Thailand.
But, there's a common problem every visitor faces, about which place to visit and what to do when you arrive in Thailand. So, here is the list of the best attractions and places to go and have fun there.
You don't need to get stressed about finance. LoanTap can handle that for you. LoanTap offers personal loans for vacations at reasonable rates. The best part is that the entire process is online and you can get your cash in 24 hours without any cumbersome paperwork. Speed, convenience, efficiency and a very delightful customer experience is what LoanTap offers. Does this bring a smile to your face? Now, forget your funding worries and focus on what you will do in Thailand.
The Top 8 Places To Visit for Holiday Vacation in Thailand
Bangkok
Most of the flights land at the International Airport in Bangkok.
It is the first place you can plan to visit. This diverse city is the perfect blend of familiar modernity with exotic traditional culture. The city street is filled with bustling food stalls serving local cuisines, romantic restaurants, skyscrapers, sky bars, and colourful night markets. You can take a stroll in the local markets or go to Malls to treat yourself to luxuries. You should have enough time to take a glimpse of beautiful temples such as Wat Arun, Wat Saket, Wat pho, and the Grand Thai Palace.
Chiang Mai
Chiang Mai is a beautiful land of mountains and lush greenery hills which has become a perfect place for seasoned travellers and a delight for adventurers. You can go there to enjoy the Thai massage and expand your taste horizons by tasting the local food, even attending the cooking courses. Chiang Mai is popular for temples and trekking in the Jungle. It also includes hot springs and waterfalls to feel refreshed in a unique atmosphere. You can take a ride to visit this ancient town surrounded by the old city walls.
Phuket
The third-largest island in Thailand, Phuket offers whatever your heart desires. It is packed with mesmerizing calm beaches, great scenery, and exciting nightlife to be there forever. You should visit the bays of Patong, Kata, and Karon. There are a few sources to keep you entertained during the two days of the trip to Phuket. In the locality, you will find chaos and extremely lively surroundings, and to relax, check out the quieter towns like Rawai and Chalong which are far away from all the hassles.
Khao Lak
Khao Lak can become your first beach to try in Thailand. It is not the name of a village, but a whole region called Khao Lak stretched around for several kilometres. Bang la on and Bang Niang are the two most visited attractions in this west coast region. You can go to the finest dining restaurants for a romantic dinner and various shopping options too. There are the Nang Thong and Bang Niang Beach Thailand beaches to get the laid back vibes.
In the North, you can check out the beaches like Pakweep Beach, Khuk Khak Beach, or Coconut Beach to play with the blue seawater. And yes, don't miss visiting the Khao Yai National Park.
Erawan Falls
The most famous attraction in Thailand is the seven-tiered Erwan Walls with beautiful emerald-coloured ponds. Erawan Falls is located within the Erawan National Park and has several long and deep caves. The Erawan name came from the three-headed white elephant from Hindu mythology. It's fun to take an adventurous stroll in the park with your family and friends. While taking a trip to Erawan Walls, you can visit – Bridge Over the River Kwai, Phra That Cave, Death Railway, or Hellfire Pass.
The City of Ayutthaya
It is a must-visit place where you will witness the history of Thailand. The City of Ayutthaya comes under the list of UNESCO World Heritage Sites. By visiting this place, you will learn that Ayutthaya was the capital city of Thailand. It was founded in 1350 A.D when King U Thong came here to escape an outbreak of Smallpox. But the kingdom had not lasted long when the Burmese army attacked the city and destroyed it. This old capital city is preserved as a historical park and made it to the list of top attractions in Thailand.
The Floating Damnoen Saduak Market
Have you seen a floating market before? If you are not, visit the biggest and well-known floating market, The Damnoen Saduak. However, there are many floating markets in Thailand. Here, you can see the boats going up and down the canals, and at the side see several floating shops selling foods and fruits. There are several stilt houses for clicking photos and enjoying a sit. It is situated 100 km away from Bangkok, but it's worth going there.
Krabi
If you're looking for a destination to be away from the busy world, Krabi is the perfect choice for you. It is a place full of natural assets that offer visitors opportunities to see the stunning scenery, fantastic white-sand beaches, limestone cliffs, and waterfalls. You can enjoy a wide range of leisure activities such as snorkelling, rock climbing, sea kayaking, scuba diving, and Jungle trekking.
Of course, some places are left to be included in the list of Best Places to Visit in Thailand. But these attractions are put together for beginners. All the mentioned places are easy to reach without any prior knowledge. When you are there, don't forget to try a Thai massage, shopping in Nana Plaza, explore Chiang Mai Night Bazaar, have a little fun in the nightclubs of Bangkok, and go scuba diving in Koh Lanta Beach.
Best Holiday Packages for Thailand
| | | | |
| --- | --- | --- | --- |
| Package Name | Duration | Inclusions | Price ( per adult) |
| Bangkok Tour from Delhi | 5 Days/ 4 Nights | Hotels, Sightseeing, meals, guide, transport | INR 15,000 |
| Bangkok from Bangalore Tour | 5 Days/ 4 Nights | Hotels, Sightseeing, meals, guide, transport | INR 14, 999 |
| Romantic Honeymoon Tour | 6 Days/ 5 Nights | Hotels, Sightseeing, meals, guide, transport | INR 39,990/-* |
| Thailand Honeymoon from Delhi Package | 6 Days/ 5 Nights | Hotels, Sightseeing, meals, guide, transport | INR 41, 000/- |
| 7 Days Thailand Package | 7 Days/6 Nights | Hotels, Sightseeing, meals, guide, transport | INR, 25, 000/- |
Have you decided when you want to go? If you are thinking of spending your upcoming vacation in the lap of nature, pack your bags now and buy the best Thailand packages for your holiday vacation.
You don't have a decent budget yet wish to have a luxurious trip to Thailand. Then, Loantap brings you an excellent solution to make your wish into reality. We bring you an instant loan for travellers. You can take a personal loan to travel to Thailand by applying online and filling an application form.
LoanTap understands your dreams and aspirations and has tailored instant personal loans for each purpose.
What is a personal loan ?
Personal loans are unsecured loans that can be taken for any purpose without pledging any assets.
How to get a quick personal loan?
If you have planned a trip to Thailand with your family and fall short of funds look no further than LoanTap.
If you are an Indian citizen or resident over the age of 21 years and earning a net monthly income of over Rs 30,000 you have cleared the first step of applying for a personal loan.
Now you can visit the LoanTap website or download the app and fill in the required details.
You will need to upload the following documents-
PAN Card
Aadhaar Card
Salary Slips of last three months
Bank statements of last six months
Now sit back and relax while LoanTap processes your application. If your CIBIL score is good and your documents are in order, your quick personal loan will be approved and credited to your account. The entire process will not take more than 24 hours.
You can foreclose the loan after six months without any prepayment penalty. You can choose a flexible repayment plan. The most convenient EMI can be calculated by adjusting the tenure.
Instant personal loans can be taken 24×7 without the worry of weekends and bak holidays. They work out much cheaper than credit cards.
Instant personal loans are quick, convenient, efficient and paperless. What are you waiting for? Book your tickets, pack your bags and collect your funds in a jiffy.We are just a few clicks away.
The summers are here and you want to go off to the beaches of Thailand to enjoy a seaside vacation. You have checked out the holiday brochures and figured out which holiday package to go with. Everything is perfect but you need to make some urgent payments that will force you to dip into your holiday budget.
What can you do? Surely, you don't want to disappoint your family by dropping your holiday plans. You can't put off the payments, either.
Here is where LoanTap steps in to provide you with a holiday travel loan. Now you can enjoy your holidays on EMI.
If you are over 21 years, earn a net monthly income of more than Rs 30,000 and have a credit score of 680-730 you can easily apply for the holiday travel loan.
All you need to do is download the app, fill out an online application and upload the documents. LoanTap provides loans in several cities in India including Delhi, Mumbai, Chennai, Bangalore, Pune, Kolkata, Noida, Vadodara, Coimbatore, Bhopal, Jaipur, Lucknow, Ahmedabad, Bhubaneswar, Indore and more. So, they can send representatives to collect the documents from your place.
You can pay off the holiday in EMIs over the agreed tenure. If you foreclose the loan after 6 months there is no prepayment penalty.
Why should anything stop you from taking that much-deserved beach holiday in Thailand? Get away from the mindless rush of routine life. Spend time with your family and come back rejuvenated and refreshed. The pandemic has been tough on all of us. You deserve the break more than anything else. Don't let a temporary shortage of funds stop you from enjoying your holiday. Pay for your holiday in EMIs by taking advantage of a holiday travel loan from LoanTap. Live your life king size.