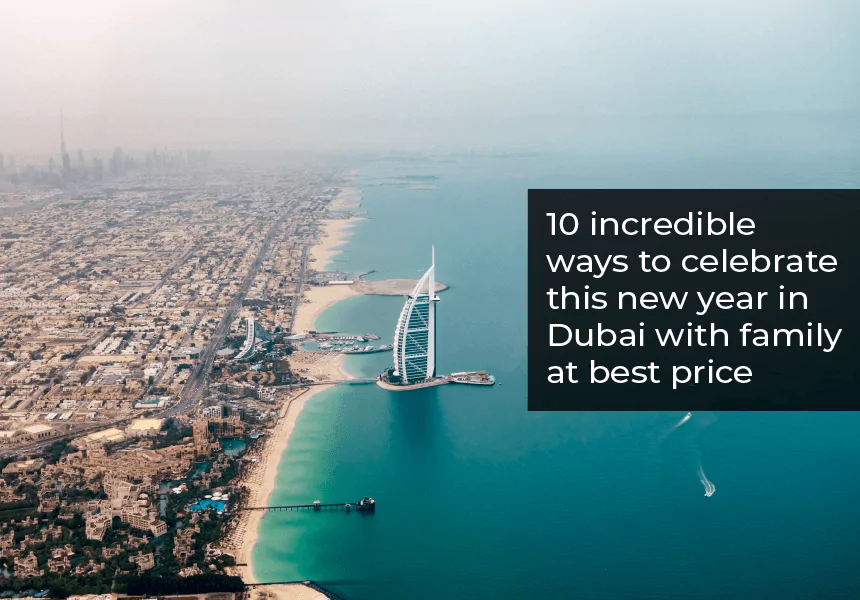 Published on : October 28, 2021
Dubai is one of the most thrilling places to ring in the new year! The high-rise skyscrapers, captivating fireworks, parties, clubbing scenes, and overall pomp and show add to the excitement. Dubai has become one of the most popular year-end locations in the world since there is so much to do for everyone during the New Year.
Just in case you're planning on ringing in the new year in Dubai, here are some of the greatest things to do on New Year's Eve in Dubai. So prepare ready for a lively New Year's Eve celebration in Dubai.
Our Picks On Fun Ways In Which You Can Celebrate The New Years In Dubai
Thrills Of Helicopter Rides
Make a resolution to cross something off your bucket list in the new year. A Dubai helicopter tour provides the most breathtaking views of the city. Take a ride above Dubai's most famous monuments and landmarks, departing from the beautiful Palm Jumeirah Island. Throughout your flight, your personalised tour includes a guide who will provide interesting, entertaining, and educational anecdotes. Arrive a bit early to enjoy the pre-departure lounge, which is a treat in itself.
Watch The Burj Khalifa Fireworks
On New Year's Eve, Dubai celebrates with a stunning fireworks show, signalling the start of the new year. Thousands of tourists and residents congregate around the Dubai Fountain, Souk al Bahar, Umm Suqeim Park, Burj Park, Mohammed bin Rashid Boulevard, Jumeira Beach, and even in the middle of the highways to get a peek! If you're planning to travel within Dubai on New Year's Eve, make sure you arrive before 10 p.m. Everyone is attempting to get a good place to watch the fireworks, so the roads are congested until 12 a.m.
Luxury Dinner Cruise
From the comfort of a glass-enclosed, air-conditioned luxury catamaran, take in Dubai's spectacular sights. The boat also boasts a lovely open terrace and outdoor deck, ideal for taking in the cityscape beneath the stars and moonlight. This is a delightful, relaxed evening on the lake with assured spectacular views of prominent Dubai buildings and a clear view of the New Year's fireworks. You can even rent a yacht to take you out along the Dubai Creek or Marina if you want something more luxurious and exclusive.
A New Year's Eve In Global Village
The New Year's Eve celebrations in Global Village are well-known among locals and tourists, so expect tens of thousands to attend. Global Village Dubai, an amalgamation of world culture, is the best destination to celebrate New Year since you can see New Year traditions from over 75 nations around the world. The musical fireworks that mark the start of the New Year in Global Village are a sight to behold. Spend your New Year's Eve shopping, dining, and doing pleasant things. Children love the Carnaval, so don't worry about keeping them entertained. Here's all you need to know about Global Village Dubai before you go.
Desert Safari with Dune Drive, BBQ Dinner, Belly Dance and Tanoura Show
A thrilling journey across beautiful, golden sand dunes doesn't get any better. Travel deep into the desert to see one of the most breathtaking sunsets you'll ever see. You'll be taken to a luxurious Bedouin desert camp and given a traditional Arabian welcome. Following that, savour a delectable buffet meal featuring BBQ meats, salads, a variety of main-course items, and lots of desserts. It's impossible not to be enchanted by the atmosphere. Camels, sand boarding, henna painting, sheesha, and belly dance make for a fantastic evening!
Head Over To La Mer
Head to La Mer for an unconventional New Year's Eve experience in Dubai, and spend some quality time at these waterfront marketplaces dressed out in festivity and live music, while the kids enjoy the carnival rides and petting zoo! You'll be spoilt for choice when it comes to dining options, and be prepared to be startled by New Year's special additions to the atmosphere. Not to mention the breathtaking views of the New Year's fireworks that you'll be sure to see as the clock strikes 12 a.m.
Dance Your Way Into The New Year
Dubai throws some of the most exciting New Year's Eve parties in the world, and there's no better way to ring in the New Year than by dancing your way into it if you're a party animal. For legendary New Year's Eve parties, go to Barasti Beach, Distillery Gastropub for a Coyote Ugly themed party, Warehouse for a Great Gatsby themed party, The Penthouse for a jungle themed party, or Atlantis on the Palm (this year, Atlantis Palm Dubai is part of rock band KISS' final ever world tour). Dress to impress and enjoy a lavish New Year's Eve celebration in Dubai.
Furthermore, most parties in Dubai include a designated kids' zone that claims to keep children busy all night, allowing you to relax and enjoy the festivities.
An Evening In Madinat Jumeirah
With fire dancers, musicians, live entertainment, and free-flowing champagne, Madinat Jumeirah offers one of the most coveted New Year's gala dinners in the city. The fireworks from here are breathtakingly stunning, and for a change of scenery, bring a beach mat and head to one of Jumeirah's public beaches to relax under the stars. Don't forget to arrive early to secure a good parking spot!
Attend QE2's Gala Dinner
Head to the QE2 for a Gala Dinner if you want to eat some wonderful food while admiring the lovely glistening Dubai skyline. This black-tie affair includes a delectable seven-course meal and delectable beverages to sip while listening to a live band perform some of your favourite tunes. If you're looking for something a little more laid-back, the Boat Deck is throwing a Tea Party with an open bar. Even better, when the clock strikes midnight, the world-famous cruise ship-turned-hotel offers a perfect view of the Burj Khalifa pyrotechnics.
Take a Staycation
Some of the most stunning residences in the world can be found in Dubai. Why not treat yourself to a night or two of luxury? Wake up in 2021 in a comfortable yet exclusive setting and take advantage of the property's amenities. Waldorf Astoria Dubai, Raffles Dubai, Five Palm Jumeirah, and Atlantis the Palm are some of the alternatives. If you plan ahead, you may join their New Year's Eve celebrations, dine on delectable cuisine, and even visit nearby water parks like Wild Wadi in Jumeirah.
Don't you want to take that vacation in Dubai right now to ring in the New Year? Compare the offers given by various holiday sites and pick the best bargain. If you need funds to make that happen, we are right here for you. You can take a holiday loan from LoanTap and go off on that trip to Dubai. LoanTap offers holiday loans from Rs 50,000- Rs 10,00,000 for tenures ranging from 6 months to 5 years. Annual interest rates start from 18%.
If you are an Indian citizen or resident over the age of 21 years and earning a net monthly income of over Rs 30,000, you simply have to visit the LoanTap website and fill out an application. You will need to upload the following documents –
PAN Card
Aadhaar Card
Salary slips for the last three months
Bank statements of the salary account for the last six months
Now sit back and relax while the LoanTap team evaluates your application. If everything is in order, your loan will be approved and the cash credited to your account. The entire process from application to credit will take 24-36 hours.
You can choose your repayment option and tenure by checking out the personal loan EMI calculator. If you prepay the loan in full after 6 months, there is no prepayment penalty.
What are you waiting for? Just visit the LoanTap website and let the magic begin.