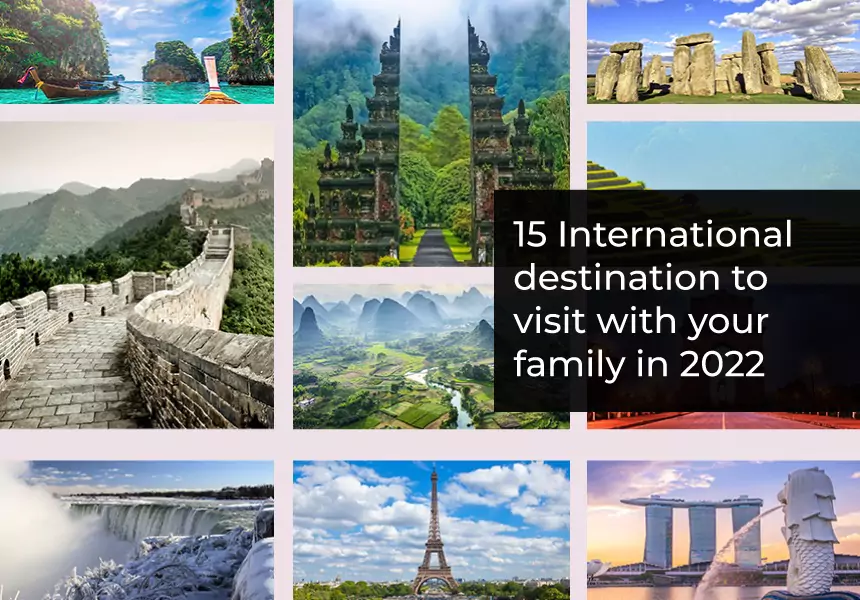 Published on : November 17, 2021
You now have the facility to plan your next family visit from the comfort of your armchair. Take guidance from our curated list to plan your next vacation if you ever find yourself in a dilemma. These places are not only popular right now, but they are also well-known for the unforgettable experiences they deliver to visitors.
15 Destinations To Plan Your Family Visit
Srilanka
Known for scenic beaches and lush greenery, Srilanka is a must visit place.
December- March
Adam's Peak, Dutch Fort, Dambulla Cave Temple, Sigiriya Rocks
Direct flights are available from Mumbai, Bangalore and New Delhi to Colombo
Ramayana Tour, Elephant Safari, Hiking, Train Journey To Ella, Tea Plantation Tour
Sri Lankan Rupee
Zimbabwe
This is a very underrated country with various gems waiting to be explored. It is home to many attractions. Let's find out the details:
May- September
Zimbabwe Ruins, Victoria Falls, Matopos National Park, Kariba Dam
New Delhi and Harare have connecting flights
Visit Great Zimbabwe National Monument, Hiking, Wildlife safari, Try local food
RTGS Dollar
Kyrgyzstan
The land is a home to untouched natural beauty. It has rolling pastures, clear waters and is worth visiting with the family.
June-September, March-October
Issyk Kul, Osh, Bishkek, Karakol
New Delhi to Kyrgyzstan have direct flights by Air Astana, Uzbekistan Airways and flydubaiAir Arabia.
Attend a national horse game, Stay with nomads, Horseback riding, Buy local handicrafts
Kyrgyzstani Som
Indonesia
Indonesia, with its pristine beaches and the clear blue waters is a very popular tourist destination.
May-September
Komodo Island, Ubud, Kuta, Nusa Penida, Jakarta, Gili Islands
Various Indian cities are connected to Bali via flights.
Island-hopping, Snorkeling, Scuba diving, Hiking,
Indonesia Rupiah
Sao Tome and Principe
Sao Tome and Principe is a tiny archipelago in the Gulf of Guinea and was virtually uninhabited till it was discovered by the Portuguese in the 15th century.
June-September
Pico cão Grande, Obo Natural Park, Lagoa Azul, São Sebastião Museum
There are connecting flights between New Delhi and Sao tome offered by EgyptAir, Air India and Tap Air Portugal.
Admire natural wonders, Sunbathing, Island hopping, Water sports
Dobra
Egypt
Steeped in the rich history of a glorious ancient civilization Egypt should be a must visit on everyone's bucket list.
October-April
Siwa Oasis, Giza Necropolis, Corniche, Egyptian Museum
There are connecting flights from New Delhi offered by Oman Air and Ethiopian Airlines.
Hiking, Desert Safari, Camel riding, Shopping, taste Egyptian cuisine, Nile River cruise
Egyptian Pound
Oman
Oman is a beautiful country in Western Asia and the only continuously independent state in the Arab world.
October-March
Sultan Qaboos Mosque, Wadi Shab, Nizwa Fort
Non-stop flights from New Delhi to Muscat are available.
Hiking in Jabal Akhdar mountains, Glamping, swimming
Oman Rial
Croatia
Croatia is a beautiful country in the Adriatic Sea and is unrivalled in its natural beauty.
May-June, September-October
Gornji Grad, Krka national Park, Korcula, Plitvice Lakes
Flights are available to Zagreb, Split, and Dubrovnik from New Delhi
Explore local food, Hiking, Sailing, Nightlife in Dubrovnik
Croatian Kuna
Mexico
Mexico is a small country in the southern part of North America known for its unique cuisine and its tequila, of course!
December-April
Archaeological zone of Tulum, Xcaret Park, El Castillo, Coba
There are flights from New Delhi to Mexico city and Cancun.
Celebrate carnival, Museum hopping, taste tequila, diving
Mexican Peso
Ethiopia
Ethiopia is a landlocked country in East Africa with history dating back to 3 million years as confirmed by archaeological finds.
October-June
Axum obelisks, Danakil Depression, Gonda Castles, Lake Tana
Ethiopian Airlines have non-stop flights from New Delhi to Adis Abba.
Exploring Tribes of Omo Valley, Hiking in Bale Mountains National Park
Ethiopian Birr
Netherlands
Netherlands is a beautiful country steeped in history. Whether it is the wooden shoes, canals of Amsterdam, masterpieces of Old Masters, Delft Blue earthenware, innovative water-management and millions of bicyclesor the house where Anne Frank lived, you will find it all here.
April-October
Anne Frank Museum, Rijksmuseum, Efteling
New Delhi to Amsterdam have non stop flights.
Cheese tasting, Explore canals of Amsterdam, Have a Heineken experience
Euro
Costa-Rica
Costa Rica is a beautiful country in the Central American rainforest.
December-April
Jaco, Guanacaste, La Paz Waterfall Gardens, Arenal Volcano
New Delhi offers flights to both San Jose and Liberia
Take a coffee tour, Nature walk in Corcovado National Park, Soak in Tabacon hot springs
Costa Rica Colón
Germany
Germany is a beautiful country which has natural beauty as well as history written on every brick.
May-September
Black Forest, Berlin Wall, Cologne Cathedral, Neuschwanstein, Altes Museum, Bode Museum
There is a non-stop flights to Frankfurt from New Delhi. Berlin, Munich, Hamburg, and Dusseldorf also have air connectivity from New Delhi and other Indian cities
Take a tour of Rhine Valley, Attend Oktoberfest, Nightlife in Munich
Euro
Panama
Panama is a tiny country located on the Isthmus of Panama connecting Central and South America.
December-March
Pearl Islands, Panama Canal, Volcano Baru, El Valle de Antón
New Delhi to Panama city has connecting flights
Attend Panama Jazz Festival, Sunbathing, Hiking, Historical tours
United States Dollars
Belarus
Belarus is a landlocked country in Eastern Europe.
May-September
Nyazvish Castle, Mir Castle, Gomel Palace, Braslav Lake Area
New Delhi to Minsk has direct flights
Historical tours, Take a sauna bath, Kayaking, Taste traditional food, skiing
Belarusian Rouble
Take your pick from these exotic destinations and draw up your budget. LoanTap is here to provide you with holiday loans that will make your dream vacation come true. You can get personal loans from Rs 50,000 – Rs 10,00,000 at annual interest rates starting from 18%. You can repay the loan in convenient EMIs over 6 months to 5 years. You can even foreclose the travel loan after 6 months if you wish to, without incurring any prepayment penalty.
Pick up a pen and paper and start listing out your holiday plans and execute them with our Holiday loan. LoanTap will help you make them come true in 2022.