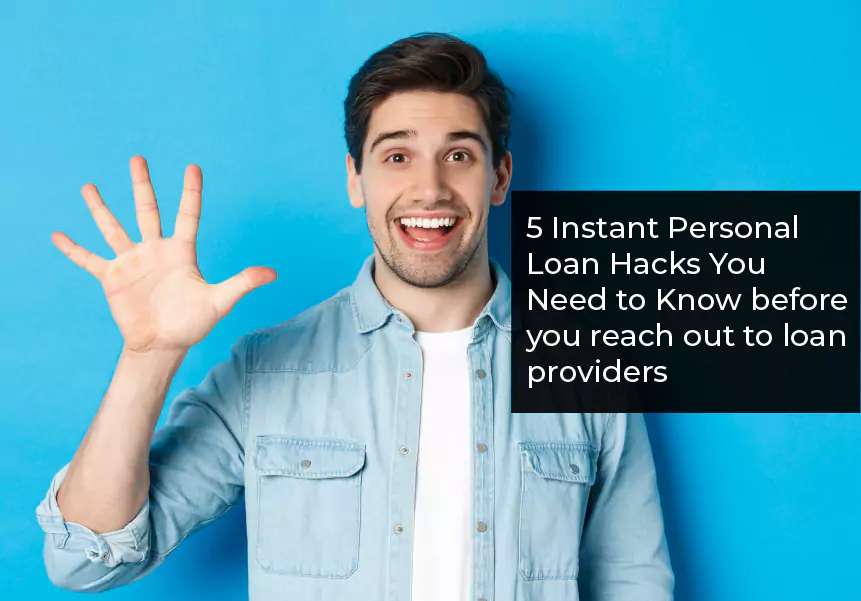 Published on : June 10, 2022
Those days are gone when you had to stand in long queues to get a loan. With advanced technology, borrowers can get an instant personal loan from LoanTap – the most trusted loan app. Personal Loans are a great way to cover all your financial needs, such as paying medical bills, electricity bills, school or college fees, etc. You can opt for personal loans for unexpected expenses without exhausting your savings. Let's learn the definition of instant personal loans and how to choose the best lender for you.
Instant Personal Loan:
Instant personal loans are a money booster when you are stuck in emergencies. Unsecured loans do not require any collateral. Borrowers can get the loan with a simple online application process. Because documentation is minimal, you won't have to struggle to obtain instant cash. There is no limit on how many transactions you can do.
However, there are eligibility criteria to qualify for granting personal loans. The loan amount varies between INR 0.5 lac and INR 10 lacs, depending on factors such as credit score, income, and bank statements. You can choose tenure to repay the loan amount and set a schedule to not miss any repayments.
5 Personal Loan Hacks to Know Before You Reach Loan Provider
Getting a personal loan online is so much simpler than a credit card. You are no longer needed to pursue any bank person or visit the bank to verify your loan application. The only thing you require is a smartphone and a good network connection. But before choosing a loan provider or lender, you must know these five personal hacks before you reach any lender:
1. Evaluate Your Financial Needs
Firstly, evaluate your financial requirements and purpose for taking an online personal loan. So, take a paper and pen, and question yourself about why exactly you need the cash loan. Do you need urgent money? Also, does availing of a loan affect your finances? These questions will clear the doubts. You will be able to choose the amount you want, set a repayment schedule, and decide tenure as per your financial capacity.
Also, you should be sure that you are financially healthy to manage the extra weight with other monthly expenses. Your income should be enough to repay the loan on time. To get the most from your instant loan, you should first assess your existing budget, debts, and other financial commitments.
2. Conduct Your Research
With digitalization, many lenders and personal loan providers are available in the financial market. It offers various options for instant cash loans. Non-banking financial institutions like LoanTap offer several unique advantages. But, you should research what lenders can be a good fit for your needs. Check interest rates, loan tenors, repayment options, processing fees, and terms & conditions. Borrowers need to conduct research before selecting a loan.
3. Be in Good Financial Health
Evaluating your financial health is important. There are various ways to measure your credit history and financial status.
Income Source: Reviewing your income sources is one way to know your financial situation. You must have a steady income source to get any personal loan online in India. Availing a personal loan from LoanTap requires a minimum net monthly income of INR 30,000.
Credit Score: It reflects your ability to repay the loan. All financial institutions prefer lending to those with a decent credit score. It reduces the risk of losing money if borrowers are unable to repay their loans on time.
Maintain a good account balance: Lenders will need valuable insights into your spending and saving patterns. Your frequent spending or savings show that you are financially stable to repay a borrowed amount. It increases the chances of getting faster loan approval.
4. Waiting 6 months before reapplying for a cash loan
If your instant cash loan is not approved due to some reason, don't worry! You can always reapply for the loan. It is important to note that you must wait at least six months before reapplying. It allows you to evaluate your financial needs and research other options to improve your credit score.
5. Use an EMI calculator
Calculating the EMI amount of a personal loan is easy with an EMI calculator. If you calculate the EMIs for a personal loan, you can get an idea of how much you will have to pay for the monthly EMI payments, simplifying your decision.
How to Apply for a Personal Loan Online?
LoanTap offers fast and reliable financial services with minimal documentation. A personal loan is a convenient method to get immediate funds in financial situations. Also, you don't need to waste your time on any paperwork at all. All you need to do is follow some steps to get personal loans:
Login into App or Website: Download from the Google Play Store or AppStore.
Check Eligibility Criteria: You can avail an instant personal loan by meeting the eligibility criteria. To qualify, follow these conditions:
You must be 21 years of age and not over 58 years.
You must be a resident of India.
The salaried employees should have a consistent minimum net salary of INR 30,000.
Collect the documents required: There is minimal paperwork to get fast disbursal. It will require borrowers to upload some documents for KYC verification. Here is the list of all documents:
Identity Proof: PAN card/driver's license / Aadhar Card.
Residential Proof: Rental Agreement / Ration Card/ Aadhar Card or Water/Electricity/Telephone Bill
Six months bank account statements.
Last three months' Payslips to check your salary details
Application Process: Fill out the application form by entering personal and bank details, including:
Personal Details: Name, Residential address, Date of birth, Marital status, contact number, etc.
Employment Details: Occupation, current company name, tenure in the organization, salary details.
Income Details: Yearly Income, bank statements, bank account number, and other details.
Upload Documents: Scan and upload the documents listed above. Make sure that they are valid and updated. So, you may not face any rejection. The lender will take time to verify the loan. It can take some hours. With LoanTap, you will get a quick personal loan online in 24 hours.
Sanction and Disbursal: After sending the signed copies of the documents, the verification will be done. Upon verification, you will receive an email for the loan approval. The funds will reach your bank account.
In Conclusion<
LoanTap believes in a speedy and instant loan disbursal. Our transparent process helps borrowers trust the financial services and get personal loans hassle-free. Using the LoanTap app, you can get any loan at competitive interest rates. Borrowers can avail of a maximum loan amount of up to 10 lacs. Install the app for a seamless experience.