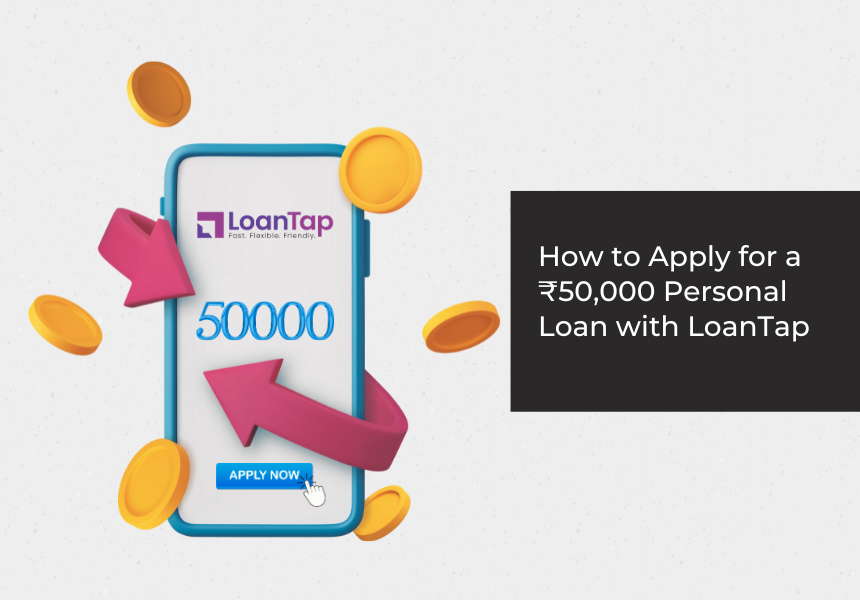 Published on : September 05, 2023
Are you in need of immediate financial assistance? Obtaining a ₹50,000 personal loan can be a great step to address your financial requirements. A personal loan is a great way to fulfil your fund requirements. LoanTap is a trusted lending platform that has a hassle-free application process to help you secure the funds you need swiftly and efficiently. Here, we'll walk you through the necessary information you'll need to successfully apply for a ₹50,000 personal loan through LoanTap, ensuring a smooth and hassle-free experience.
Rs. 50,000 Personal Loan Interest Rates and Charges
LoanTap offers loans with attractive interest rates which can be personalised according to your requirements. There are no hidden charges.
| | |
| --- | --- |
| Personal Loan Interest Rate | 14% onwards |
| Processing Fees | Up to 2% of the loan amount plus applicable taxes |
| Loan Amount | Rs. 50,000 to 10 Lakh |
| Stamp Duty | 0.1% of the loan amount |
| Loan Prepayment Fees | 4% + GST if foreclosed within 180 days from the date of disbursement post-cooling-off period |
| Charges for Late Prepayment | 24% per annum plus applicable taxes |
| Loan Tenure | 6 months to 60 months |
Eligibility Criteria for Rs. 50000 Loan
| | |
| --- | --- |
| Nationality | Indian Citizen |
| Employment Criteria | Applicant must be a salaried individual employed with a reputable private or public firm or a self-employed professional |
| Age | The minimum age of the applicant should be 21 years, but it should not exceed 58 years |
| Income | The minimum monthly income of the applicant should be Rs. 30,000 |
| Credit Score | CIBIL score should be 750 or more |
Documents Required for Rs. 50000 Personal Loan
| | |
| --- | --- |
| ID Proof | PAN Card / Aadhaar Card / Passport / Driving Licence / Voter ID |
| Proof of Residence | Passport / Driving License / Electricity Bill / Telephone Bill / Aadhaar Card / Voter ID |
| Income Proof | Salary Slip of the last 3 months / Bank Statement |
| Photograph | 2 passport-size photographs |
How to Apply for Rs. 50000 Personal Loan
Visit the official website of LoanTap or download the official app.
On the home page, click on the 'Apply Now' tab to apply for an instant personal loan.
Select your employment profile. Select if you are a business owner, self-employed, or a salaried person.
Select the purpose of your loan, like home loan, personal loan, wedding loan, etc. and click on continue.
Enter your email ID and current city of residence.
Enter all additional information, including monthly income, active loans (if any), and type of current residence.
Upload the necessary paperwork, such as bank statements, salary slips, and property ownership papers, etc.
Enter your PAN Card number and birthdate.
Once all the required details are entered, the information will be verified, and after approval, your loan amount will be sanctioned immediately.
Conclusion
Applying for a ₹50,000 personal loan with LoanTap is a very easy process that offers financial flexibility to meet immediate needs. With a user-friendly interface and simple application requirements, LoanTap provides a viable solution for those seeking quick and convenient access to funds. The process is designed to be efficient and transparent, ensuring a seamless experience for applicants. Whether it's for emergencies, debt consolidation, or any other financial necessity, LoanTap's application process provides a reliable avenue to secure the funds you require.
Apply Using WhatsApp